Bundesliga Tactics Talk: Round 25
By Peter Weis @PeterVicey
A thrilling and surprise-ridden weekend over on the German Bundesliga beat sent us soaring into the international break perfectly poised for the big Bayern-Dortmund matchup once league play resumes.

Dortmund actually conclude the round in first place after defeating Köln soundly while title-chasing rivals Bayern München unexpectedly fell to Bayer 04 Leverkusen.

We've draw-ups for both Bayern and Dortmund in the latest edition of the comprehensive weekly recap column. Bochum, Leverkusen, and Gladbach receive tactical graphics as well!

This week's deep-dive delves straight into the most fascinating relegation race in nearly a decade with a "focus" section covering Hertha-Hoffenheim.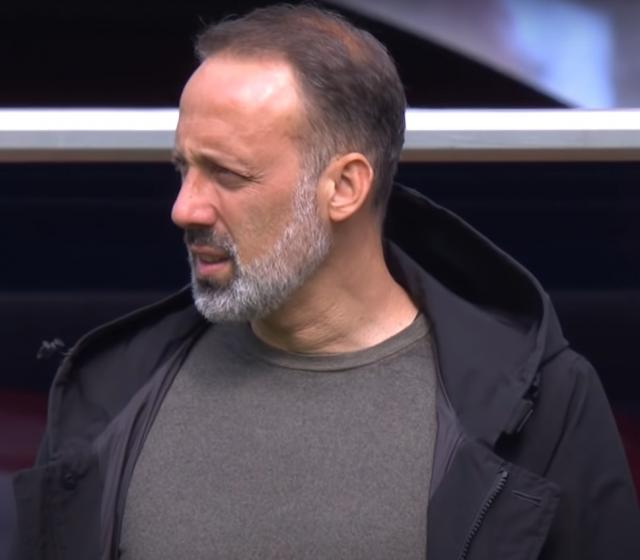 Bundesliga Tactical Banter: Round 25
The new "Schlusslicht"

By far the most boring game of the weekend may have imparted the most important lessons with respect to the relegation battle. As those of us keeping a close eye on all the simultaneous 15:30 kickoffs discovered, a very bad team sifted to the bottom of the Bundesliga table once the dust settled. Bruno Labbadia's VfB Stuttgart haven't managed to build on the momentum since their matchday 21 win. The Swabians have looked increasingly incompetent in the attack. A paltry 0.43 xG against VfL Wolfsburg wasn't anywhere near good enough.


Stuttgart's trainer and its sporting director seem to think there's encouraging enough evidence inherent in the recent results. The manner in which the Württembergers stood toe-to-toe with Bayern for a short time and pulled out a draw against the vastly more talented Frankfurt last week supply them with some hope. Examination of this total dud of a performance nevertheless reveals much to worry about. The VfB attack produced nothing despite having supposedly rejuvenated actors Silas and Chris Führich back in the XI. Those two continue to struggle.

The BaWü hosts literally furnished nothing offensively until Wolfsburg withdrew late in protection of their slender lead. Labbadia's personnel choices once again merit serious scrutiny. Both the build-up play and defensive shape suffer as a result of his decision to start Waldemar Anton over Josha Vagnoman at right-back. Odd that Vagnoman seems to be good enough for the German national team but not for Stuttgart. Labbadia sticks with a system that demonstrates no consistency. Never a good sign.

As a result of all this, the 2022/23 Bundesliga table has a new "Schlusslicht" ("tail-light"). If there is any good news for the club that just barely avoided the relegation playoff on last season's final matchday, it's that matters remain so absurdly tight at the bottom that all this can change it half a heartbeat. Only two points separate 18th-placed Stuttgart from 15th-placed Hoffenheim. Bochum, Köln, and Augsburg are all within striking distance as well. This is truly going to be some finish. Every single personnel will prove immensely important.

Reis wins another tactical battle

There's some fresh news in the evolving storyline of "Thomas Reis the sudden tactician". The Schalke gaffer completed another make over the weekend in which he appeared to make three major in-game major tactical adjustments. Reis initially pitched the starting 4-2-3-1 from last week via the benching of attacker Rodrigo Zalazar in favor of sweeper Eder Balanta. We thus witnessed the Königsblauen lining up in the same 4-1-4-1 from a couple of weeks ago again. Recent goal-scorer Kenan Karaman replaced Mehmet Can Aydin on the right flank.

An early booking for Balanta - combined with a lack of pace and ideas - led to an early first-half tactical change. Zalazar relieved Balanta in the 35th. Tom Krauß and Alex Kral dropped back and moved closer together as double sixes. Zalazar drove a 4-2-4 as an advanced ten. This would eventually end up backfiring when Augsburg took advantage of the scrambled defensive ranks and scored the 1-0 six minutes after the restart. FCA goal-scorer Ermedin Demirovic was sent off on a straight red shortly thereafter.

Reis expressed understandable frustration that his attack-minded 4-2-4 proved incapable of capitalizing on the man-advantage after the match. The coach would have to pull the trigger on another tactical change to try and get them moving. Aydin and Simo Terodde came on in the final stages to form a 4-3-3. One can argue both ways about whether this produced enough. The columnist happens to think that the manner in which Schalke packed the penalty area late made the late penalty feel deserved. Noting the presence of luck, we'll label this another "tactical" victory for Reis.

Svensson's training pays off

Freiburg-Mainz capped the round and Bundesliga watchers weren't sure whether to expect a classic or a heavy midfield stalemate. In a sense we got both during the SCF's visit to the Pfalz. Mistakes abounded during an opening phase in which Freiburg displayed some obvious signs of fatigue coming off Thursday's Europa League leg. This at least led to some exciting end-to-end action before matters, predictably, descended into a highly physical duel in the middle of the park.


Ritsu Doan's opener shortly after the restart then, also predictably, proved one of the worst things that could have happened in the contest. Coming off a communication error between FSV keeper Robin Zentner and Edimilson Fernandes, Christian Streich's Breisgauer shelled up in fierce protection of their gifted lead. Streich's men didn't really go forward with much conviction and tried only long-range shots. Mainz, on the other hand, seemed determined to make something out of long throw-ins involving subbed on captain Silvan Widmer.

At the absolute last possible moment, one of Widmer's long throws paid off. Stefan Bell extended one final hurl towards Ludovic Ajorque, who held the ball up very well before servicing Karim Onisiwo for the equalizer at 90+6. The play had the feel of something off the training ground, though one obviously can't be sure. Oh well. A tight contest. A fun finish. On balance, probably a fair result. Nice to see two well-respected sides in the European hunt take a point. Maybe Streich, like Marco Rose, will have some words with his team about defending the long-throw.

The "Spiegel Specials": Round 25
Bochum-Leipzig (0:4, 1:0)

From a German football lover's perspective, the most refreshing result of the weekend! More of the predicted "Badass Bochumery" from Thomas Letsch's VfL. A double-humiliation for one of the Bundesrepublik's most reviled clubs. Wonderful scenes at the Vonovia Ruhrstadion deep in the heart of the Ruhr. Deep in the West German industrial heartland, a tradition-based club managed to turn the tables on an inflatable plastic giant. Bravo, Bochum. You have our undying gratitude.

Bochum's scalp of the German Red Bulls turned out to be profoundly interesting on a tactical level as well. Letsch made no personnel changes to the XI that bested Köln last week, but did re-tailor the shape so as to correctly anticipate opposite member Marco Rose's return to a 4-2-2-2 system. Letsch clearly had his lads well drilled in a very tight midfield diamond all week long. Though they did sometimes slip through, Dominik Szoboszlai and Timo Werner had difficulty coping with the press of Kevin Stöger and Patrick Osterhage.

Those curious as to how the best way to meet the Leipzig 4-2-2-2 head-on is may wish to bookmark this page. Here we have something that practically constitutes a perfect fit. The RB system team and its trademark system found themselves completely neutralized until deep into second half injury time. Small wonder that - much to Rose's chagrin - the difference in this one came down to a lapse on a simple set-piece. 

Lineup—VfL Bochum—Match 25 (4-4-2)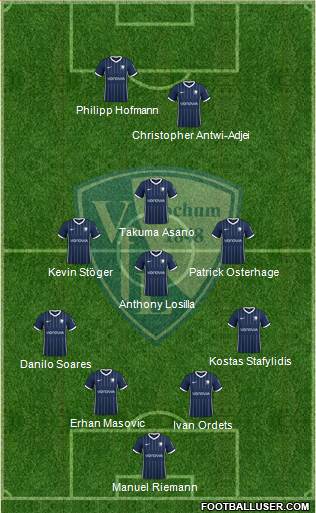 As the recent case of Stuttgart versus Bayern illustrates, a committed and courageous midfield press doesn't carry one all that far against a far better team unless the positional assignments provide adequate coverage on the right patch of pitch. One can see above that four midfielders and two fullbacks can easily move in unison off the ball. This works especially well against a constellation that doesn't feature natural wingers.

To reiterate a point broached earlier, Werner and Szoboszlai still found their way through against this. Some better finishing from either player would have negated the praise we're presently heaping on Letsch's system. Moreover, there's the many spurned opportunities from striker André Silva, Manuel Riemann's late heroics, and Szoboszlai's unlucky strike off the post near the end. This one could have ended very differently.

A specific area of criticism involving Rose's selection on the day remains worth mentioning. Namely, the decision to insert cold fullbacks Mohamed Simakan and Marcel Halstenberg in for Benjamin Henrichs and David Raum. One can naturally hardly fault Rose for attempting to freshen up his flanks after the Man City disaster, but the two new introductions repeatedly failed to help their team achieve useful penetration all afternoon.

If Rose had actually done his homework, he would have known that Letsch's match preparation package included extra defensive sessions for his many options at fullback. Just like last week, Danilo Soarers and makeshift left-back Dominique Heintz divided up the workload very deftly. Szoboszlai had real problems getting into any sort of rhythm and his assigned right-hand striker Yussuf Poulsen remained quiet up front.

Prognosis: The "Gospel of Bochum"

Sometimes we tend to forget that the word "gospel" merely translates to "good news". There's plenty of that to report on when in comes to Bochum, even though an anxiety-ridden tight relegation fight will hardly leave VfL fans feeling spiritually satisfied. This team will suffer many more defeats. Safety, if it is clinched, won't come until a very late stage in the campaign. There's still plenty of positives to note.

How about we begin the case of defender Erhan Masovic? After scoring in his second consecutive match, the Serbian defender now has four total goals on the year. The 24-year-old's defensive play has also been marvelous as of late. Bochum's back-line has now finally solidified after the summer departures left it ridden with holes. Much is possible with a confident defense holding things together.

The experiment using Christopher Antwi-Adjei as a service striker can also be considered a success. While VfL offensive incursions remained rare on this day, Philipp Hofmann and Takuma Asano were able to paint a few encouraging brushstrokes thanks to the coverage the German Ghanaian was drawing. Other actors such as Gerrit Holtmann and Jordi Osei-Tutu could benefit from this too, as could Simon Zoller.

Lead-striker Hofmann currently traverses a goal-scoring drought (six fixtures without a tally), but hasn't looked particularly bad in his recent outings. There should be much more to come from a forward who has already contributed a respectable total of seven league goals this campaign. The squad possesses potential, some of it admittedly latent, all over the pitch. The prediction that they can avoid relegation is definitely back on.

Dortmund-Köln (2:3, 6:1)

From the good news concerning Bochum to the bad news concerning Köln. One certainly doesn't wish to diminish the significance of Dortmund's convincing, compelling, and quick dismantling of their league opponents this weekend. Indeed, we'll be getting to that below. Before heading in that direction, however, we must first emphasize that Edin Terzic's Schwarzgelben were playing one of the decidedly worst teams in German football at the moment. The cathedral city side may be considered relegation favorites now. That's a hard fact.

Steffen Baumgart and die Geißböcke, bluntly stated, have nothing to offer in front of goal at the moment. The Domstädter gaffer was so desperate to find someone capable of finding the back of the net this week that he had Davie Selke and Sargis Adamyan lead the line. The former scored almost incidentally. The situation up top is just plain beyond awful. Having already made it a point to chronicle the woeful statistics associated with Köln's scoring crisis repeatedly in the last few weeks, there's no need to rehash this time.

It bends the mind to think that Köln were capable of scoring three goals against Dortmund in the reverse fixture. How on earth did that even happen? Was there really a time when Florian Kainz and Dejan Ljubicic looked like real Bundesliga starters? A time when Steffen Tigges was a relevant striker? A time when Marvin Schwäbe was a celebrated keeper? Was this all a dream? One thing is for certain. The Effzeh are in a total nightmare now. Jonas Hector and Ellyes Skhiri look like Bundesliga-caliber players. No one else does.

Huch. With that out of the way, we'll now proceed to the more cheerful matter of how much the BVB can look forward to their re-match with title-rivals FC Bayern München once league play resumes after the coming international break. Terzic doesn't appear capable of doing much wrong tactically these days. Deprived of more of his preferred actors (Emré Can, suspension and Salih Özcan, stomach) bug again this week, the BVB trainer just "made" it work in midfield. That's how he rolls.

Lineup—Borussia Dortmund—Match 25 (5-4-1)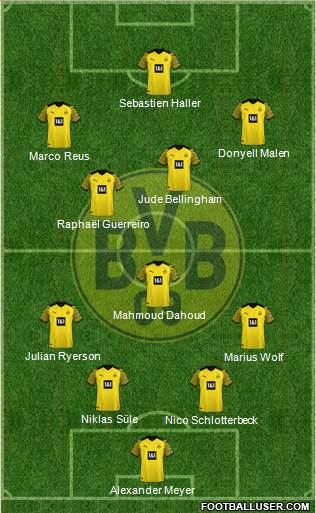 At this rate, Raphaël Guerreiro will be playing as a striker within a couple of weeks. The Portuguese international keeps moving further upfield to even greater effect. Another brilliant match from the 29-year-old. Guerreiro scored a goal and registered two assists. He was also directly involved in five of Dortmund's six goals on the day. Wow. Just Wow.

A brilliant stroke of tactical genius to place Guerreiro underneath Jude Bellingham on a revolving split-stagger. During the first half, the columnist couldn't really even place where Guerreiro was supposed to be. He looked as if he was an eight-slot player who decided that he'd take over the six and ten positions while he was at it. Amazing.

With Gurerreiro commanding all that attention, Bellingham was freed to execute an endless series of brilliant turns. The English phenom exits what had been - by his standards at least - a prolonged form slump thanks to this tweak. Marco Reus, Donyell Malen, and the recently questioned Sebastian Haller all got much-needed ink on the scoresheet.

Very exciting stuff. League play can't return soon enough.

Prognoisis: The most ill-timed break ever

So much can happen over the next 14 days. Stars on both Bayern and Dortmund can get hurt on international duty. Terzic or Nagelsmann might ride the wrong player based on their performances in a very different context for their countries. The altogether odd nature of Flick's latest experimental selection renders the coming Bayern-Dortmund showdown even more difficult to even attempt to handicap.

Assuming that Sebastien Haller returns to the Ruhr safe and sound, it's not necessarily a stretch to tip Dortmund as a light favorite. We've just seen how Bayern (covered below) ran into their same "paint the corner" problems in the absence of Eric Maxim Choupo-Moting. Dortmund have the better team with more in-form players and a clicking striker now working deep drops and only getting better.

Oh, why must we wait?

The "Burning Questions": Round 25
Do Gladbach have a new system?

Some interesting rumblings over in the West Prussian section of North-Rhine Westphalia, where Borussia Mönchengladbach trainer Daniel Farke is at least attempting to shake his mid-table club out of their complacent torpor. Gladbach continue to strike German football observers as the one of the least motivated clubs to contest the top-flight in recent years. They barely run. They eschew sprints on the counter play. As we've been discussing at length in recent weeks, the collection of players in transitional points in their career simply don't seem to care at all.

Such was once again the case in this Friday night's round 25 "curtain raiser". Lined up in the usual 4-2-3-1, the requisite work-ethic wasn't even remotely apparent in the opening 45 minutes against visitors Bremen. The foals seemed to lumber forward almost by accident. The hosts racked up upwards of 70 percent possession, outshot their opponents by a 3:1 ratio, and murdered the Hanseaten in the xG battle. Still, the soon-to-depart Marcus Thuram missed chance after chance in front of goal.

Half-time xG:

xG Gladbach--1.47, xG Bremen--0.28

Okay.

Full-time xG:

xG Gladbach--3.09, xG Bremen--0.72

Right.

The figures for the Friday night fixture are included this week solely to illustrate just how misleading this stat can be. No one watching the Gladbach-Bremen game felt as if there was such a huge disparity between the two sides on eye-level. Bremen - admittedly letting themselves down with some heavy touches and mistimed passes just outside the area - were running neck-and-neck with their opponents in both halves. A 2-2 final scoreline appeared fully justified here.

All four goals came during a very exciting second half during which - for better or worse - Farke at least tried something different. The BMG trainer moved one of his more flexible puzzle pieces this season, 2014 German World Cup winner Christoph Kramer, into the back-three. The somewhat maligned former German international Florian Neuhaus scooted downfield to pair with Manu Kouadio Koné in the double-six. Recently passed over German attacker Jonas Hofmann worked as a short-striker behind Thuram.

Lineup—Gladbach—46th minute (3-4-1-2)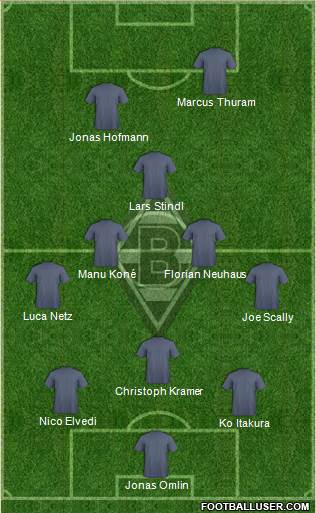 It worked and it didn't. Thuram did finally locate the right finish on the 48th-minute opening goal. Within a few minutes, however, Hofmann was fluffing his lines on unfamiliar attacking lane runs. Thuram messed up again in the immediate aftermath. The Bremen equalizer laid bare the problems of the defensive resorting, with Nico Elvedi, Luca Netz, Ko Itakura, and returning keeper Jonas Omlin all getting pulled out of position on a flash-fire SV charge after a Neuhaus ball loss.

Neuhaus would redeem himself with the 2-1 in the 73rd, this time capitalizing on a bad midfield giveaway from counterpart Ilia Gruev. SV strikers Marvin Ducksch and Niclas Füllkrug - both active on the first equalizer as well - then combined for the 2-2 in the final minute of normal time. Once again, one should note that the foals missed out on some golden opportunities to put the game out of reach. Hofmann was a tad too slow in the 78th, enabling SV substitute Lee Buchanan to clear the ball off his feet.

The future of this system

Farke will probably wish to keep this in place for what appears to be an easily winnable affair against fierce rivals Köln in the big matchday 26 "Rheinderby". American Joe Scally performed very well in his more advanced pseudo wingback role, working in a pair of decent crosses for Hofmann. Luca Netz obviously has a ways to go yet. That's irrelevant for the time being as Ramy Bensebaini will return from suspension next time.

It might be prudent to have Itakura run the central pivot in the back-three rather than Kramer, given how influential the Japanese international can be when allowed to break in both directions. Perhaps Farke could dust off Marvin Friedrich to work Itakura's right-slant. One wishes there might be a better partner for Koné than Kramer. Julian Weigl's recovery time becomes a major factor.

The future of Gladbach

Hofmann's absence from the German national team can work to his advantage. It counts as a decent opportunity to remain behind and drill in this system a but more. Thuram is away on international duty, but there are others who can mimic the Frenchman on the training pitch. If anything at all is to come out of this meaningless and mediocre season, it must come from the 30-year-old who cares about his future for club and country.

The likes of Thuram, Bensebaini, and even captain Lars Stindl (all almost certain to depart on frees) can only be expected to care so much. Their primary objective remains to avoid injury. To a certain extent, Farke should be expected to earn his paycheck and breathe some motivation into this side despite their "stable in mid-table" position. If he just keeps them chugging along, it might be the case that he's part of the summer scratches.

How did Leverkusen beat Bayern?

Somehow, this happened. A team coming off a grueling Europa League leg knocked off the mighty German giants. No, it's not a misprint. Julian Nagelsmann's FCB dropped points they had no business dropping and Borussia Dortmund sit atop the Bundesliga table. Incredible. Not the easiest thing in the world to glean lessons from a freakishingly odd game that featured not one, but two, yellow card reversals for Amine Adli. Bayern could conceivably lodge some complaints about the officiating throwing them off during a much-better-played second half.

Of course, that doesn't excuse the fact that the Bavarians never really got going in the first-half at all. The FCB attack looked totally amateurish against Xabi Alonso's Werkself. Forward charges lacked flow and incursions into Bayer territory were extremely rare. The guests took a 1-0 lead into the dressing room at the BayArena only by virtue of the fact that Joshua Kimmich's effort deflected in off of B04 defender Odilon Kossounou in the 22nd. That actually happened to be Bayern's only shot of the opening 45!

How precisely Leverkusen disrupted the Bayern game must be answered in two parts. We'll require two draw ups here. Alonso's "double pivot" that used Robert Andrich as an advanced back-three anchor and Florian Wirtz enabled the Westphalian hosts to control the game in midfield. Bayern were forced into defending; an assignment they accepted like a petulant and spoiled child told that he, rather than the maid, should clean his room. A very inspired performance from Xabi's red company team in this set-up:

Lineup—Leverkusen—Match 25 (3-4-3)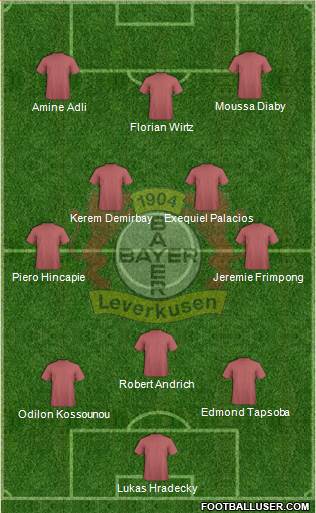 It should be noted that, while they weren't best pleased about it, Bayern defended fairly well. The home side - while certainly possessing vigor, concentration and confidence - didn't really do a great job playing passes cleanly in the final third. Bayern accorded them plenty of space in their own constellation, which we'll turn to now. Hard to believe that Nagelsmann had the audacity to roll this out. Having decided to rest Jamal Musiala, he threw together something a bit lazy and assumed it would stick.

Lineup—Bayern München—Match 25 (3-1-4-2)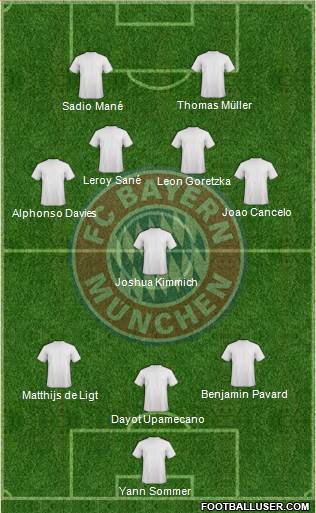 Clearly designed to finish the game off early. Leon Goretzka didn't even pretend to act as a midfielder. Joao Cancelo functioned as a straight winger. Assigned a match-plan like this, it's no wonder that the FCB XI got annoyed at their defensive work and didn't feel much in the mood to work forward. The match didn't proceed according to plan and the favorites failed, for whatever reason, to play catch up. Nagelsmann would eventually throw all plans out the window with a triple half-time substitution.

Jamal Musiala, Serge Gnabry, and Kingsley Coman entered for Cancelo, Mané, and Müller. Something of a free-for-all in the crazy second half which - it bears repeating - saw two yellow cards for diving on Amine Adli taken back by VAR. Madness. Pure unadulterated madness. Most of us couldn't believe the outrageous spectacle that we were watching. While there are lessons concerning Nagelsmann's arrogance and a nice tactical set-up from Xabi here, it also barely felt as if we were observing a real football match here at times.

Perhaps a general little bit of information we can derive from this is that Bayern have soft buttons that can be pushed. They can be disrupted and ruffled, certainly more so than FCB sides in seasons' past. Whether or not Dortmund can mash down on those keys after the defending champs have some time to regroup and recuperate remains to be seen. We'll ultimately have to close this section with the same words as we did the Dortmund one. Why, oh why, must we wait?

Can it get worse for Frankfurt?

A standard rule about football - and life for that matter - is that things can always get worse. Who would have thought that we'd be writing an SGE eulogy for the second consecutive week? The same issues are still there and they are legion. Confidence in front of goal continues to take a nose-dive for the RheinMain Adler. Randal Kolo Muani - now without a scorer point in three straight fixtures - has lost some of his intuition finishing-wise. The budding French superstar missed no fewer than three clear chances to score in the first half alone during Sunday's 0-2 defeat to Union Berlin.

Moving back down the ranks, the midfield seems to become more mistake-prone with every passing match. Djibril Sow lost more than half of his direct duels and didn't complete a successful forward dribble. His occasional partner Daichi Kamada - who looks to be tired of all the positional shifts and the club in general - had another bad day. At least ten stray passes from the Japanese international. Evan N'dicka - another departing player who has thoughts beyond the current season - keeps tanking

Glasner has to rethink who he really wants serving in his back-three after Tuta and Hrvoje Smolcic made mistakes on Union's second goal. Keeper Kevin Trapp seems to have ceded some edge as well. Yes, it's just been horrible week for the SGE. This season's European dream is dead. Next season's looks to be in serious peril. After a six-game-winless run on-the-spin, Oliver Glasner must do what he least likes doing: A total re-think of this team's tactics.

Putting Rafael Santos Borré in as a placeholder for the injured Jesper Lindstrøm hasn't worked. Now that we know Lindstrøm won't be back once league play resumes, the 3-4-3/3-6-1 simply has to go. As Glasner himself put it in his post-match interview, he the system itself should work with the right quality. The only problem is that, in his own words, he doesn't have the quality now. Can the SGE snap out of it on a stretch that reads Bochum, Union (Pokal), Leverkusen, Gladbach, Dortmund?

It could very well get worse.

It can always get worse.

Weekly Tactical Focus: Into the Relegation fray!

Time to check in with a good old-fashioned "relegation rumble"! Just as was the case in the two previous Spring's of this column's existence, matches crucial to the quest to avoid the drop will earn more of the "focus sections" as we enter the final weeks. One hopes that matters won't - as they did last year - get exceedingly Hertha-centric. Naturally, given the result that we're about to discuss, such a destination may be inevitable. Huge win for die Kraichgauer against a very weak Charlottenburg side this time. Yikes! Those "777" investors might have picked a money sink.

Entering the weekend, the basic human desire to engage in some voyeurism rendered Hertha-Hoffenheim an irresistible pick. TSG trainer Pellegrino Matarazzo's back stood about as firmly against the wall as possible. Multiple reports suggested that replacements for both the embattled head-coach and the continually ineffective sporting director had their plane tickets already booked; possibly even their office plants already picked out. It doesn't get any more pressure-fueled than this.

After five games in charge without so much as a single lead taken by his team in any one of them, Matarazzo had to win here in order to ensure that he would remain the man charged with steering Hoffenheim away from relegation. Hertha coach Sandro Schwarz faced a similar situation some weeks back. The two trainers have now dug out big wins in their so-called "End-Spiele" and are now firmly (in all likelihood) firmly entrenched with their sides for the duration of the campaign.

We'll talk about the positive and negative connotations of this in the concluding section below. Full-time xG stats aren't relevant this week as the match did feature two penalties for Hoffnenheim. Loads of tactical draw-ups this time around as there was a lot going on from the men prowling the sidelines. As we shall see, Matarazzo did a splendid job shaking off some of the negative commentary foisted on him by this commentator as of late. Schwarz, on the other hand, has proceeded to get himself lost in his own forest.

Lineup—TSG Hoffenheim—Match 25 (3-3-2-2)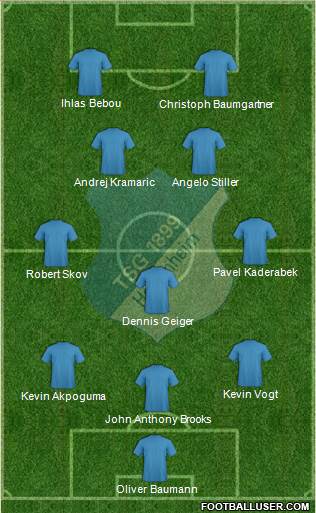 Three personnel changes and some logically sound tactical tweaks from the American trainer from his last XI. Kevin Vogt returned to take over for the suspended Ozan Kabak. The previously suspended Christoph Baumgarter replaced Finn Ole Becker. Crucially, in something of a sly move, Matarazzo gave Andrej Kramaric the nod over Munus Dabbur despite strongly suggesting he would not do so.

The intelligent positional adjustments

There were at least four of them. John Anthony Brooks dropped back to work an inverted pivot. Wingbacks Robert Skov and Pavel Kaderabek pushed up to serve in more advanced roles. Kramaric and Baumgartner flipped from their more natural positions. The Croat's deployment was clearly that of a buttressing support attacker whilst the Austrian went up top alongside Ihlas Bebou. Finally, unlike last week, the two strikers were axially chained.

Schwarz's hard luck

We should note that the Hertha gaffer found himself deprived of his preferred XI due to some late scratches. Marton Dardai (muscular issues) and Marc Oliver Kemp (hip pointer) had to withdraw on short notice. Schwarz himself had been away from the team most of the week, stuck at home with a stomach bug. One could see some disjointedness from "die alte Dame" thanks to all of this.

Lineup—Hertha BSC—Match 25 (3-5-2)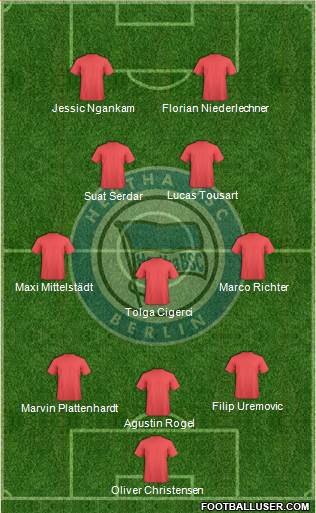 Captain Marvin Plattenhardt had to drop into the back-three. Additionally, Agustin Rogel had to anchor the chain on a cold-start. Filip Uremovic - on something of a wild swing of form at the moment - had his work cut out for him defending the side of the spry and active Skov. Matarazzo obviously targeted this side specifically with both Kramaric's placement and heavy rotations with Skov and Kaderabek.

Marco Richter had to drop back to help often....

....and it wasn't pretty.

Match Flow: 1st to 24th minute

One didn't exactly expect glorious football from two teams involved in a tough relegation fight at the bottom of the table. One didn't get it either. The opening exchanges were full of broken plays and half-baked ideas. Not a lot of crisp artistry to discuss in this week's section. Mostly head tennis around the TSG box in the opening minute. After Hoffenheim won four consecutive aerial duels, Lucas Tousart got a ball forward for the guests. Brooks cleared easily.

Tousart furnished another header in the 2nd, this one goal-bound off a Richter throw. It trundled well wide and out into touch. TSG keeper Oliver Baumann took his time setting up the goal-kick. A long launch in Baumgartner's direction proved no good as the Austrian immediately lost the ball. Vogt then caught up to a slow-rolling Hertha counter going through Maxi Mittelstädt and Suat Serdar. Brooks and the Hoffenheim back line bow-arced a bit before Vogt went for a diagonal towards Baumgartner on the half-left in the 3rd.

Plattenhardt tackled away from the TSG Austrian, who was probably offside anyway. Neither Richter nor Mittelstädt could do much with the Hertha approach play. The Hertha wingbacks could only work back to keeper Oliver Christensen. After both Christensen and Richter turned the ball right back over to the Kraichgauer ranks, Skov managed to get a weak shot on target at the beginning of the 4th. Multiple Hertha recycles in the 5th produced nothing. Tousart finally tried to send Richter through. Brooks calmly blocked Richter's cross.

Baumgartner saw a whip-in diagonal aimed at Bebou repelled in the 6th. Brooks and Kevin Akpoguma also cleared desperate Hertha long verticals. Akpoguma headed away another such hopeful ball in the 7th. Two TSG charges in the same minute were handled well enough. Rogel took care of a Skov switch. Uremovic cycled away from Kaberabek on the other side. Kramaric was able to produce something more promising in the 8th. The Croat spotted Kaberabek away from Mittelstädt on the right far post.

Kramaric's quality chip-in was met with a wide finish from the Czech wingback. Another quality chance that might not have counted anyway as Kaderabek looked to be offside. A pretty sad Hertha charge up Mittelstädt's side in the 9th ended with Florian Niederlechner taking a heavy touch on a Serdar cross. A better take-down likely wouldn't have led to a scoring chance as Niederlechner was smothered in the box. Baumann again took his time setting up the free-kick. No one was in a rush here.

Plattenhardt got a couple of opportunities to make something happen in the 10th with a long-throw and a free-kick. The Hertha skipper did reach Jessic Ngankam in the second case. Ngankam spun around Brooks before the U.S. international recovered. Brooks then himself lost the ball in a slapstick fashion. Fortunately, Baumann was on hand to collect. Tolga Cigerci and Richter put Ngankam through again in the 11th following a bad Vogt turnover. Ngankam failed to turn against Akpoguma this time, but Tousart remained on the ball and won a corner.

Niederlechner headed Cigerci's late 11th-minute take over the bar. The hosting Badeners interpreted the action as a warning shot and thus took their next two builds slowly. Vogt tried to hit Skov with a switch after a few retreats in the 12th. The TSG Dane got a good first touch in, but had to slow up in order to wait for support. Uremovic re-oriented himself in time to box Baumgartner out of Skov's slide-over and there was a goal-kick. Hertha Dane Christensen milked as much time as possible.

Noting but back cycles from the Kraichgauer hosts in the 13th. A Brooks switch went well over Stove's head in the 14th, as did a Kaderabek vertical over everyone. Uremovic still opted to play it safe with the second long-ball, turning out for a corner. Dennis Geiger took the first TSG dead-ball from the flag. Rogel headed the 15th-minute service away. Skov put the brakes on an Ngankam-led counter, ultimately trying to spark a counter himself. Skov unfortunately couldn't catch up to Kramaric's return ball on a give-and-go left.

Christensen tried to reach Ngankam with a long-laugh off the ensuring goal-kick. Brooks rose higher to win the aerial battle and head back to Baumann. Hoffenheim's next rush ended with a Akpoguma vertical for Bebou sailing out into touch in the 16th. Hertha tried to crawl up their right via a series of throw-ins in the 17th. Tousart could find no way through as the Berliners approached the danger area. Richter and Plattenhardt then had to cycle all the way back.

Hoffenheim got their turn to crawl up a flank with their own series of throw-ins in the 17th and 18th. Kaderabek, Baumgartner, and Bebou tried up their right. The point of attack eventually got switched over to the left and Skov earned a couple of throws. At least Kramaric tried something off the second. The Croat attempted a one-touch thread-through for Bebou. The pass nevertheless missed its target by millimeters. Cigerci touched out for a corner. Skov saw his 19th-minute service returned to him promptly. Richter cleared the TSG Dane's second cross.

Kramaric and Skov had some ideas off a 20th minute throw. Mittelstädt's stab at clearing out of the box went only as far as Vogt. The TSG defender went straight back across for Kramaric with a long switch. Kramaric skillfully took the ball down with his chest and rifled a short-range effort in on target from just outside the left post. Keeper Christensen bravely saved the scorcher with his face before pawing the rebound out for a corner. Match official Frank Willenborg actually delayed the take until he was sure that Christensen was okay.

Smiles prevailed once the redness faded away from the Hertha keeper's face. The 21st-minute corner was taken short by Skov. Christensen's Danish compatriot whipped in what would have been a dangerous cross near the BSC net-minder's goal. To Christensen's relief, the linesman noted that Skov had veered offside ahead of the return ball. A nice aerial win from Akpoguma in the same minute put Baumgartner through on the left. Richter and Uremovic closed ranks together just in time. Another corner.

The Kraichgau hosts were certainly knocking on the door now. The 75-percent-chance from the spot came off the resultant set-piece. Brooks was forward to head the 22nd-minute corner in the direction of the goal. Cigerci - though he had his back to the ball - also had both hands up in the air in an unnatural position. Willenborg saw fit to award a handball penalty immediately. Discussions with the ref. There would be no discussion as to who would take the kick. The spotlighted Kramaric grabbed the ball.

24th minute conversion from the Croat.

1-0 to the hosts.

Match Flow: 24th to 37th minute

Things didn't exactly proceed to fall apart for the capital city guests. On the contrary, there was very nearly a rapid response. Although a switch in Richter's direction in the 25th came in miles wide of the Germany U21 international, Brooks and Akpoguma immediately gave the ball back to Ngankam. Brooks could only block Ngankam's attempted cross right back to Richter. Suat Serdar came close to meeting Richter's cross with a beautiful mid-air tricycle finish.

Such a lovely goal it would have been. Serdar ended up not missing by all that much at the far post. Momentum regrettably got quashed in the 26th when Mittelstädt fouled Angelo Stiller in a midfield duel. Stiller required a treatment break and we didn't restart until the 27th. Vogt took the free-kick back and Hoffenheim recycled through full bow-arcs for a while. The next attack went through Geiger central. Richter was forced into a tactical foul and Willenborg produced the first yellow of the match.

Brooks restarted play in the 28th. The hosts got another quality rush out of the play. Skov creatively cut inside upon receiving the ball. Brooks and Vogt came up to press forward on an advantage with the Hertha ranks drawn out and confused. The sequence unfortunately ended with Stiller getting caught on the ball. Mittelstädt rushed past the overcommitted ranks on a counter. Vogt deflected Mittelstädt's cross into Niederlecher's path. The Hertha striker nevertheless had to turn in order to shoot. Geiger made it back in time to block.

Neither back line could cycle out during an uneventful 29th. Hertha reached Ngankam up the right in the 30th, but the newly recalled German youth international had no space to breathe. Brooks, Akpoguma, and Geiger harried him off the ball. Niederlechner did a fairly decent job rattling the ball off Brooks. It still came to nothing as he too was quickly smothered. Nothing apart from long-hit head-tennis and more throw-ins through the 31st. At long last, Bebou got forward and earned his team a corner off Uremovic at the end of the minute.

Stiller strode to the flag this time. Kaderabek did well to meet Stiller's 32nd-minute service with a nice drop-kick at the far post; albeit one that still came in about a full meter wide. Hertha found themselves pinned back on their left through all of the 33rd, conceding a seemingly endless series of throws. The TSG finally unlocked Skov wide left with a switch in the 34th. Bebou extended Skov's cross cleverly in Kramaric's direction. The Croat didn't react in time to bury what would have surely been the 2-0.

Hertha attempted to counter via Niederlechner, Tousart, Cigerci, and Ngankam. The play developed too slowly and Baumann was able to parry away Mittelstädt's final cross away easily. The next Hertha charge in the 36th fizzled out in front of Baumann. The TSG keeper opted to try and reach Bebou with a long-launch. It connected with Bebou ahead of the caught-off-guard Uremovic. Hertha's beaten Croatian defender slid in behind Bebou with a particularly nasty challenge in the box. There could be no doubt about this one. Definitely a penalty.

One Croat conceded the penalty.

Another one converted it.

Kramaric again from the spot in the 37th.

2-0 to the hosts.

Match Flow: 37th minute to half-time

Not all that much a demoralized Hertha could manage after that second blow. For the most part, only one team was playing as we marched toward the break. In a scene pretty much emblematic of where everyone in red's head was following Kramaric's brace, Plattenhardt and Mittelstädt couldn't figure out which one of them was supposed to take a deep throw-in shortly after we got rolling again in the 39th. Cigerci looked totally frazzled on another dead ball in the 40th.

The "big January acquisition" drew a foul in midfield, took his own free kick, and immediately gave the ball away. Hoffenheim pounded the discombobulated Berliner ranks some more in the 41st. Kramaric flicked forward for Bebou while Rogel and Uremovic scampered after the Togolese striker whilst trying not to trip over their own feet. Mittelstädt saved the day with a monster tackle out for a corner. Brooks saw a quality header randomly deflected into Christensen's arms off the ensuing set-piece.

Christensen's attempted quick-spark counter went nowhere thanks to a terrible Cigerci midfield turnover. Baumgartner very nearly scored the 3-0 before the 41st was out. Richter and Cigerci both saw poor diagonals land near no one on the next Hertha charge in the 42nd. Richter then had to foul Kramaric again on a Skov led counter and lucky not to see his second yellow. There was some danger off the subsequent 43rd-minute free-kick after Hertha repeatedly failed to clear the ball.

Stiller and Niederlechner collided on a 50-50 in the 44th and there was another treatment break. Willenborg awarded Hertha the free-kick, yet saw no need to tack on more than his initially indicated one minute of added time. Brooks cleared the 45th-minute free kick cross out for a corner. Plattenhardt saw no need to rush to the flag. He, like everyone else on his team, just wanted this half to be over.

The 45+1 service was extremely poor and even led to a Skov-Kramaric counter. Kramaric went down in a direct duel with Rogel. Willenborg saw no need to prolong proceedings. No foul. No free-kick. Just a whistle to send everyone into the locker rooms. Nothing more would be decided by the officiating team. Time for everyone to regroup.

Match Flow: 45th to 51st minute

Much transpired in the six minutes before this match received the "lid" it was begging for. Schwarz went for a double change at the half, bringing on Dodi Lukebakio and Stevan Jovetic for Niederlechner and Cigerci. With the midfield linchpin being taking out of proceedings, this obviously heralded a significant tactical change. The fact that Lukebakio would settle in central seemed a predictable enough development. The only question was whether the Belgian would settle in as a false-nine or true forward.

Lineup—Hertha BSC—46th minute (3-4-3)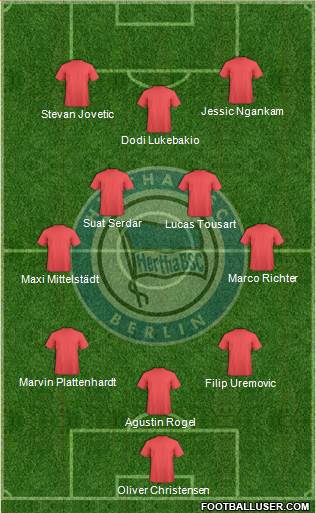 False-nine all the way. Schwarz's wingback moved up to pack the midfield. Uremovic, Rogel and Plattenhardt all separated further. This was immediately evident in the 46th as the two sides traded long launches. It became perhaps even more apparent when Jovetic completely missed Lukebakio with a whip-in from the left at the end of the first minute of the second half. Lukebakio was operating too deep.

Brooks, Vogt, and Akpoguma couldn't make much out of a TSG build in the 47th. The last defender gave the ball away and there was a brief Hertha counter chance through Richter. Kaderabek committed a slight foul to cut out the momentum. Plattenhardt and Richter only ended up turning it over off the free-kick. Kaderabek was on the march offensively by the 48th.

The Czech worked in a cross from Baumgartner from the left after some nice movement from Kramaric, Geiger, and Stiller. Baumgartner couldn't generate much power behind his headed finish and Christensen was able to collect. The Hertha keeper sent Mittelstädt down the left on a quick counter in the 49th. The ball found its way to Lukebakio via Serdar for a point-blank shot at the far right post.

Baumann did extremely well to save Lukebakio's effort. The rebound bounced off the Belgian's marker (Skov) and the Hertha players virulently appealed for a handball penalty of their own. The match could have definitely swung the other way at this point, but Willenborg (correctly if one studies the replay) ruled that Skov had drawn his arms down to his side and tried to get out of the way of the ball.

The ball had still bounced over the touchline via Skov's arm and there would be a corner. An interesting 50th-minute design take led to another corner. Brooks deftly headed away the second set-piece. The ball made its way back to Baumann and within a minute it was all over. Baumann launched another ball upfield. Neither Baumgartner nor Plattenhardt could emerge superior from the aerial duel in the box.

Bebou - who absolutely should have been marked by either Rogel or Uremovic - picked up the ball, took a few stride touches, and buried the finish past a helpless Christiansen. Game over. Nothing good could come of this day for Hertha; not even when the match took some unexpected turns afterwards.

Match Flow: 51st minute to full-time

Schwarz's men effectively packed it in for the day. The Hertha press off the ball totally ceased. Bebou and Baumgartner came close to scoring the fourth during uncontested Hoffenheim rushes in the 56th, 58th, and 59th. Kaderabek got his turn in the 60th. Stiller forced a save out of Christensen in the 63rd. Traffic remained one-way. Kramaric came close in the 67th. Bebou was only separated from the ball at the last moment in the 68th.

Matters did take a slightly strange turn shortly after Munus Dabuur was subbed on in the 69th. Within two minutes of his introduction, the Israeli (most unbecomingly) employed an absolutely filthy-dirty tackle on Lukebakio in the 71st and was deservedly sent off on a straight red. The Kraichgauer hosts would have to play the final twenty minutes shorthanded.

To his credit, Schwarz attempted to make something out of this tactically. Having already just sent on Kevin-Prince Boateng and Jonjoe Kenny for Plattenhardt and Richter in the 65th, the Hertha trainer quickly burned his final substitution in the 73rd. Wilfried Kanga came on for Serdar and the constellation took on a more menacing look.

Lineup—Hertha BSC—75th minute (4-2-4)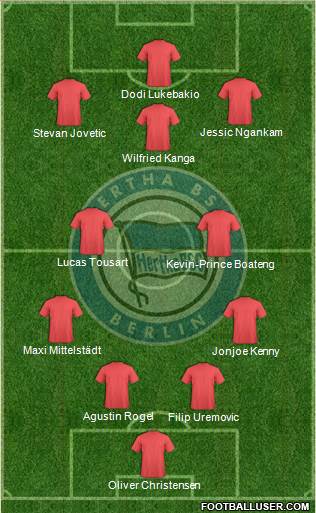 All the strikers Schwarz now has at his disposal forward. Why not? Something like this may hold some promise for the future. Unfortunately, on this day, the Charlottenburgers weren't in much of a mood to try. A three goal deficit was simply too much to overcome. Nothing really happened until Mittelstädt got a side shot off in the 81st. Jovetic shoved the 1-3 consolation past Christensen at the death (90+2) after everyone had switched off.

We'll briefly take a look at Matarazzo's protective set-up; a relevant topic since he got hammered with failing marks in the latest "Americans in the Bundesliga Column" for failing to set up his last 5-3-1 properly. This time the American trainer was spot on. He learned his lessons properly. Brooks on an inverted picot. Wingbacks all the way back. Clear separation between the top two axes.

Lineup—TSG Hoffenheim—77th minute (5-3-1)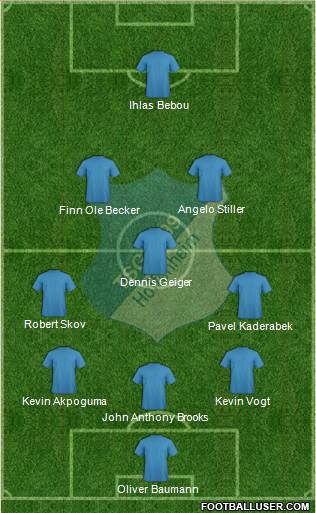 And that's all she wrote. A massive result for the continually fascinating relegation battle. Matarazzo now very likely keeps the reins down the stretch. Prospects appear fairly good for the American's central task. Most of the previously discussed core challenges he faced have been rectified with this result. Kramaric is rolling again. Youngster such as Angelo Stiller, Dennis Geiger, and Finn Ole Becker have clearly defined roles. So too do several crucial veterans.

The squad packs real punch down the flanks with Skov and Kaderabek. Brooks, Akpoguma, and Vogt begin to solidify as the regular back three. Interestingly enough, the combined age of these five players is 141 years for an average of 29-years-of-age. Experienced Bundesliga leadership from virtually all them. Vogt, Brooks, and Kaderabek also the advantage of having pulled their teams through relegation fights before.

As we reflect on Hoffenheim's first league win since October, one could tentatively tip them to snag at least two more three-pointers before the month of April is out. Schalke and Köln are quite beatable. Matarazzo's men can even take some points off Bremen and even Leipzig as well. There's a long way to go here, but so much is looking up for the Sinsheimers.

As for Hertha, Schwarz may wish to keep the 4-2-4 in place if he wishes to maintain any hope of beating upcoming opponents Freiburg, Leipzig, Schalke, Bremen, and Bayern. It looks to be a brutal month for the Charlottenburgers, though the thickness of the relegation pack means that four or five points out of April might be enough to keep survival prospects afloat.

Note that the columnist fully reserves the right to totally declare himself dead wrong about the state of either one of these teams. That's the beauty of this year's mad scramble to avoid the drop. All of the trainers involved - with the possible exception of Steffen Baumgart at Köln - have something on which they can build. One really looks forward to all the drama of the coming weeks!

Thanks so much for reading! You can catch the release of all Peter's columns on twitter, @ViceytheSS.

Twitter DMs are open for football conversations, corrections, and (if you truly insist) general abuse. 

All columns debut on Bulinews before appearing on Peter's website as the season progresses.



Related stories