Flick, Völler, and di Salvo discuss joint path at joint presser
By Peter Weis @PeterVicey
Bundestrainer Hansi Flick, Germany U21 head-coach Antonio di Salvo, and new national team director Rudi Völler, at a joint Frankfurt presser today, discussed a "new path" for the German Nationalmannschaft that will include tight coordination with the country's highest youth level program. 

The Germany U21s are training side-by-side with the senior men's team at the DFB Campus. 

Di Salvo commented on players previously under his aegis that have made the jump to Flick's squad, including late call up replacement Malick Thiaw. Di Salvo also commented on the current status of young FC Bayern German-Austrian phenom Paul Wanner.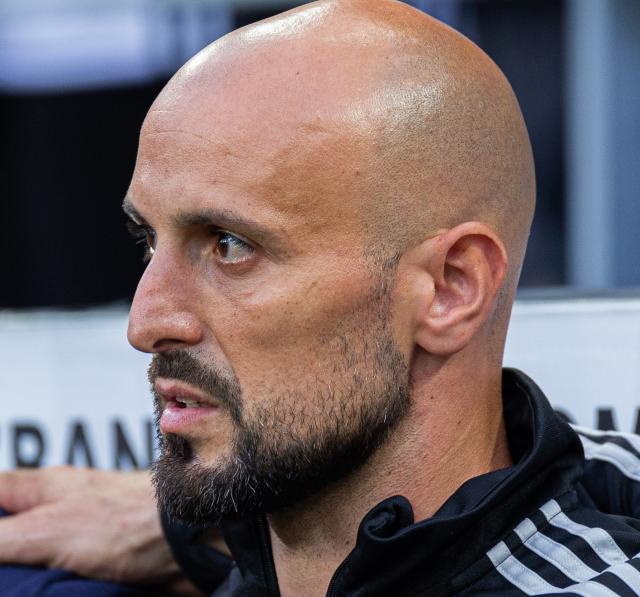 | | |
| --- | --- |
| Antonio Di Salvo. | Photo: Steffen Prößdorf, CC BY-SA 4.0 |
The "new direction" for Germany's venerated "Nationalmannschaft" some 15 months before the Bundesrepublik hosts the 2024 European Championship centers around a closer relationship with the country's highest youth level. This was made tacitly clear by Bundestrainer Hansi Flick's latest national team selection. At a joint presser on Monday, Flick and new national team manager Rudi Völler discussed the strategy heading forward.


The Germany U21s and Flick's senior squad are huddling together in Frankfurt this week. Flick and Völler laid out the plan: First the U21s shall successfully defend their European title at the U21 Euros this summer. After that, the highest level shall capture glory next summer. Flick even stated that he would call up more U21s for the June friendlies, then immediately send them over to DFB Juniors head-coach Antonio di Salvo.

"The interlocking is important," Flick said of the U21s "We chose this path to see which of these players could have the potential to be at the European Championship next year."

"We chose this round with care," Völler added, "It has a symbolic meaning that we do it this way. I'm a child of the U21s myself. I remember reporting for the U21s and meeting the foundation that would help us win the World Cup in Italy [1990]."

"We're looking forward to the exchanges whilst working side-by-side" di Salvo "I'm delighted when one of our players makes it into the senior national team. It's an honor for the players  and an honor for all the coaches who are involved in the development."

Di Salvo got a chance to comment on specific players who will be working under Flick this time. News that Jamal Musiala would be unavailable due to a thigh injury and Armel Bella Kotchap had to sit out with shoulder problems actually meant that the U21 gaffer had to send his designated captain over to Flick. Former Schalke and current AC Milan defender Malick Thiaw will join the senior team.


"Malick was our captain in the last international match in November," di Salvo noted, "He had a difficult start at Milan, but we've been in constant contact during that time. We've held on to him. You can see his potential now. He has been a regular at Milan for five weeks. I'm in regular contact with his coach. They're very happy with him. He's big and wins his tackles."

Di Salvo also commented on the other four players who have made the move over to Flick's camp. Asked about the status of 17-year-old Bayern midfield prospect Paul Wanner, di Salvo provided an update on the German-Austrian, who is also being courted by ÖFB trainer Ralf Rangnick.

Wanner was not called up to either side this time.

Mërgim Berisha (FC Augsburg):

"We brought Mergim on when he was still in Salzburg. He works very well with his back to goal, can shoot left and right and takes good free-kicks. You can see from success in the Bundesliga that he can prevail."

Kevin Schade (FC Brentford):

"Kevin is also a player that we encouraged early on. He's very fast, can play on the wings, but he also feels comfortable up front. He played for us for the first time as a center-forward in November and scored a great goal right away. He's scored four goals in five appearances. It shows he can and will score."

Felix Nmecha (VfL Wolfsburg):

"Felix is a very technically gifted midfielder, especially with his right foot. He's tall, fast, strong in the air, and can be a good link between defense and attack. He can provide stability. We're glad he decided on the path that we showed him. It was his decision to approach the DFB because he saw no prospects in England."

Josha Vagnoman (VfB Stuttgart):

"He played with us as a very young player at EURO 2021 and was a regular player back then. He can play on the left and right side as a full-back. He interprets this role very bravely and very offensively. He has a good feel for when to go forward."

Paul Wanner (FC Bayern München):

"We spoke to him ten days ago an explained the advantage of the German path. He wants to continue with the DFB for now without making a final decision. He's been playing very little lately. I'm of the opinion that he needs to take it step-by-step."



Related stories