Official:
American talent Paredes joins Wolfsburg on record deal
By Peter Weis @PeterVicey
Kevin Parades officially became the next budding American talent to make the switch to the Bundesliga on Friday evening.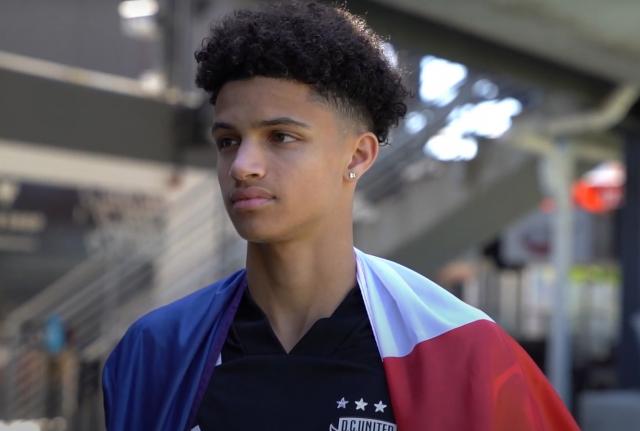 It gets more crowded still for American enthusiasts following Germany's top footballing flight. The final details of the deal to bring 18-year-old DC United winger Kevin Parades to VfL Wolfsburg confirm another record. At €6.7 million, Parades is the most expensive outgoing transfer for one of MLS' founding member clubs.


Parades is now the third major talent to make the switch to the Bundesliga during the January Transfer window after Ricardo Pepi and Justin Che. If all goes according to plan, Parades should earn his paycheck in the Bunderepublik long-term. The left-footer signed a contract through the summer of 2026.

"Kevin brings speed and dynamism in addition to being very quick and nimble with the ball," VfL sporting director Marcel Schäfer said in a statement, "he also racks up a lot of mileage on the pitch and has a great mentality."

The German Autostädter welcomed Parades on their social media channels with the promise of "more power on the flanks". The teenager is indeed quite versatile, with playing experience on both wings as both a wingback and straight winger.


Außenbahn-Power für die Wölfe! 🐺🙏

Der VfL verpflichtet US-Talent Kevin Paredes vom amerikanischen Erstligisten @dcunited. Paredes hat bei unseren Grün-Weißen einen Vertrag bis Sommer 2026 unterschrieben. ✍️

➡️ https://t.co/6tpyoKZ1nT#VfLWolfsburg pic.twitter.com/Zxx5KLK3OW

— VfL Wolfsburg (@VfL_Wolfsburg) January 28, 2022


For his own part, Parades declared himself "fired up for this new challenge."


"I can't wait to get going at VfL," the youngster said in his own statement, "My first impressions of everything here have been outstanding."


Wir freuen uns auf dich, @KParedes_7! 💪😎#VfLWolfsburg pic.twitter.com/1RSp4MWWdA

— VfL Wolfsburg (@VfL_Wolfsburg) January 28, 2022
More about Kevin Paredes