Azmoun strikes out against Iranian regime
By Peter Vice @ViceytheSS
Leverkusen striker Sardar Azmoun may no longer end up representing his home country of Iran after publishing comments critical of the regime on Tuesday. 

The Iranian's Bundesliga club praised the stance Azmoun took on the recent repressive state-led violence that has claimed over 50 civilian lives.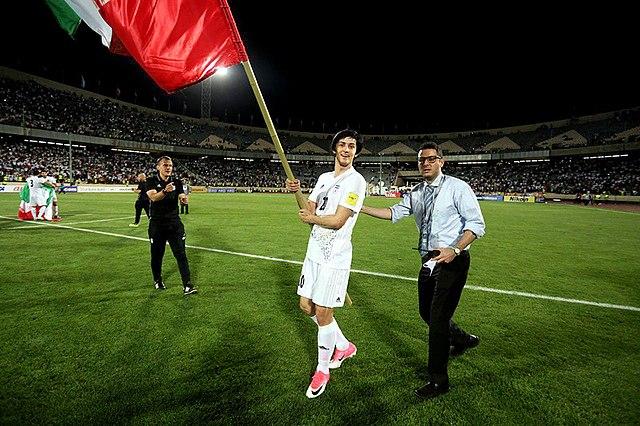 | | |
| --- | --- |
| Sardar Azmoun | MHosseinafshar CC-BY-SA 4.0 |
The attacker known as the "Iranian Messi" took a bold stance against his native country's governing regime on Monday, possibly endangering his continued involvement with the national team ahead of the coming World Cup. Azmoun posted a political statement on his instagram account on Monday regarding women's rights in Iran. Though the post was later removed, the content has already left a strong online footprint.


In protest of the over 50 civilian casualties resulting from regime repressed riots after the controversial death of female activist Mahsa Amini on September 15th, Azmoun posted an account supportive of Iranian women. The 22-year-old Amini was detained for violating rules relating to female headscarves and later died in prison. Waves of protest and dissent have erupted on the streets since on the streets of the Islamic Republic.

"National team rules precluded us from saying anything until the end of training camp, but I can't stand to remain silent anymore," Azmoun wrote, "Kick me out. If it saves one hair of an Iranian woman, it was worth it. Shame on those who kill people for such trivial reasons. Long live Iranian women."

Azmoun now almost certainly faces expulsion from the national team. Furthermore, such a statement will earn both he and his family reprisals from hardliners within the Islamic Republic. The editorial pages of the Bundesrepublik praised and backed the 28-year-old for taking the stand. The Iranian's German club team also released a supportive missive.

"Sardar declared his solidarity with the female population in Iran," B04 sporting wrote in a press release, "And, of naturally, we at Bayer 04 Leverkusen support Sardar's personal commitment. He is committed to the preservation and strengthening of democratically legitimized fundamental values."

Germany's "Sport Bild" newspaper labelled Azmoun "the most courageous professional in the Bundesliga" in a Tuesday editorial. 



🤝 ⚫🔴 pic.twitter.com/XcUf9vJgiH

— Bayer 04 Leverkusen (@bayer04fussball) September 26, 2022
More about Sardar Azmoun
More about Leverkusen