Heidenheim's Maloney targets USMNT: "My heart beats for the USA."
By Peter Weis @PeterVicey
It's been a roundabout journey back to the German top flight for native Berliner Lennard Maloney. In an interview with Michael Pfeifer of Germany's Kicker Magazine, the 23-year-old spoke on his future international aspirations now that he has a chance to shine on the Bundesrepublik's biggest stage.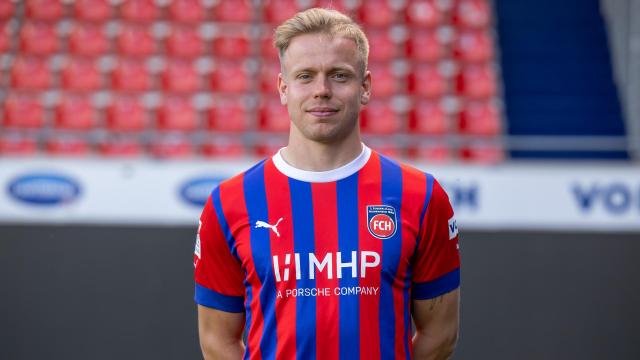 | | |
| --- | --- |
| Lennard Maloney | 1. FC Heidenheim |
he rise of 1. FC Union Berlin remains perhaps the most salacious German footballing story of the past four years. Just four seasons after getting promoted to the German top flight, the "Irons" from East Berlin's Köpenick quarter are now set to represent the Bundesrepublik in the Champions' League.


Those tasked with both covering German football and keeping tabs on its American participants often wondered why one of Union's most physically gifted prospects did not rise along with them. Berlin-born Lennard Maloney never found himself with prospects in Urs Fischer's side. The tall and robust central defender even had to accept a loan-out to Germany's third division during the second half of the 2019/20 campaign.

German giants Borussia Dortmund - doubtless impressed by Maloney's potential - eventually took the center back off Union's hands in the summer of 2020. Though the youngster did make several senior matchday squads and made two Bundesliga appearances, he nevertheless remained firmly entrenched with the BVB U23s.

Maloney finally got his chance at playing as a regular when 2. Bundesliga side 1. FC Heidenheim snatched him up on a free during the January 2022 transfer window. He soon became one of head-coach Frank Schmidt's regulars, playing both in central defense and defensive midfield. With 33 appearances last season, the now 23-year-old was an important contributor in Heidenheim's promotion campaign.

German journalist Michael Pfeifer caught up with Maloney for an interview recently published on the website of Germany's preeminent footballing publication, Kicker Magazine. Pfeifer quotes the player as calling his time in Dortmund "an honor". Maloney also expressed an eagerness to play against his old club Union in the top division.

"Of course it was a great honor to play for Dortmund in the Bundesliga before," Maloney said, "back then I wasn't even slated for the Bundesliga team, and you also have to be realistic about the kind of players Dortmund has. I was an U-23 player, everything that happened with the pros was an absolute bonus."


"It's a completely different feeling again when you've contributed to help the team get into the highest league," Maloney continued, "there's a lot more motivation and anticipation because you know you've really been an active part of it."

"Among the matches I'm looking forward to [in the Bundesliga], Union is at the top," Maloney also noted, "I like to look in on them often. I still know a lot of people over there [in Berlin] and know full well what the rise of the club means to the fans and everywhere."

Maloney revealed that his hopes for the upcoming season were not limited to league ambitions. Never shy about sharing what his American heritage meant to him in past interviews, Maloney again expressed his desire to play for the USMNT. Though he has also represented Germany at youth level, Maloney made no secret of where his allegiances currently lie.

"My dad is American, I'm bilingual and also have both citizenships. I've played for both federations, so if someone asked me again, I wouldn't mind," Maloney explained, "but honestly, my heart beats more for the USA, I can't explain that either, it's just a matter of the heart. It fills you with pride to perform for that country."

Maloney has no shortage of half-German, half-American footballers to pick as role models. Over a dozen German-born players have represented the U.S.. By all accounts, the pipeline will continue to churn out prospects for years to come. According to Pfeifer, however, the one Maloney most admires is Frankfurt's Jermaine Jones; the one who first blazed the trail in 2010.



More about Lennard Maloney