Philipp after scoring on Freiburg return: "Overcome with emotion."
By Peter Weis @PeterVicey
After scoring the dramatic late game-winning goal against the club he spent last spring on loan with, new SC Freiburg addition Maximilian Philipp was understandably all smiles when speaking to the Sky mics afterwards. 

SCF personnel boss made sure to tell his interviewer that the club believed in the player who once came through their youth ranks.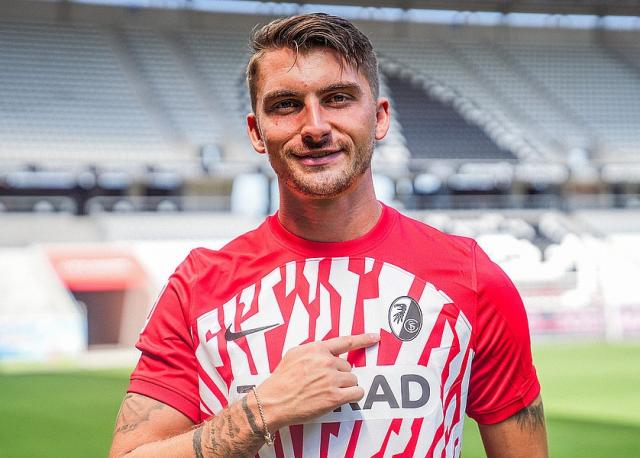 Some six years after he departed the Breisgau region, Maximilian Philipp immediately made an impact just days after re-joining the club through whose youth academy he once rose. Twenty-nine-year-old German attacker Maximilian Philipp - once sold to Dortmund by Freiburg for a reported €20 million - could hardly have wished for a better statement in his return to Christian Streich's team.


Philipp scored the game-winner against SV Werder Bremen at 90+6 Saturday afternoon in Freiburg's 1-0 victory at the Europa Park Stadion. The once promising German youth international's career hasn't exactly gone as planned since he left Freiburg for greener pastures. Philipp found himself warming the Wolfsburg bench during the first half of last season. The VfL eventually loaned him out to Bremen, where he scored his lone goal of the 2022/23 campaign.

Two matchday into the current campaign and Philipp has already equalled his production numbers from last year. The Berlin-native happened to score against the loan club that had little to no interest in retaining his services. Freiburg, on the other hand, never stopped believing in him. Reports emanating from reliable German footballing media sources claim that Freiburg have built a low-appearance purchase-clause into his current loan deal.

The future could potentially be quite bright for the forgotten German forward. SCF personnel boss Jochen Saier made sure to tell the Sky microphones that he and his administrative team certainly believed in Philipp. The player himself - understandably enough - exuded confidence when conducting his own post-match interview.

"He can do it," Saier told Sky, "He has it in him. 'Milli' requires the right environment in which he can receive trust. The fact that he has made such a good start is fantastic for him and for us."

"I know I can do it," Philipp himself added, "I can't really grasp the moment as I'm overcome with emotion. I'm so happy that I was able to help the team and that we've taken three points."



More about the match
More about the teams
More about Maximilian Philipp