Americans in the Bundesliga:
Five actors covered in latest league/cup week
By Peter Weis @PeterVicey
The "Americans in the Bundesliga" deep-scout column returns, as always taking both league and cup performances into account.

We've five graded sections this time assessing the Bundesliga/Pokal work of Jordan Pefok, Kevin Paredes, John Anthony Brooks, Joe Scally, and head-coach Pellegrino Matarazzo.

The introductory paragraphs address the state of currently non-playing top-tier actors Giovanni Reyna, Paxten Aaronson, Caden Clark, and Justin Che.

There's still plenty of time to catch up on all the latest form reports before the 2022/23 Bundesliga campaign once again kicks off tomorrow!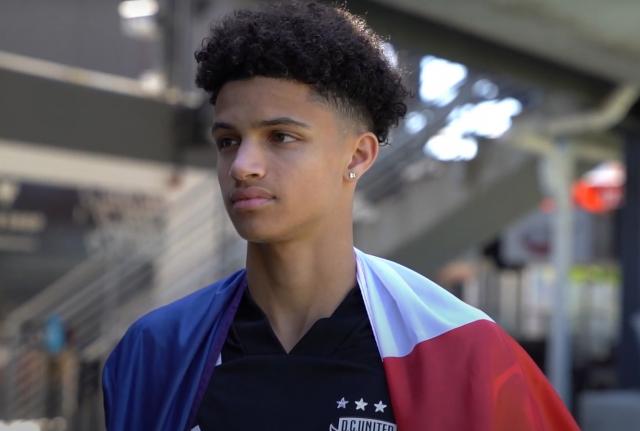 Our first edition of the "Americans in the Bundesliga" feature since the international break contains five graded sections. Jordan Pefok, Kevin Paredes, John Anthony Brooks, Joe Scally all saw enough action in the matchday 26/DFB quarterfinal set of fixtures we'll be assessing. Only Union's Jordan factored into both of his team's matches.


Giovanni Reyna would have had the opportunity to log some minutes for Borussia Dortmund in both their league and cup tie, but Gio fell ill over the weekend and went unused on the bench during Wednesday's Pokal loss. American football fans will surely be interested to know that Paxten Aaronson of Eintracht Frankfurt made a brief appearance midweek against Union in the cup.

Oliver Glasner has now used Aaronson twice, albeit as a late time-killing sub. Leipzig's Caden Clark has also now made five of RB trainer Marco Rose's bench squads after being selected for the midweek cup squad. We still await the 19-year-old's official Bundesliga debut. TSG trainer Pellegrino Matarazzo - who also receives a section - still hasn't selected Justin Che for one of his bench squad's yet.

Jordan Siebatcheu, 1. FC Union Berlin

Matches played = 2/2, Matches started = 0/2

Minutes played = 43/180, Positions played = LS

Cumulative Grade = A-

A pair of relief appearances for Urs Fischer's Eisern Union give us enough combined material to award Jordan a graded section this time. The D.C. native looked sharp enough to potentially merit a start this weekend, though Fischer might play it a bit more conservatively against Borussia Dortmund. In 13 minutes off the bench against Stuttgart this weekend, the striker won all four of his aerial duels in the 79th, 85th, at 90+1, and at 90+2. Union might have put his work to better use had the contest not long been decided.


A 3-0 lead excuses Jordan's weak press and ground losses (78th, 83rd, 84th, 89th) against Stuttgart. In a sense, it's remarkable that he took some risks on touches in the 88th and 90th. One expected much more from him in the final half hour of the 0-2 DFB Pokal quarterfinal loss to Frankfurt. There, he could have done a better job coming through for his team. An entirely too artistic back-heel in the 69th, a failed turn after a heavy touch in the 73rd, a missed offensive header in the 75th, and slow touch/poor cutback in the 79th all precluded his mates from getting back into the game.

Jordan lost half of his ground duels against the SGE. The worst defeats came in the 63rd, 84th, 85th, and at 90+1. There were still many positives, including fine hold-ups, dribbles, and flicks-on in the 61st, 62nd, 68th, 86th, 89th, 90+2, 90+3, and 90+4. He won all but one of his aerial duels in the midweek fixture, with the best ones coming in the 65th, 66th, and 81st. It may yet again be Jordan's turn to earn a start in Fischer's unchanging 3-5-2. In the columnist's humble opinion, enough exists in the last two deployments to give it a shot.

Kevin Paredes, VfL Wolfsburg

Matches played = 1/1, Matches started = 0/1

Minutes played = 30/90, Positions played = LM, LW

Grade = B-

As promised in the latest tactical bulletin, we'll be taking a more in-depth look at how Niko Kovac's late match maneuvering has been working to the VfL trainer's benefit as of late. Our young and very talented American subject here has ended up being one of the big beneficiaries of these skillful late tactics. Three weeks after registering an assist on a late equalizer in the 1-1 draw against Union Berlin on matchday 24, the Virginia native pulled it off again here. Wolfsburg wouldn't have been able to snatch a late point at home without him. Compliments to the clever lad!

When it comes to his overall performance, one should still note that Paredes appears fairly raw in most all areas of his game. He attacks the ball with ruthless ambition, yet frequently loses possession or mistimes his touches. The columnist actually didn't see him executer a successful dribble during his half-hour-long shift, nor did he witness him outright win either a ground or aerial challenge. There were plenty of less-than-stellar moments. One can nevertheless say that he executed his tactical assignments.

It looked like there were two separate ones.

We'll pick up with the first, just after his introduction.

Lineup—VfL Wolfsburg—61st minute (4-2-4)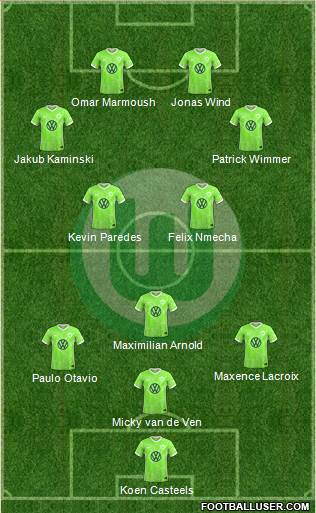 Felix Nmecha had already received Mattias Svanberg at the half. Insofar as the writer could tell, the team retained its 4-1-4-1 shape. When Paredes and Jonas Wind entered in the 60th for Ridle Baku and Yannick Gerhardt, the American hung tight with Nmecha whilst looking for lane cuts on either side during forward rushes. He did well with touches and a cross on the left in the 62nd and on the right in the 73rd. Good triangulated passing work on the left also came in the 65th, 67th, 71st, and 75th. The youngster furnished a one chip ball into the box at the end of the last sequence.

Whenever operating more towards the central, errors in Paredes' game piled up. He turned the ball over twice in the 63rd, and again in the 69th and 70th. A missed offensive header in the box in the 66th and a bad giveaway that led to a dangerous counter in the 74th dock his grade somewhat. Paredes managed to supply some better play (though there were still mistakes) once Kovac moved him to the right following two more staggered subs for a re-format in the final quarter-of-an-hour.

Lineup—VfL Wolfsburg—76th minute (4-2-3-1)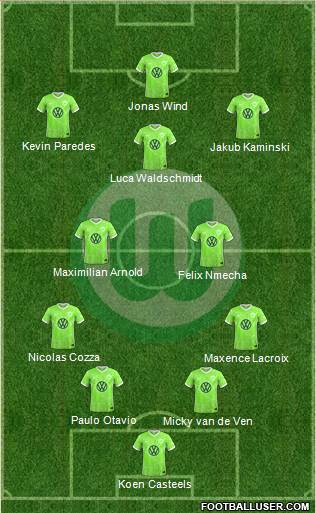 New actors Luca Waldschmidt and Nicolas Cozza (in place of Omar Marmoush and Patrick Wimmer) re-ordered the squad into a 4-2-3-1. Paredes responded immediately with some really sharp work on a give-and-go with Maximilian Arnold in the 76th. Regrettably, the cross at the end of it proved very poor. He also missed everyone with bad blind crosses at 90+2 and 90+5 before finally getting it absolutely perfect on Nmecha's equalizer at 90+6.

There's some more nice moves on display on a series of three charges between the 78th and 80th. Our subject here also flicked a ball on deftly and demonstrated remarkable resolve keeping after the ball in the 85th. Solid touches forward saw him win a pair of free-kicks for his team in the 87th and 89th. He worked another give-and-go in a high-quality-fashion at 90+1.

Some of the more "raw" aspects of his game, alluded to above, include more bad ball losses in the 86th and 88th. Paredes also saw himself rightfully booked for a poor challenge at 90+3 and flirted with a sending off after running into the linesman seconds later. Had it not been for the assist, we'd definitely be discussing a "C-Level" grade here.

Another start for the teenager probably isn't in the cards just yet, but that fact shouldn't disappoint those who have come to enjoy watching the D.C. United product perform off the bench. Paredes has now collected three league assists in relief to go along with the goal he scored against Bremen on matchday 18. Four scorer points on a very deep squad counts as great progress for the spry spark plug.

Much to look forward to here.

John Anthony Brooks, TSG 1899 Hoffenheim

Matches played = 1/1, Matches started = 1/1

Minutes played = 90/90, Positions played = CB

Grade = B-

After his long-delayed and highly-praised return to form last round, the Berliner regressed slightly in the most recent Hoffenheim win against Bremen. All told, it doesn't appear much to be concerned about. Some unfortunate mistakes notwithstanding, Brooks' return to Bundesliga-level form continues apace. In the course of racking up 68 touches, our subject here kept his passing and duel rates around 70 percent. Some small tactical tweaks from TSG trainer Pellegrino Matarazzo saw the previous 3-3-2-2 evolve into a 4-2-2-2 this time around.

Lineup—TSG Hoffenheim—Match 26 (4-2-2-2)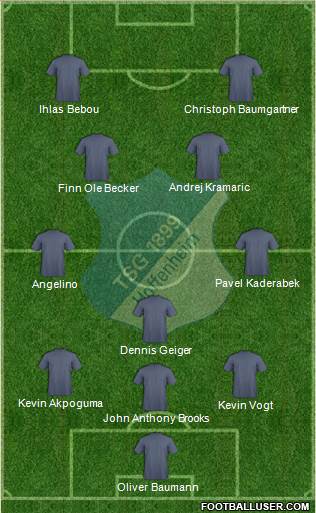 Brooks still worked a (less pronounced) inverted pivot, benefitting a bit from the fact that Dennis Geiger helped out as a pin-lock as part of the back-four. The Berliner's best aerial wins are on display in the 5th, 28th, 46th 48th, 54th, 62nd, 83rd, 89th, and at 90+3. He also appeared confident using his feet and chest on touches in the 7th, 27th, 29th, 49th, 57th, 61st, and 81st. Decent diagonals, verticals and out-swingers can be found in the 6th, 17th, 19th, 40th, 56th, 62nd, and 70th.

Clearances were a bit more mixed. While Brooks did get the ball out of the box in the 34th, 45+1 (twice), 58th, 71st, 72nd (twice), 84th, and 84th, he didn't truly get enough power behind his strikes to get the ball far. Marking errors in the 7th, 12th, 14th, 16th, 25th, 26th, 33rd, 38th, 64th, 70th, and a 90+2 put a bit too much pressure on his teammates. Duel losses both on the ground and in the air in the 25th, 26th, 32nd, 44th, 67th, 70th, and 79th were more numerous than last week.

Some nice defensive work preceded the quick-strike pair of Hoffenheim goals in the 50th and 52nd. Brooks did especially well to chase down a live ball and keep the momentum going in the latter case. Such positive involvement lends our subject here something of a pass for especially bad spell between the 74th and 84th

Brooks was directly culpable on Amos Pieper's pull-back goal in the 76th. He found himself quite rattled in the immediate aftermath, committing bad mistakes in the 77th, 80th, and 82nd. Part of this was also due to a tactical change from Matarazzo that left everyone a bit confused. We'll proceed to explore that below.

Pellegrino Matarazzo, TSG 1899 Hoffenheim (Trainer)

Matches = 1, Result = W

Grade = C+

The American's opening set of tactics were, in fact, pretty stellar. Matarazzo has earned deserved praise in the German press for his "flipping" of Christoph Baumgartner and Andrej Kramaric into lead/support striker roles. The move has produced results. In a breezy and confident presser yesterday - the antithesis of one we witnessed shortly before the international break - the TSG gaffer felt comfortably admitting that he would keep the arrangement in place.

Kramaric and Baumgartner turned in excellent performances. So too did Dennis Geiger from his deliberately more suppressed position. Geiger's ball wins ensured that the Sinsheimers were able to establish control of the game early and keep Bremen from establishing much of a rhythm. Matarazzo's Kraichgauer nevertheless lost some of their moxie when the New Jersey native shelled up in protection of the lead late. A flat back-three with some extra defensive help from Thomas Delaney didn't work well.

Lineup—TSG Hoffenheim—86th minute (5-4-1)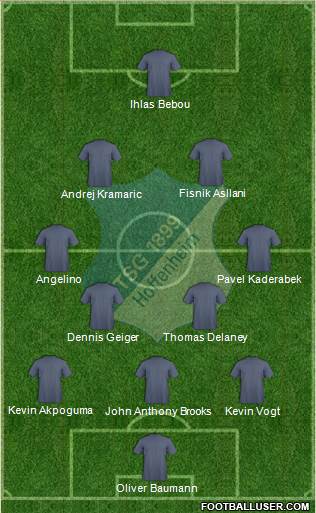 Unlike Brooks, Delaney hasn't been able to make a statement in his return to the Bundesliga. The Dane forfeited his starting prospects some time ago. In this one he looked a total disaster. Matarazzo gave him only 14 minutes as the "second six" before pulling him in favor of Angelo Stiller in order to keep Bremen from equalizing. The U.S. coach issued an apology to his player afterward, but still wasn't exactly truthful about the move Germans refer to as "the ultimate penalty".

Delaney was definitely supposed to be the "second six". No further tactical change accompanied Stiller's substitution. We return to an oft-covered issue with respect to Matarazzo. Namely, does his tinkering yank confidence out from underneath his players unfairly at times? Two consecutive wins appear to put the Kraichgauer on a path out of the relegation fray. That, at least, would be the case if there wasn't a nagging suspicion that our subject here might still find a way to screw this up somehow.

Critical typing fingers stand at the ready.

Joe Scally, Borussia Mönchengladbach

Matches played = 1/1, Matches started = 1/1

Minutes played = 90/90, Positions played = RB

Grade = D-

As already noted in the tactics column, Gladbach supplied us with one of the worst overall footballing performances of the entire season in their derby day trip to Köln. One genuinely has little hope that the club mired in mid-table mediocrity for the third consecutive season will have much of anything to show us before this campaign wraps up. The foals have next-to-nothing to play for and, week-after-week, it shows. This team is pure refuse. Godawful beyond measure.

BMG trainer Daniel Farke - about as tactically bankrupt as a coach can get - ordered his men into a mirror of Köln's very tight 4-2-3-1 on Sunday at the RheinEnergieStadion after a disastrous start led to them getting pummeled by the hosts in the opening ten minutes. Scally looked horribly shaky during this harrowing initial phase. The columnist sat most concerned that the CFG New Yorker would get failing marks this week. He fortunately recovered a tad and an "F" won't be necessary.

Lineup—Gladbach—Match 26 (4-2-3-1)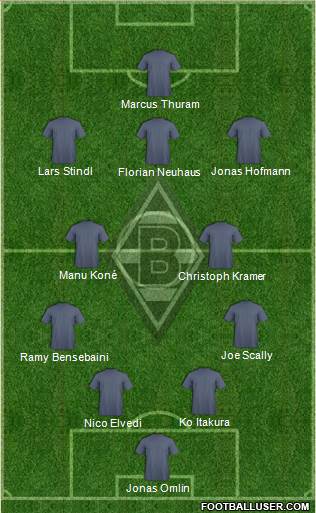 The ill-fated start to proceedings began in the 2nd, when Scally ceded a Köln counter by being way out of position. He could barely keep up on the track back and lost a critical ground duel near the flag. In the 3rd, he managed to whiff on a touch, lose and aerial duel, and fail to clear the ball all within a span of seconds. Three missed challenges followed in the 4th. The American lost another aerial duel in the 5th, nearly screwed his team completely with a terrible back pass in the 6th, and shanked a desperate blind diagonal clearance in the 7th.

Just when it seemed like it couldn't possibly get worse, Scally failed on a dribble, totally blundered on a ground challenge, and sent another stay pass directly into the opponent ranks in the 9th. There was another failed clearance in the 11th and two more wayward passes in the 12th. At long last, he settled down to win his first ground duel in the 14th and get his first clean work in forward in the 15th. Whew! The worst was finally over, although the nervy moments didn't altogether disappear.

Wince-inducing slack marks came in the 28th (thrice), 30th, 35th, 37th (twice), 54th, 61st (twice), 63rd, 71st, 88th, and 89th. Additional stray passes in the 33rd, 37th, 65th, 74th, 79th, and 86th really put his teammates under pressure. Turnovers and ground losses (23rd, 53rd, 67th, 82nd, 83rd) piled up. In some cases, even when he did manage to win the ball with an impressive tackle (21st, 29th, 50th, 55th), he ended up giving the ball straight away again.

Scally committed a hard foul in the 26th and was later booked for a tactical one in the 35th. Times in which he appeared completely overwhelmed defensively came in the 19th, 36th (by far the worst scene), 49th, and 56th. One had to lament two cases moving forward (32nd and 72nd) in which he couldn't locate the speed and stamina to catch up to the attack. The Long Island native appeared depleted and distracted on those two drives; mentally and physically incapable of performing.

Thankfully, Scally was able to prove more useful to his colleagues on rushes in the 18th, 22nd, 24th, 53rd, 59th, and 80th. Solid forward diagonals in the 41st, 48th, and 52nd proved that he wasn't totally inept. He also partially redeemed himself for the defensive lapses with good work in the box in the 39th, 40th, 45th, at 45+1, 46th, 51st, 83rd, and 87th. We're yet again finding ourselves covering a weak day from this American, but it must be emphasized that he plays for a very weak team.

Positive outliers in the XI can't really be expected from Gladbach at this point.

Thanks so much for reading! You can catch the release of all Peter's columns on twitter, @ViceytheSS.

Twitter DMs are open for football conversations, corrections, and (if you truly insist) general abuse. 

All columns debut on Bulinews before appearing on Peter's website as the season progresses.



Related stories