Americans in the Bundesliga:
Hoppe's historic performance leads the 'gang of six'
By Peter Weis @PeterVicey
As German footballing enthusiasts prepare for another round of Bundesliga football, we can only hope that this weekend produces as many gems as the previous one.

Nineteen-year-old Matthew Hoppe not only carried the group American footballers logging pitch time in the Bundesrepublik last week. In a way, his incredible breakout performance carried the league as well.

We'll cover Hoppe's prospects for the immediate future and check in with five more of his countrymen in this weeks "Americans" column.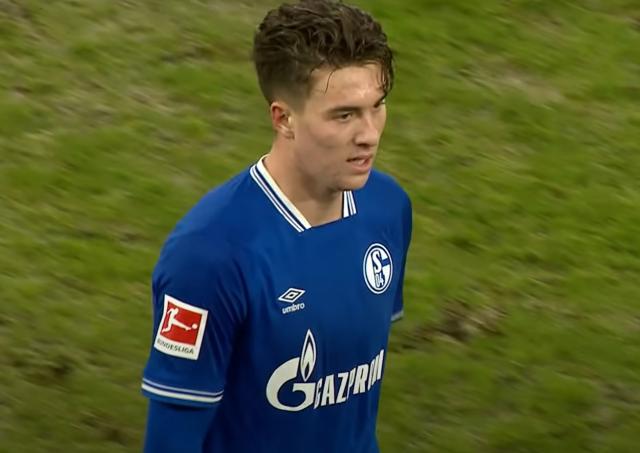 This week's analysis of US internationals earning their living in Germany's top footballing flight waited for the conclusion of the two-midweek DFB Pokal make-up matches. Two teams involved in the deferred conclusion of the domestic cup's second round featured American players who might have seen playing time. Unfortunately, neither Timothy Chandler nor Chris Richards were called into action for their respective clubs.


Chandler played 11 meaningless minutes at the end of Frankfurt's 1-4 loss to Leverkusen. An announcement earlier in the week that Tuta Silva Melo would serve as retiring captain David Abraham's replacement dampened hopes that he may feature more prominently for the SGE this year. Richards did not even make Hansi Flick's bench squad for the Kiel fixture. The 20-year-old failed to make the matchday squad for the first time since round five.

That once again leaves us with five players and one trainer to discuss.

Matthew Hoppe, FC Schalke 04

Matches played = 1/1, Matches started = 1/1

Minutes played = 88/90, Positions played = LS

Grade = A+

The "California Dreamer" from nowhere is the talk of the Bundesrepublik. German footballing circles and forums can't get enough. Such a fantastic story. Though this writer has already submitted his paeans of praise some days ago, it's worth briefly reiterating what precisely makes this story so great. Hoppe has not represented his country at any level. A player ignored by nearly all the scouts supplied three absolute world-class finishes. Surely, the more humble and hidden Hoppe doesn't have an agent/marketing team grooming him for global stardom like some of his counterparts.


That's why we love football!

Ahem. With that obligatory talk out of the way, this constitutes a useful opportunity to examine whether new Revierklub coach Christian Groß shall build the 19-year-old into his future plans. Given that absolutely nothing else has worked for Schalke this season, that may seem like a no-brainer. While it's true that Hoppe should maintain his starting place until his form runs cold, Groß still has plenty of areas he might wish to tinker with.

The latest arrangement:

Lineup—FC Schalke 04—Match Five (4-2-3-1)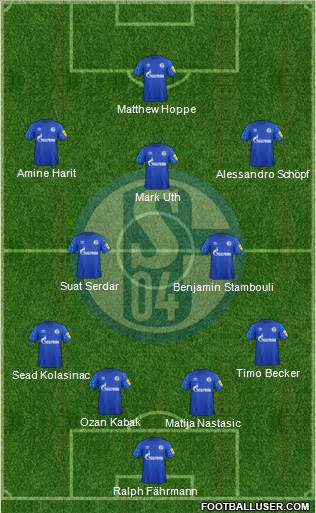 It was about as straightforward a 4-2-3-1 as one could put together. Juxtaposed with the wretched 4-4-2 from Groß's debut match, it counts as a vast improvement. There's certainly no need to interfere with the left-hand side. Returning Schalke native Sead Kolansinac's courageous play sparked the squad's rout. Everyone fed off of his energy. A series of intrepid tackles forward in the first half set the tone. A stunning win in the 42nd unleashed Amine Harit to serve up Hoppe's initial goal.

Looking ahead to Frankfurt this coming Sunday, Groß faces an unenviable decision. Adi Hütter's makeshift double-ten 3-5-2 calls for a full frontal assault. Die Königsblauen won't have all of the time in the world to grab an early lead either. With Luka Jovic suddenly available off the bench, Schalke's very experienced trainer would be well served to begin with a 4-3-3. It is such that we might see Hoppe pocketed behind Mark Uth and Benito Raman.

Schalke-Frankfurt promises to be a cracker of a capper for the Bundesliga's 16th round. Such an intriguing fixture can hardly get here soon enough. All football enthusiasts in Germany will watch with great interest. Hoppe's confidence surely soars sky high after his masterpiece last week. Whether or not he can carry it over and replicate it remains the question on everyone's mind. Difficult as it may be to believe, Hoppe's status as the club's de-facto striker isn't exactly cemented yet.

One could hardly have asked for a bigger statement that the one he just made. League play nevertheless calls for a string of statements. We all watch with bated breath.

Pellegrino Matarazzo, VfB Stuttgart

Match played = 1/1, Match result = W

Grade = A-

A very nice bounce-back match for the Bundesliga's American trainer following the previous round's disappointment. Die Schwaben pulled themselves up to maintain this season's nearly flawless road form. Perhaps more importantly, they will be returning to a professional grade pitch at the Mercedes Benz arena this weekend. The club's bosses put aside their differences and approved a quick €150,000 re-sod. Players, coach, and administrators all earn plaudits for getting their act together.

Lineup—VfB Stuttgart—Match 15 (4-5-1)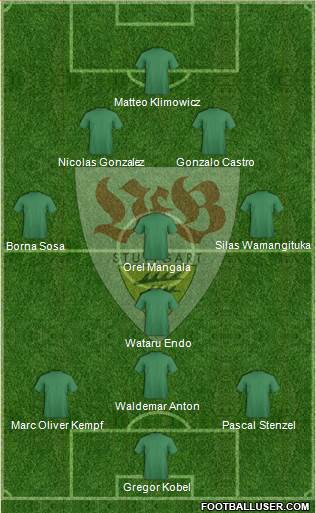 Matarazzo constructed one of his "Catenaccio" flair tactical set-ups. The American doesn't always bolt down the middle in such a fashion. When he does select, and his players cleanly execute it, it proves quite pleasing to watch. The strategy is often characterized by heavy cycle rotations among the three most forward-deployed attackers and quick transition play between the holding midfielder Wataru Endo and those selected to occupy the flanks.

That being said, the squad didn't supply the smoothest of executions in the first-half against Augsburg. Heiko Herrlich's XI asked some compelling questions of this constellation. Both Borna Sosa and Silas Wamangituka encountered serious trouble dealing with a switching Daniel Caligiuri on the defensive side of the ball. Fortunately for the Badeners, a poorly designed Fuggerstädter back-three bent to the will of the wingers as the twenty-minute-mark approached. Stuttgart effectively cracked the code and split the skull of the match wide-open with Wamangituka's tally in the 28th.

The American's team conceded far too many set-pieces in the opening 45. Moreover, Endo and Orel Mangala had a some noticeable difficult getting themselves established. Some of these stumbles may be considered relevant to the upcoming match against Borussia Mönchengladbach. The dominant demeanor that ultimately put the squad over the hump en-route to a 4-1 scoreline took its time materializing. Matarazzo's men won't have the luxury of taking their time to click this weekend against the foals.

As pertains to the match covered in this article, we'll mark this one down as an impressively executed collaborative victory. Matteo Klimowicz, Nicolas Gonzales, and Gonzalo Castro eventually got the forward cycle flowing like clockwork. Castro's 61st-minute goal showed this at its best. They picked apart their opposition for long uninterrupted stretches and took complete control in the final half-hour.

Giovanni Reyna, Borussia Dortmund

Matches played = 1/1, Matches started = 1/1

Minutes played = 90/90, Positions played = RW, LW

Grade = B-

Selecting a fixture to focus on for this weekend's tactical column was no easy task. The Schalke and Gladbach victories cried out of for deeper analysis. After taking all of the great football into consideration, Dortmund-Leipzig simply had to serve as the weekly tactical focus. The match featured two US internationals. To the delight of USMNT enthusiasts, the pair opted to engage in many direct duels with one another. Virtually all of them are already covered in the earlier piece.

In this space, we can still highlight some of the best battles. Reyna won a spirited footrace against Adams in the 4th. The 18-year-old also got the better of the New Yorker on a nice play-through in the 11th, danced past him in the 43rd, and telegraphed a terrific no-look through ball while locking eyes with his compatriot in the 77th. Though the BVB phenom wasn't directly involved in any of his side's three goals, plenty of pretty play from him merits a "B-level" grade.

Tyler Adams, RasenBallSport Leipzig

Matches played = 1/1, Matches started = 1/1

Minutes played = 90/90, Positions played = RM, DM, RB

Grade = C+

Adams actually turned in a far more active performance than Reyna. The New Yorker remained more consistently involved over the course of match. He amassed (unofficial count) 33 more touches and attempted 28 more passes. One could also award this American the slight edge in terms of the direct duels with his USMNT teammate. He stopped Reyna cold on a great tackle in the 14th, cut out one of the teenager's brilliantly in the 47th, swept past him skillfully in the 67th, and finished him off with an immaculate dispossession in the 78th.

Stepping back from the American "Battle Royale", Adams did have a bit of trouble adjusting to his right back role after Julian Nagelsmann's tactical shift. This American can hardly be faulted for overcommitting himself offensively in a match during which his team had to play catch up. Furthermore, it almost seems criminally unfair to deduct points from his overall appraisal for the times the superhuman Erling Haaland walked right through him. Alas, everything counts. Lots of laudable effort from Adams on this day. "C-Level" marks remain in order.

Josh Sargent, SV Werder Bremen

Matches played = 1/1, Matches started = 1/1

Minutes played = 81/90, Positions played = CF, LS

Grade = C+

The Missouri marvel receives significantly better grades this week after making some solid contributions in his side's 1-1 draw with Leverkusen. One could also credit his coach with a much-more sensible tactical set-up. Though Florian Kohfeldt's matchplan for Peter Bosz's 4-1-4-1 ensured a torturously boring game of football, it undeniably got the job done. We'll have a look:

Lineup—SV Werder Bremen—Match 15 (3-5-2)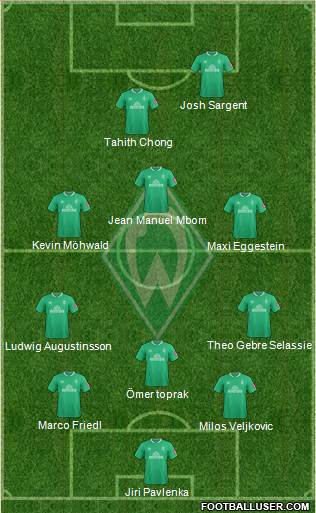 Over the course of the first half, the Bremen shape repeatedly stretched and tightened into a number of constellations. A read labelling it a 5-3-2, 3-6-1, or even 3-3-2-2 would be perfectly acceptable. This writer opts to proceed with the above illustration as it most accurately conveys Kohfeldt's basic plan. He stacked midfielders directly ahead of some pocketed wingbacks as a means of meeting the opponent's speedy flankers head-on. The defensive posture counted as elegant.

Regarding the plan-of-attack, we observe something a little cruder. Sargent's lack of productivity in recent weeks stems from the fact that he's a striker nipping at a bunch of scrimpy table scraps. The squad's link-up play has been atrocious; characterized mostly by uninspired long balls over the top. Kohfeldt attempted to addressing this by staggering his central midfield in what aspired to be a pacey vertical upward thrust. This facet of the plan worked considerably less well.

As noted above, this fixture doesn't fall into the category of recommended viewing. The two teams, predictably enough, neutralized one another. Chances were few and far between. Attacks in the 4th, 13th, and 18th demonstrated that the American's newly devised support mechanisms packed nothing more than a featherweight punch. The revised distributive scheme still couldn't manage to get the ball anywhere near Sargent's feet.

In the 27th, the young striker wasted a wonderful opportunity in the box on a swung in free-kick. The most cringe-worthy aspect of the incident saw Sargent again fail to establish himself physically on the rush toward the incoming service. Slightly more vigor would have enabled him to get a toe in, and by extension, get an effort in on target. He ultimately ended whiffing by millimeters.

In fairness, after the miss, the American responded very strong spell between the 28th and 38th. One can witness him hold the ball up deftly on five separate upfield charges. Sargent looked to get his teammates involved with short passes. In the end, however, he wasn't able to overcome the midfield congestion. Leverkusen's Jonathan Tah also shadowed him very effectively to tackle away twice.

A tame failure to challenge any of the opposing back builds in the opening five minutes after the restart turned out to be a clever ploy. The American carefully studied the forward carrying Werkself defenders until he found the perfect opportunity to intercept. A threatening rightward charge after a nifty steal in the 51st forced a foul. As it so happens, Ömer Toprak scored on the ensuing free-kick. The team owed its lead to him.

Kohfeldt introduced Davie Selke for Tahith Chong at the hour mark. Sargent slipped back to occupy Chong's short-striker role while Selke assumed his lead one. As has often been the case this season, the positional switch essentially took him out of the match. He accumulated only eight touches down the stretch and missed the mark with three wayward passes.

John Anthony Brooks, VfL Wolfsburg

Matches played = 1/1, Matches started = 1/1

Minutes played = 90/90, Positions played = CB

Grade = C

We'll cut this American some slack as he had to keep his feet planted on constantly shifting sands during Saturday's 2-2 draw with FC Union Berlin. Initially partnered with Marin Pongracic, the Berliner had to quickly adjust to Joshua Guilavogui after fitness issues forced the former off at the half. Seven minutes after the re-start, the new center-back tandem had to contend with the fact that their rearward-deployed six Maximilian Arnold got sent off on a straight red.

Brooks did notably less running in this fixture. His (unofficial) total of 67 touches also fell far below his norm. Much of this had to do with all of the tactical rejiggering, but one could still tell he wasn't at his best early on. After a sublime header away in the 5th, he then proceeded to botch a tackle and initiate a very poor timed tackle less than a minute later. Union's Sheraldo Becker beat him on direct 1-on-1s twice in the opening twenty minutes. The American got beaten badly on the Dutchman's 29th minute goal.

He put in some much better defensive work in the 38th, 40th, and 45th. There was also a great cancel-out of Taiwo Awoniyi shortly after the match kicked back off. As an epitomization of his inconsistent day, Brooks pulled off a great clip-away on Marcus Ingvartsen in the 49th, then totally lost Awonyi on a subsequent run-through. The second play directly led to Arnold's red card. In a sense, the Berliner brought some the extra defensive responsibilities upon himself.

With Arnold off, trainer Oliver Glasner had to shift Brooks over wide left and rely upon Guilavogui, Ridle Baku, and the subbed-on Kevin Mbabu to track back center. It was an intelligent re-organization that obviously meant the American had to operate out of position. The center-half saw far less of the ball as a result of this spacing. His primary task when possession did fall to him revolved around slowing the roll of the match to kill-off time for his man-disadvantaged side. He performed this part of his job more than adequately.




Related stories