Americans in the Bundesliga:
Execution and creativity falter as six actors limp into break
By Peter Weis @PeterVicey
The latest edition of our weekly check up on Americans working the football pitches of the Bundesrepublik contains the lowest set of grades yet delivered since we began the column.

Five of the six graded actors fall on "C" level or below. We've three "D"s and even a failing mark to discuss.

Of course, this must be taken in context. The end of an exceptionally busy week of football left many Bundesliga players and trainers of all nationalities not at their best.

For those interested, Tyler Adams, Josh Sargent, and Giovanni Reyna will all be back in action this weekend in the semi-final round of the DFB-Pokal.

Everyone else gets a much needed break.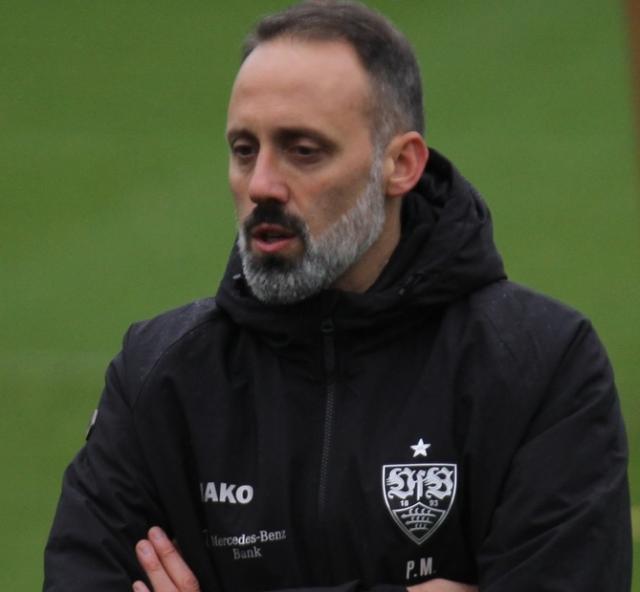 | | |
| --- | --- |
| Pellegrino Matarazzo. | Photo: Jeollo, Vfb-exklusiv.de, CC BY-SA 3.0 |
Six graded sections this time as we take a look at the final Bundesliga round before league-round takes a much deserved break. The unusually low set of marks reflects the conclusion of a highly demanding "Englischer Woche" (English week) that placed high physical demands on our subset of players. Lest anyone treat this as cause for alarm, know that US internationals get a little extra recovery time. This weekend belongs to the country's domestic cup.


Apart from the graded sections this week, good news exists in Timothy Chandler's markedly better performance as a late sub for Frankfurt. Additionally, American soccer lovers get to look forward to two US trainers working in the Bundesliga next Season. Barring some some of unforeseen collapse Jesse Marsh will receive a wonderful opportunity to take the title at the helm of RB Leipzig.

Chris Richards, TSG 1899 Hoffenheim

Minutes played = 77/90, Positions played = CB

Grade = B-

On a lovely spring day at the soon-to-be vacated Breisgauer Schwarzwaldstadion, one had to strain to see this American operate in the area of the pitch shaded by the early afternoon sun. "Shady" may be, coincidentally enough, be the best word to describe the Alabama native's performance as it was very uneven over the course of the afternoon. In the end, the 21-year-old made up for some of the more dubious aspects of his game (including a very poor 30 percent duel rate) with resolved an purposeful work at important times. Hence, a "B Level" grade.

Sinsheimer trainer Sebastian Hoeneß initially lined his team up in the same 4-2-3-1 as in previous weeks, shifting to a back-three at the half after Richards' center-back partner Stefan Posch incurred injury. The American himself would give up the body on a brave piece of defending in the 73rd. After a lengthy treatment break, he would bow out four minutes later. Early indications from the Kraichgauer camp suggest that it was nothing more than a minor knock.

There does exist some pretty play involving Richards for those with access to the tape. If one only has time to view one play from the latest match, do check out a cheeky little "Rabona away" in the 11th. Further highlights include a nice win in the 14th, great forwards in the 17th, 20th, and 59th, and a very focused cut-out in the 72nd. The vast majority of the American's 61 touches on the day remain skippable. The team as a whole looked rather lackadaisical on back builds in this one. Richards proved no exception.


The above mentioned return to a back three might be of some tactical interest as it forced Richards to up his game in the second half. Posch was by far the busier defender in the opening 45. Hoeneß moved the ever-active Florian Grillitsch back into the defensive ranks again; something that always pricks up the Southerner to operate on his toes.

Lineup—TSG Hoffenheim—46th minute (3-3-4)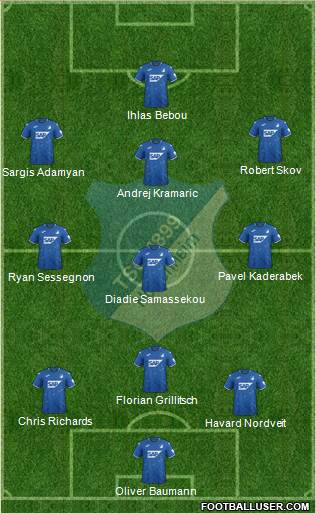 Some may not care for the 3-3-4 designation, but it is truthfully the best way to cleave up these sorts of tactics. Grillitsch maintained some license to push high central. Hoeneß still made a concerted effort to keep him running a softer pivot by moving what were the fullbacks way beyond wingback territory. One had the sense that this re-organization was coming even if Posch didn't need to be subbed of. The German center halve, perhaps influenced by Stefan Kuntz taking rigorous notes in the stands, conceded way too many desperation fouls.

Richards did a decent job of switching his role from that of a tight marker of Freiburg striker Ermedin Demirovic to covering a larger swath of territory. This counted as another change one saw coming as the American had some late difficulty marking the Bosnian in the 42nd and 43rd. An aerial win at 45+3 might as well have been a loss as the youngster spilled it directly to the Breisgauer rush. Richards did much better after the restart, keeping Freiburg onside during the disallowed goal in the 53rd and initiating a great charge in the 59th.

He looked a tad leggy catching up with the play in the 69th, but recovered in time to finish strongly. The aforementioned cutout and brave final challenge demonstrated that he stayed in the game right up until the very end. Just over 90 percent passing, only one egregiously wayward pass, and an assist of a shot meant that the overall stats were enough to cancel out some things like the poor duel rate and late first-half defensive lapses. All tactical changes considered, he played well.

Tyler Adams, RasenBallSport Leipzig

Minutes played = 73/90, Positions played = CB

Grade = C+

A fairly average day from the New Yorker on what was a decidedly subpar afternoon for his team. The final match before RB trainer Julian Nagelsmann committed to FC Bayern München came approximately a week after the 33-year-old trainer consigned himself to being Bayern's next trainer. Moreover, the somewhat laissez-faire encounter against Nagelsmann's former Hoffenheim roommate came long after the title race was effectively settled.

And so it came to pass that the German Red Bulls collectively looked as if they had little to chase even against a ten-man Stuttgart side. Even the young coach's tactics were pretty basic:

Lineup—RB Leipzig—Match 31 (3-4-3)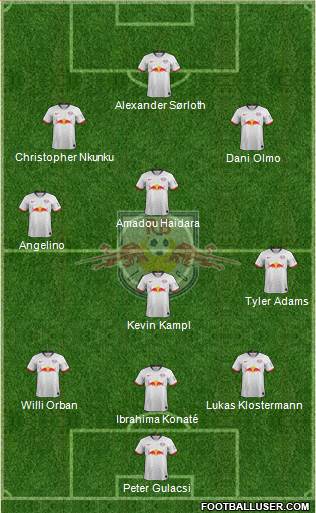 Nagelsmann's plans weren't too difficult to divine this time. Alexander Sørloth worked as a classic center-forward. Angelino and Adams exhibited a predictable split-stagger, compensated for by a solo axis for Kevin Kampl and an inverted pivot with Ibrahima Konaté central. Dayot Upamecano came on for Konaté at the break, but the shape of the back-three didn't budge.

This American had an active afternoon straddling the halfway line. He looked sharp on early passing sequences in the 3rd and 10th, establishing his defensive prowess with a rock solid clearance in the 13th. Five minutes later, Adams and Willi Orban converged wonderfully on a quick diagonal choke-out of Sasa Kalajdzic.

While his defensive play looked to be on the level, plays in the 19th and 22nd showed that attacking decision-making wasn't quite as keen. As the latter case demonstrates, Adams' mind sometimes doesn't catch up with his feet. He took a pull back when an instinctual first-time hit would have sufficed better. This is something of a recurrent issue, though it's hardly chronic.

Cuts during sequences in the 26th and 28th were better. A nice composed handle of a ball out of the back in the 32nd showed just how deadly he can be when he commits to a forward tear after relinquishing possession. A nice first touch nearly saw him score as a trailer were it not for a harsh intervention from Marc Oliver Kempf.

Positional awareness for return balls in the 34th and 35th were a tick off, partially ameliorated by a nice set up of Christopher Nkuknu in the 39th. He would get two more assisted shots off before the half was out, in the 39th and 45th. Adams wasn't directly involved in the Amadou Haidara goal just after the restart and his second half was mostly characterized by good defensive work.

One can find examples of said work in the 51st, 62nd, and 65th. Nagelsmann probably made up his mind to sub the American off after the last play as he was showing noticeable signs of fatigue. Before Benjamin Henrichs could come on in his place, however, Adams did set up Emil Forsberg on the the play leading to the 67th minute penalty and the game-sealing goal.

The temptation to bump the New Yorker up to a "B-Level" for a hard running performance featuring 83 touches, four assisted shots, and only three stray passes was strong. In the final analysis, the cusp of the average rank seemed more appropriate. Just like last time, there were too many opportunities that he could have done better with. Overall form implies an uptick, so there's that to keep an eye on.

Giovanni Reyna, Borussia Dortmund

Minutes played = 69/90, Positions played = RW, LW

Grade = D

Regrettably, all good things must come to an end. Dortmund's 2-0 win over Wolfsburg constituted Gio's turn to take a back-seat. Remarkably, the writer's count has him down for only 26 touches in Edin Terzic's much more restrained 4-1-4-1. As is always the case whenever an American's match serves as the weekend column's tactical focus, the details of Reyna's day find near complete coverage in the other text. By far his best move of the day came on the advantage breakaway in the 36th.

Long periods of anonymity appeared to stem from significantly fewer flank rotations with left-wing counterpart Jadon Sancho. It's not exactly easy to tell if this served as part of the matchplan or resulted from a mixture of Sancho's rust and Reyna's fatigue. As we remarked in the last report, even a teenage body takes a pounding with constant multi-match directional shifts. A psychological effect also sees the capacity for ideas diminished. In any case, this dip doesn't seem much to be concerned about.

John Anthony Brooks, VfL Wolfsburg

Minutes played = 90/90, Positions played = CB

Grade = D-

Brooks being Reyna's opponent in the match this weekend, the Berliner's performance is also chronicled in full detail in the weekly tactical focus. In contrast to the more dismissive conclusion drawn above, one notes with some concern that this American may possibly be headed for a dip. Brooks looked beyond off during many of his critical defensive lapses. The disturbing haul down of Reyna belied frustration; a most unbecoming example from a defender of his experience and maturity level.

The entire WOB defensive unit trends downward and we haven't seen a leadership caliber day from Brooks in some weeks. With Oliver Glasner singling the USMNT starter out for public criticism, one wonders if a once-frayed relationship again exhibits cracks at precisely the wrong time. One mustn't forget that Glasner benched Brooks twice last season and it wasn't until many days of hard work on the training pitch that the VfL trainer changed his mind about this particular American. A writer can only hope that a cynical hunch proves wrong here.

Josh Sargent, SV Werder Bremen

Minutes played = 88/90, Positions played = AM, CF

Grade = D-

As those of us who have subjected ourselves to the torture of another season of lackluster SV Werder Bremen football confront the big existential questions concerning the inevitability of death and the finite nature of time bang our heads against our desks, it's time to join some of the locals in turning our despair into anger. Honestly, it's time to let Florian Kohfedlt go. Watching a team buck the fickle trends of dismissing trainers on a whim might have been pleasant some 25 fixtures back, but there's only so much more we can take.

Simply stated, Josh Sargent's team plays horrendously ugly football. This is Turkmenistan-level bad stuff. Every week Kohfeldt tries something completely unrelated to the small seeds of promise he himself sowed. Perhaps the 38-year-old trainer has some form of memento-like short term memory issues. We won't cut Sargent too much slack this week. After all, it is true that Kohfeldt's actors play their part in these congenital letdowns. That being said, how could the Sargent be expected to operate in this?

Lineup—Werder Bremen—Match 31 (3-5-2)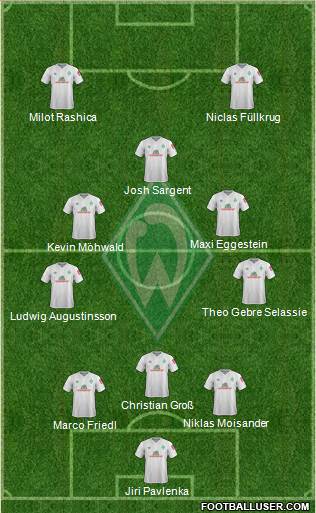 When the team sheet was first released, a 4-3-3 remained a distinct possibility. Once matters settled, a flicker of hope that Sargent might serve as a false-nine kept one interested for a time. When it became apparent that the Missourian worked too deep for such a construct, one had to rue the fact that Kohfeldt placed Sargent in an area where his worst attribute--problems catching up with attack--would be exacerbated.

The young midwestern striker couldn't involve himself in any forward progress in the opening ten minutes. One can see him executing an okay defensive header away in the 6th. The next bit of action sees him struggle miles away from the charge in the 11th. When he did get back up the second axis, a very poor first touch and blocked shot in the 12th showed why this position was a terrible idea.

For those with a strong stomach, more bad examples of broken interplay and carries to nowhere came in the 17th, 19th, and 20th. A botched defensive touch in the 33rd should have led to Joel Pohjanpalo's opening goal. Union's hat trick hero could have easily had four. A desperate run forward in the 41st meant no one could reach him. A horrible passing decision at 45+3 capped a disastrous first half.

A good bit of zonal marking on one corner in the 50th got completely erased by Sargent's involvement on the marking meltdown during the corner that led to Pohjanpalo's goal in the very same minute. A sharp cutout in the 61st was then erased when he couldn't get the ball away. Kohfeldt moved him up to the center forward position just prior to the triple substitution in the 63rd.

A few stronger looking plays in the three minutes from the hour mark to the "triple change" save Sargent from a failing grade this week. The Missouri marvel also kept up the hustle until being subbed off two minutes from time. We'll credit him with at least keeping up the enthusiasm, evident if you watch him in the 66th, 75th, and 78th. He got too easily muscled off a ball in the 80th.

Pellegrino Matarazzo, VfB Stuttgart

Matches = 1, Match Result = L

Grade = F

Kohfeldt's absurd use of Josh Sargent as a deep midfield anchor, not to mention the entirely separate rant concerning Bremen's bunched back three, almost looks sane compared to what we saw from the Bundesliga's American trainer this weekend. An "F" level grade isn't given out lightly. In this case, it's meted based on the fact that one knows the New Jersey native is capable of so much more. So very much more. Oh so very much more.

Had the American led Stuttgart towards Europe, as was possible right up until the latter stages of this campaign, Germany's top footballing flight would still only have one American trainer. We'd be discussing how well Pellegrino did to land the Leipzig job instead of welcoming Jesse Marsch. That's how much potential lay before this promoted club this season. Sadly, it's been squandered.

A discussion of the Swabian's fourth straight loss must, again, start with the unavoidable qualifier that Matarazzo's men lost their most important offensive components in Silas Wamangituka and Borna Sosa. The head-coach still needs to come up with something better than this.

Lineup—VfB Stuttgart—Match 31 (3-4-3)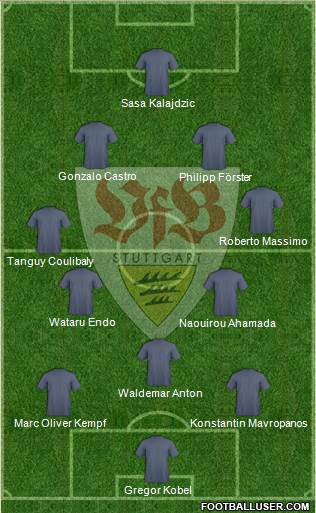 As presaged by some grumbling in the tactical column, the problem here remains that of Naouirou Ahamada. Sure, it made sense on some level to give the youngster a go with Europe out of reach, but, if it was merely about test driving personnel, Lilian Egloff or Luca could have been given a shot. The continued hackneyed attempt to preserve the Wamangituka-Sosa stagger in their absence is also unoriginal.

The VfB counter looked completely toothless even prior to the sending off. Mental errors on Leipzig's behalf precluded the Saxon hosts from rushing out to a big early lead. Naglesmann's crew were so out of sorts that Ibrahima Konaté didn't even walk out onto the pitch with the correct pair of shorts on. One sensed that this one was decided well before the sending off.

The Württembergers were structured with spit and glue even before we saw this:

Lineup—VfB Stuttgart—16th minute (3-3-3)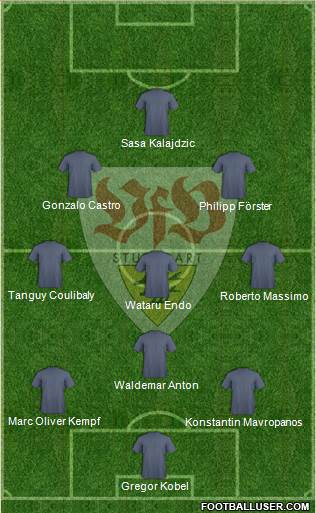 An attempt at damage control might be misconstrued as total capitulation. Contrasting this with the recent way Edin Terzic handled a ten-man constellation, shows how familiarity with one's players and a creative spread makes a real difference. Matarazzo closed the flank stagger, yet ordered everyone back too far. Gregor Kobel's numerous stunning saves down the stretch spared this team further blushes.

Recent reports linking the US trainer with a higher profile gig never seemed likely. As we grow accustomed to an era of record-smashing coaching transfer fees, one should note that a tactically innovative gaffer remains something of a rare find. Matarazzo hasn't been showing the same sort of understanding for his field players.

One begins to wonder if the league's historic first American trainer is not that which we thought him to be. Perhaps the novelty of it all skewed some of the earlier reviews. Of course, football accords one plenty of chances to be proven wrong. Here's hoping for a rosier assessment next time.

Thanks to all those who have read some part of this column this season! You can now catch Peter at his new home on twitter. DMs open. @ViceytheSS



Related stories