Bundesliga Tactics Talk: Round 13
By Peter Weis @PeterVicey
An exceptional weekend of German football wrapped on Sunday evening with Borussia Dortmund and FC Bayern München separated by just one point at the top of the table.

The outcome could not be more perfect for the two sides ahead of a crucial meeting next weekend with huge consequences for the 2021/22 title race.

All across the Bundesrepublik there was a great deal to appreciate this matchday. Memorable goals. Incredible comebacks. High-scoring affairs.

Perhaps most importantly, the incredible fan scene which will sadly be significantly reduced in the coming rounds.

Our weekly Sunday night feature arrives with the most compelling talking points from all nine fixtures. We've also draw ups for Bayern, Hoffenheim, and Frankfurt.

The meticulously documented "tactical focus" section this week belongs to the Köln-Gladbach Rhineland derby. A full house of 50,000 fans were treated to a fabulous football match in the cathedral city.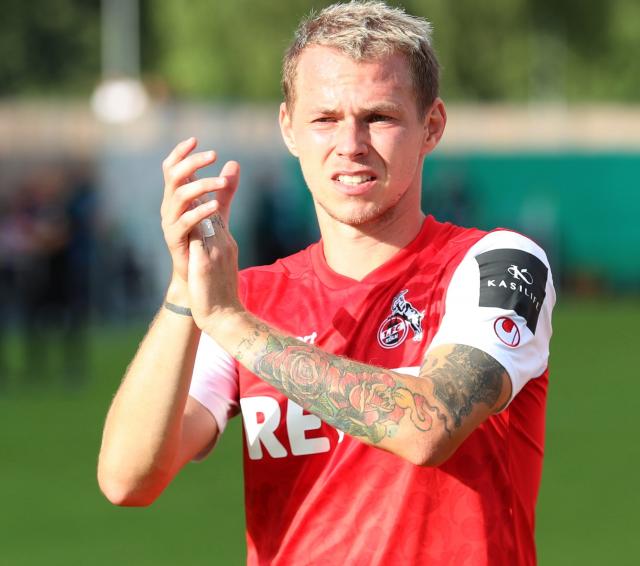 | | |
| --- | --- |
| Ondrej Duda. | Photo: Sandro Halank, Wikimedia Commons, CC-BY-SA 4.0 |
Bundesliga Tactical Banter: Round 13
The return of Silas

Why so glum, Bundesliga enthusiasts? The new multi-billion-dollar English Premier League television broadcast rights package have no feeling low? Perhaps the fact that so much of German football's "star power" finds themselves out injured has you ready to completely snap the next time one of your more irritating footballing friends elbows you in the ribs and brings up the old "farmer's league" line. Well, hell with that guy. We've got some news for him!




The footballing artist formerly known as "Silas Wamangituka" is back! Yes he is! After eight long agonizing months--made excruciatingly painful by the fact that VfB Stuttgart trainer Pellegrino Matarazzo often made no effort whatsoever to adjust his tactics to compensate for his absence-- the Congolese winger with the flair for the marvelous returned to a Bundesliga pitch on Friday night. Oh man did we ever need this.

It was an amazing scene to watch to the player we shall now refer to simply as Silas enter the Stuttgart-Mainz fixture late on. True, some of us were disappointed that none of his...er...eight touches on the ball resulted in anything spectacular. The 23-year-old needs time to recover his touch following that nasty ACL tear. Matarazzo's famous "split stagger" formation has been ready for him since last March. Silas isn't quite ready for it yet.

Stuttgart's 2-1 win over Mainz in the round opener wasn't the most convincing three-point haul you'll ever see. Pretty much anyone who watched it would say that the visiting Pfälzer were, on balance, the better team. FSV trainer Bo Svensson remains angry with his Rheinhessen for spurning too many chances and dropping points for the third consecutive week. "Angry Svensson" actually seems a bit out of place; almost Norwegian.

In any event, it's great to have Silas back. Stuttgart still needs many more actors back before they can hope to gel as a unit again. Sasa Kalajdzic, Daniel Didavi, and Marc Oliver Kempf all need to find their way onto the pitch together. It nevertheless shouldn't be too long before Silas and Borna Sosa are accomplishing some magnificent things on the VfB flanks. An educated guess says three weeks. The round 16 encounter with Bayern should get a circle.

The return of Haaland

Still feeling glum, Bundesliga enthusiasts? Forget about the multi-billion-dollar English Premier League television broadcast rights package! Jab that cloying friend of yours back in the ribs! We've even more exciting news to report. While Bo Svensson does his best "Angry Norwegian" impression, we can officially herald the return of a true "Angry Norwegian". The "Haaland Scowl" returns! The Bundesliga's €150 million Wunderkind is back!


Having had a much shorter layoff--during which he didn't go to Qatar this time--it only took Erling eight touches of the ball to score a beautiful goal. Surely Dortmund are now primed for the big Bayern showdown next week. The match that everyone except Germans refers to as "Der Klassiker" shapes up to be a full-fledged instant classic. Surely Dortmund stand a chance of snapping their five-match losing streak (seven match losing streak if one counts the DFL Super Cups) against Bayern!

Surely? Meh. In actuality, this writer finds Rose's post-match tone pretty spot on. Not unlike the case in the section above, opponents Wolfsburg were inarguably the better team in this week's 1-3 defeat. This particularly proved the case after Florian Kohfeldt's team conceded the second goal. The VfL 3-4-3 pounded Rose's latest awkwardly jumbled together 4-1-4-1 mercilessly. Dodi Lukebakio, Luca Waldschmidt, and John Anthony Brooks all came close to equalizing. Just like last week, Manuel Akanji and Gregor Kobel had to bail their team out before Haaland sealed the deal.

When constructing a lineup that can hope to compete against Bayern, Rose will still have to plan without Haaland in the XI. This may not be the biggest problem in terms of the attack. Marco Reus and Donyell Malen both performed well again in a league fixture for the second successive week. A pound-for-pound midfield match for Julian Nagelsmann's latest tactics (drawn up below) nevertheless doesn't materialize.

The actors just aren't there, even in the best-case scenario where Jude Bellingham, Emré Can, Mahmoud Dahoud, and Axel Witsel can be deployed. Unless the columnist misses something major, it just doesn't add up. Naturally that won't stop all of us from talking ourselves into the possibility over the course of the week. There shall be all manner of hype and psych. This is as it should be.

The return of Schick

Why are you still so glum, Bundesliga enthusiasts? Blah, blah, blah. Everyone has the idea by now. We've beaten this week's theme for the opening section to death. It definitely counts as good news to see the bicep flexing Czech international back in the Leverkusen lineup again. It's important to note that Patrik Schick remains tied for third place on the current Bundesliga scoring chart despite missing out on the last three rounds of league action. We need him back as well, even if few of his 28 touches were memorable.

The 25-year-old failed to do much of note against his one-time German Bundesliga club. One could say that the big-man's presence alone freed up actors such as Florian Wirtz, Moussa Diaby, and Amine Adli to turn race around the pitch largely unchallenged during the 3-1 victory over RB. That had a bit more to do with Leipzig's 4-1-1-1-3 whatever the hell that was. A genuinely awful performance from the German Red Bulls in an empty stadium with no one to boo them off. Not a great way to end the weekend.

Oh Well. The return of the second placed (Haaland, 10 goals), one of the third placed (Schick, 8 goals) goal scores still makes for a big weekend. Silas also struck 11 and assisted on a further five last season. Goal machine Andrej Kramaric also got some time in off the bench for Hoffenheim this week and assisted on one. We've plenty of guns back ahead of the holiday "blitz phase". Go ahead and elbow that farmer's league guy again.

The Burning Questions: Round 13
Is there concern yet for Bayern?

For the second consecutive week, we'll go with a hard "no". It all comes down to some slightly off kilter solutions to the Joshua Kimmich problem. Yes, we'll still be talking about that quite a bit this week. The evolving national nightmare of Germany's second pandemic winter isn't going anywhere. It's hard imagine any of us on either side of the issue being judged kindly by history. We all look bad, irrespective of where we stand.

Anyway, rightly getting right back to the football, here's where we are in terms of Nagelsmann tactics.

Lineup—Bayern München—Match 13 (3-4-2-1)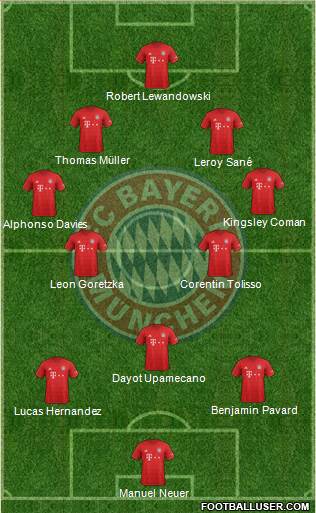 Pretty much the same thing we were looking at in our last draw-up for Bayern in the round 11 tactical focus. Leon Goretzka gets a different placeholder for Kimmich. After Sabitzer didn't work out so terribly well last time--and the Austrian was injured to boot--Corentin Tolisso stepped in and rather quietly proceeded to put together a decent match.

The entire constellation proved effective in the opening minutes against Bielefeld. The hail of chances FCB was about as relentless as the snow in that famous picturesque 3-3 draw these two teams gave us last February. It counts as something of a small miracle that the scoreline ended in a narrow 1-0 victory.

There's really no real weak-point to attack now that Nagelsmann has Alphonso Davies where he wants him and both Dayot Upamecano and Leroy Sané exhibit consistently strong form. It might very well be the case that the German giants can continue on without the players they still have in quarantine next weekend.

Dortmund just doesn't have an answer for the distributive possibilities this formation offers. Virtually everyone got a chance in against the DSC. One can conceive of a quick dismantling of the BVB next weekend. A little more finesse finishing from Sané, Davies, Müller, and Lewandowski might prove sufficient.

Must we discuss Hoffenheim?

It appears that we must. Note that we've never considered ourselves above giving this team a draw up in the tactics bulletin. In point of fact, we do it all the time in the "Americans" column in addition to this one. Interesting from the Hoffenheim perspective, we have head-coach Sebastian Hoeneß jettisoning what appeared to be his plans for the squad when looking back at the previous tactical sets.

Only one change from the 2-0 defeat over Leipzig last week. Keeper and captain Oliver Baumann came down with a non-corona-related flu infection. Hence, we have the exact same collection of outfielders in the exact same positions.

Lineup—TSG Hoffenheim—Match 13 (4-3-3)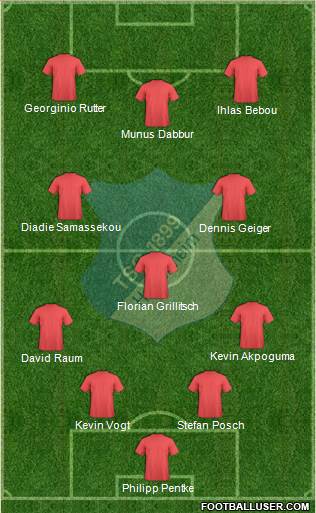 Not at all the type of progression one expected from this team. Hoeneß has led the form tack guide him. Injuries to Christoph Baumgartner, Robert Skov, Andrej Kramaric, and Jacob Bruun Larsen forced his hand somewhat, but the decision to move Chris Richards, Angelo Stiller, and Sargis Adamyan out of his first string still surprises.

The forward placement of Diadie Samassekou and Dennis Geiger also surprises as these two players ordinarily work much further back. A false-nine-role for Munus Dabbur inspires as it enhances the Israeli's overall performance. That move also provides almost perfect attacking lanes for the on-fire-form fullbacks and the equally lights-out wingers they directly buttress.

Some early mistakes

Very difficult to fathom, but lowly opponents SpVgg Greuther Fürth actually took the lead in this nine-goal blowout. Florian Grillitsch, wearing the skipper's armband for the indisposed Baumann, didn't quite get his semi-attached role to the defensive chain sorted out. Branimir Hrgota capitalized on a midfield ball loss and set up Jamie Leweling for the 1-0 lead in the 22nd.

Shortly thereafter, Fürth could have gone up 2-0 had Timothy Tillman not struck the post in the 31st. Ihlas Bebou scored the first of his three goals on the counter from that very play. After David Raum set up Georginio Rutter for the second Kraichgauer tally shortly before the break, Fürth were still in it. Tillman even equalized after slicing through the TSG ranks seconds after the restart.

Fling of the Floodgates

To put it candidly, Rutter restored the lead with an almost superhuman goal in the 57th. Dabbur then set up Behbou's second with a filthy slick pass in the 62nd. Then we have that own-goal off of Fürth academy product Raum's corner in the 66th. Three unanswered tallies pretty much wraps it up, even if there were two more goals on this crazy day.

We've seen how this team can explode with goals earlier in the league campaign. Five wins from their last seven certainly constitutes a good run for the Sinsheimers. The question now becomes how Hoeneß reintegrates some of returning players who surely want back in. One should also temper enthusiasm for the Rhine-Neckar as all they really did was beat up a Leipzig side in disarray and one of the Bundesliga's worst ever teams.

Eintracht awaits next. Speaking of the SGE:

Are Frankfurt rising?

Three straight league wins a row and a six-match unbeaten run can't exactly be ignored. Incredibly, despite the fact that Oliver Glasner's starting XI just contested a grueling Europa league duel some 48 hours prior, the SGE trainer went with the exact same crew against Union Berlin on Sunday:

Lineup—Eintracht Frankfurt—Match 13 (3-6-1)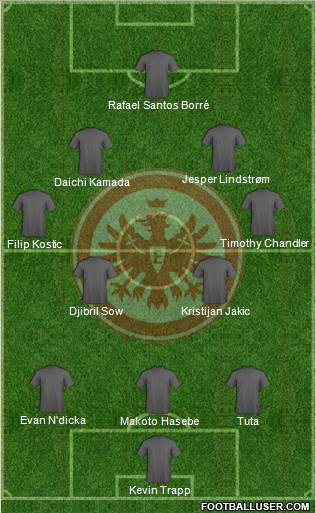 Well, well, well. Not only are these the same XI that featured in the Europa League, but also the exact same crew that squeezed the win out of Freiburg one week ago today. Apparently, Glasner feels in a comfortable enough groove to begin railing off long streaks with lineups just like we saw last January/February with Wolfsburg.

An average creativity assessment

One change--it appeared--involved Jesper Lindstrøm and Daichi Kamada switching sides. It wasn't exactly easy to make this call as both actors were fairly fluid in their play, but we'll stick with it. The back-three also looked as if it flattened out a tad, but that remains mostly a subjective judgment. Key here isn't so much the basic positioning of the players, rather how well they interact together.

For a twenty minute spell towards the end of the first-half, we witnessed some of the best Eintracht football seen all season. The ideas were there along with a certain tenacity in the duels not usually present for this team. Predictably enough, everyone ran out of both gas and notions shortly after the restart.

The above formation definitely didn't win this weekend's match. A set-piece delivery from Kostic enabled Djibril Sow to score the opening goal. Kostic's last gasp cross that allowed Evan N'dicka to atone for his earlier mistake made for a nice story, yet was still every bit as flukish as the Tuta finish that enabled Eintracht to snatch that late point three rounds back.

Overall, we're still lacking that command performance from this team. Perhaps its on the way next week. Or Glasner's men could be in for an long overdue end to this string of luck. Everyone's luck runs out at some point.

Why are Freiburg sliding?

A certain writer who had been tipping the Breisgauer for the title-race might as well have egg all over his face. Three straight league defeats cannot go unaddressed either. The thing of it is that--if one can pardon the stubborn adherence to a familiar line--the Breisgauer played well enough to win for the third consecutive week. Answers here remain truly hard to come by. SCF trainer Christian Streich said that he had no idea how his team lost 1-2 to Bochum. The columnist doesn't know either.

Kevin Schade and Woo-Yeong Jeong generated enough chances in the opening 20 minutes to put the game to bed early. Nico Schlotterbeck hit the post just before it was time to head into the dressing room. The 4-4-2 that saw Schade and Grifo work the wings while Jeong served as the short striker behind Lucas Höler continued to dominate play after the break. Set-pieces were definitely on the level; happening to be the manner in which the visiting Black Forest club scored the opening goal.

VfL Bochum keeper Manuel Riemann repeatedly stood tall in what was a masterclass from him. Freiburg didn't quite have the same kind of class between the sticks, though Mark Flekken hasn't produced any of his trademark "water bottle" foul ups in recent weeks. One can pin a portion of blame on both Flekken and Philipp Lienhart for Milos Pantovic's game-winning goal. It still came down to an unfortunate Lienhart slip (which could have happened to anyone), which then in turn caught Flekken out of position.

Hopefully, Flekken's confidence isn't shaken after all the curious goals of late. The team desperately needs to cling to the positives ahead of a tough stretch run of Gladbach, Hoffenheim, Union Berlin, and Leverkusen before the holiday break. Streich is definitely the right man to help them do so. That's probably too tough of a fixture list for them to bounce back again, however. Sadly, it looks as if the slide will continue.

What do Hertha truly need?

They need the transfer window to come and a complete housecleaning from well-paid manager Fredi Bobic. Pal Dardai's latest response to a listless performance involved benching both Krzysztof Piatek and Lucas Tousart. If the trainer has effectively given up on both these high priced players, it's time to ship them out. A 4-2-3-1 anchored by Jurgen Ekkelenkamp in the ten-slot and spearheaded by Isak Belfodil surprised by performing above its level and manufacturing some early chances initially.

It didn't surprise at all to see it fizzle out. Hertha's lone goal against Augsburg came on a double error from defender Robert Gumny and keeper Rafal Gikiewicz. The slightly absurd attempt at a three-striker-set of Belfodil, Davie Selke, and Stevan Jovetic couldn't keep itself onside. The supposed 2-0 got pulled back an amazing three times. The hosting "alte Dame" deserved far worse than an Augsburg equalizer at 90+7. They genuinely deserved to lose this match.

Bobic truly has his work cut out for him in the next couple of weeks. After the dumpster fire that was Hertha's summer window, the club's new Sporting CEO needs to come through big on both the arrival and departure side. It remains to be seen whether we'll see the Fredi Bobic of Eintracht Frankfurt or the one who once managed VfB Stuttgart.

Weekly Tactical Focus: Energy on the Rhein

Oh man did Bundesliga lovers ever need this match. Amid the looming specter of another "Geisterspiel Era", all of got the treat of witnessing what is the current German top flight's fiercest derby in front of a full-house of 50,000 fans. Entering Saturday's sensational fixture, Köln-Gladbach carried with it one of the most unpleasant aftertastes of the year of spectator-less football. The last time these two teams met, former BMG trainer Marco Rose caught serious flack for not taking the match seriously.

The extra burden of criticism ultimately led to Rose being forced to reveal his plans to leave for Dortmund after the season. Last February's version of Köln-Gladbach served as a symbol of everything horribly wrong with matches played before empty stands. Football remains football whether there exists an audience to play for or not. And yet, one could very often see that those who set up the teams couldn't help but put significantly less thought into their productions.

Last February's derby wasn't a derby. It merely served as a less consequential league match for which Rose needed to rotate out most of his better personnel. Köln-Gladbach ceased to be a meaningful encounter when, during lockdown week in March 2020, this fixture became the historic first-ever top tier German football match to be played behind closed doors. Just another day at the office when there's no real emotion involved. Ho-hum. In with the back-ups.

What had been stripped of meaning got restored to us this week. What an incredible match it was too! No shortage of thought--not to mention heart and soul--put into the production here. It proved fully worthy of the extra appreciation that the third and final section of this column provides. We might as well note that we don't have any in-game tactical adjustments to report on this week, at least not anything major that this writers's eyes could discern.

The set ups were definitely clever enough.

Appreciate what one sees before it flies away again.

Lineup—FC Köln—Match 13 (4-2-3-1)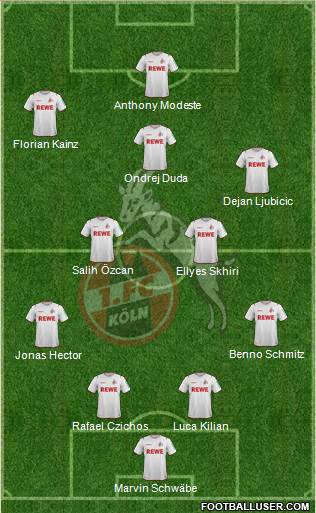 Marco Rose wasn't the only Bundesliga trainer getting away with putting half-baked constellations on the pitch last year. Anyone else feel like revisiting Markus Gisdol's old Effzeh tactics from last year's frigid, fanl-less, and goalless December-February stretch last winter?

Right. Didn't think so. Steffen Baumgart hasn't had to deal with as nearly as many injuries as the previous permanent coaching regime. There's still plenty of legitimate evidence that a much better set of minds are in place. They most definitely put some thought into this one right from the onset.

The flank stagger

Very difficult to assess where this one was headed after the team sheet was released. This collection of players can and have settled in a number of different manners this season. The columnist correctly guessed that Dejan Ljubicic would be settling in for some defensive wing work against Joe Scally and Ramy Bensebaini.

Something much more unforeseen manifested itself when the Domstädter obstinately refused to fold into a diamond shape on the overhead cam. If there was ever a team to employ spread coverage against, the quick set of BMG centralized attackers seemed like the one. Something vaguely familiar  nevertheless did not crop up.

After a lot of intensive locking on to returning midfielder Ellyes Skhiri, one could actually see that the Tunisian had a double commitment hanging back behind Ljubicic. Unlike many flank split-staggers, this was a defensive minded one. Benno Schmitz and Salih Özcan still had their basic positional assignments, but were able to see a lot of the ball thanks to this double-lock protection.

The battering rams

As we've been giving Köln decidedly more attention in the column this year, two recurrent themes about how this team plays football keep cropping up. They bear repeating here as quite a lot can get lost in the page-buildup that accumulates over the course of the year. First, we must again credit this team for their aerial prowess.

It honestly doesn't matter if the Effzeh lead the league in aerial challenges contested or won. The chronicler honestly doesn't even know if that's true or where those specific stats are kept. All one truly needs to do is sit down and watch how the squad, under the leadership of Baumgart and slightly lesser known Kevin McKenna bravely flies into the aerial duels, fairly every time.

This weekend's encounter proved no exception, with even late sub Mark Uth seemingly having no fear related to what happened just under a year ago. The Geißböcke literally go into headed challenges like an actual billy goat. Quite the thing to observe. Few who take time to watch this team will disagree.

Overall match conditioning

When it comes to the second point, the over-committed columnist could take time to verify one stat. After weeks of listening to Baumgart praise his team for "fighting back in the second half" and then watching Köln score three of their four goals in the final twelve minutes on Saturday, he became a bit interested to know just how many league goals Köln have scored after the break.

Answer? After the four scored in this round's fixture, 18 of the squad's 22 campaign goals came in the second 45. This makes the Domstädter by far the most effective second-half team of the 2021/22 field. As much as Baumgart and staff fell into a more advantageous situation with this squad insofar as injuries are concerned, the way in which they play themselves into form late can't be dismissed as a simple coincidence.

Many will have been disappointed with the first half of this fixture; one in which neither side proved capable of carving out any clear cut chances. One should keep in mind that they were--in another fun fact--playing the most dominant first-half side in the league. Eleven of Gladbach's 18 goals have come in the opening 45.

Köln got the job done by keeping matters level. Baumgart has done a surprisingly little amount of in-game adjusting thus far this year. The plan he and the assistants have laid out is the plan that the team can sink or swim with. Though not every result has been glistening, very often it does pay off after the team itself adjusts to the new weekly shape. It ended up making just enough of a difference in this case.

The Story of Schwäbe

We'll want to credit Adi Hütter and Gladbach for their strategy here too. The game we are about to discuss did not feature any gross mismanagement on the behalf of the BMG coaching staff. Final xG stats (Gladbach 1.7, Köln 1.6) demonstrate that the final scoreline came nowhere near being reflective of the overall chances.

The extra bit of stamina and fortitude near the end made a difference, as did Florian Neuhaus' horrible giveaway. Before moving ahead, Köln's back-up keeper Marvin Schwäbe merits a mention as well. The 26-year-old from Diebe had himself a monster day in his Bundesliga starting debut. We've some sprinklings of his story already up on Bulinews. Very quickly, do allow us to mention a bit more.

Schwäne had to move abroad to get his playing time after coming through the youth academies of local club Eintracht Frankfurt and TSG 1899 Hoffenheim. The native Hessener went north to Denmark to play as the #1 net-minder for Brøndby IF in Copenhagen. He was actually Frederik Rønnow's replacement at the SuperLiga side.

After three seasons as the #1 in net at Brøndby, Schwäbe opted to risk it all mid-career and move back down south to Germany on an expiring contract. Now, with Timo Horn out until 2022, he gets finally gets his chance to shine as a decidedly older rookie. All signs point to him utilizing this chance. A very impactful performance from him on this day.

Moving onto Gladbach:

Lineup—Gladbach—Match 13 (4-5-1)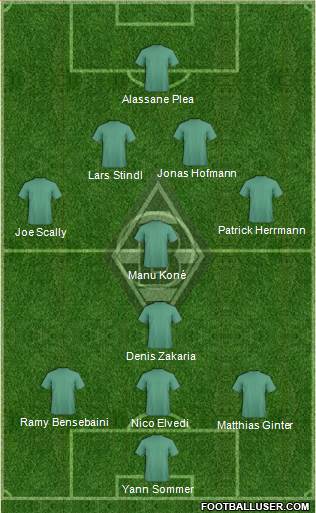 It took some time to figure this out after as Scally, Lars Stindl, Alassane Plea, and Jonas Hofmann were rotating all over the place. Some may have figured it out sooner on the basis that the back-three, anchored by the returning Nico Elvedi, kept as flat a line as possible. In any event, once one figured out that Denis Zakaria bolted down the central vertical axis as a sweeper it became obvious enough.

As noted above, the xG stats remained a statistical dead-heart on the afternoon. This didn't count as a bad idea from Hütter by any stretch of the imagination. It was decidedly more conservative than what we saw last week, but honestly a very good anticipatory read of the subdued Kölner flank press. A little more luck, and a few less centimeters of goal-post, and it might have worked.

Off we go with a highly deserved, albeit by a smaller margin, victory.

Match Flow: 1st to 22nd minute

The early intensity corresponded with the stakes involved. Köln didn't pretend to have anything special on their first two charges. Short whip-ins for Anthony Modeste came in the 1st and 2nd. Hütter's deliberately crowded midfield was on hand to clear the French striker's tap-backs immediately. Gladbach's first advance came at the end of the 2nd. A crunching tackle from Rafael Czizhos stopped Patrick Herrmann on the BMG right. Schmitz and Scally were among the players sent flying in attempts to win the second ball. An injury timeout followed the clustered fluster.

A nice bit of switch play after play resumed saw the ball find its way to Ondrej Duda via some nice work involving Ljubicic and Schmitz. Köln's Slovak midfield actor recored the match's first shot on target in the 4th. Yann Sommer wasn't troubled much. Manu Koné similarly stood easily tall cutting out a Jonas Hector service one minute later. Köln got off the next two attacking sequences. After a failed clearance on a corner, Florian Kainz skipped past Scally and passed inside. Duda attempted to finish off the next half clearance with an artful bicycle kick that went wide.

The visiting Rhinelanders put together their first advance in the 7th. Scally punched through with a full head of steam, forcing Schmitz into a tackle that wasn't quite legal. Though the ensuing free kick didn't produce anything, Czichos had to come up big again to stop Gladbach's second push into the area in the 8th. A promising counter resulted from the KOE defender's tackle. Bensebaini supplied the stop. Duda had to foul to prevent a counter back the other way. Luca Kilianb then applied the brakes to a Koné charge in 10th.

There was still more fouling straddling the line between fair and felonious. Scally had to flail Schmitz down with a hand to the face in the 11th. Schmitz crashed in for the second effort after the subsequent free-kick, sending the ball well wide. Gladbach got the next rush rolling well. After a beautiful takedown of a ball in space, Scally opted to cushion-touch his own way into a clear sight of goal. The American's 13th-minute effort flashed over with plenty of pop.

Schwäbe was finally tested one minute later, getting down to stop a cutting Hofmann effort after the German national team player worked a lovely return in the 14th. Hütter's men got off the next two attacking sequences. Hermann's 15th minute cross in from the right was nevertheless far too high. After a back-bend recycle, Gladbach then got through on the left. Scally and Hofmann got in a few nice touches before Stindl was stymied central in the 17th. The BMG were to maintain possession for the most part through the 20th. Stindl was again boxed out by three defenders in the 19th.

With the flow of the match then threatening to even out, Köln improved upon their approach play significantly. This constituted an important statement. Salih Özcan stepped forward for a vital midfield interception in the 20th. Scally had to stretch to keep the eventual incoming cross off of Ljubicic's boot. Kainz made another nice run in the 21st. Hector then came in on the overlap. The first of the Kölner captain's low crosses was cleared. The second found it's way to Modeste, who just couldn't find the power on the turn to get it past Sommer in the 22nd.

Match Flow: 22nd to 40th minute

Hofmann found himself stopped after Sommer's quick start in the 23rd. Schmitz quickly got his side going back the other way. The counter ultimately fizzled out, with Modeste merely managing another tame header on target in the 24th. Baumgart's hosts tried a more patient build in the 25th. The sequence concluded with a blocked Duda shot. Kainz and Czichos did very well to track back and stop Gladbach's next counter. Duda then attempted to reach Modeste in the 26th, with the pass just a tad too long. Hector committed the same fallacy aiming at the same striker in the same minute.

Duda led the next forward wave in the 27th. Gladbach weren't really getting boots around the ball at all during this phase. The Slovak midfielder executed a nice dribble run and, faced with practically no space to work with toward the end, did try a nifty little thread through for Modeste. Scally slid in to cut out the vertical. Gladbach's effort to counter of the play was again very meek. Köln had the ball back again within seconds. Ljubicic achieved the next breakthrough in the 29th. Duda sniped off a quality effort on target following the Austrian's cross.

Köln's ascendancy continued. After a brief injury timeout for Koné at the half-hour mark, everyone in white closed ranks expertly in the 31st to ensure that an exquisite first touch from Stindl would lead nowhere. Hector cleared out a Herrmann cross well in the same minute. Two consecutive drives saw the Geißböcke through into the penalty area in the 32nd and 33rd. Kainz literally knocked Matthias Ginter out of his boots on the latter play and we required one of those extended "shoelace tying breaks".

Some more nice moves from the home-side were on display in the 33rd. Unfortunately, no Effzeh actors were available to meet Hector's cross. Hofmann tried again on the right in the 34th, but Kilian was on hand with a magnificent sliding precision tackle. The hard-challenging Effzeh then unleashed Ljubicic back down the right. The Austrian earned a corner and we got an incredible chance off the 35th minute set piece. Hector flicked on for Modeste and the striker lashed a point-blank-range header at Sommer from three meters out. Somehow, the BMG keeper managed an even more impressive instant-reaction save.

A few stoppages over the next three minutes led to a lull at precisely the wrong time. There was some arguing with match official Robert Schröder over an offensive foul on the next corner. Köln couldn't get their open-play attack going again until the 37th. Again, it was high level stuff. Gladbach lead striker Alassane Plea had to scramble away the clearance himself all the way back. One felt a twinge of sympathy for Duda on the next break in the 38th.

The Slovak did a splendid job of staying with the ball and came within a fortunate bounce of taking it all the way towards a clear shot. Regrettably, the ball just didn't fall for him. Köln pressure was now decidedly uninterrupted. Gladbach were chasing balls as the Effzeh shape danced around them. It thus came as somewhat of a surprise that Hütter's crew were able to accomplish a brief momentum shift before the half-time whistle.

Match Flow: 40th minute to half-time

Here we witnessed considerably more intent from the highly capable guests. After a short neutralizing lull, it began with some desperate long balls that Schwäbe had no problems collecting in the 40th. The BMG midfield stepped forward to pick Duda clean in the 41st. Herrmann then played Plea into the area half-right and Gladbach's French striker blasted a first time hit. Schwäbe proved equal to it with a somewhat awkward palm away.

The foals then struck the woodwork on the ensuing corner. Zakaria struck a hellfire missile that caromed off the outside of the right post. The goal frame shook for what felt like a full minute. A series of fouls on the touchline then concluded the half. Bensebaini draw controversy for trying to shield a ball near his own corner flag in the 43rd. Scally got hit on a return ball from his own throw-in one minute later.

Schröder didn't feel the need to extend the announced of stoppage time of two minutes, even though there was an awful lot off scheisty time-wasting from both sides during a series of corners spanning through 45+2. Neither side wanted to continue. Accordingly, we were adjourned with both teams having slight positives to stick in the back pocket.

Match Flow: 46th to 55th minute

No need for any personnel changes or personnel shifts here. These two sides could be left comfortably alone to decide it in their constellations. Matters initially picked up in the same manner they left off: ragged and choppy. Kainz got clipped on the first Köln advance in the 46th. Plea was well offside on the first Gladbach counter in the 47th. Blocks on top off blocks on top of turnovers and shifts rendered the first four minutes of the half an unsightly mess.

More aesthetically pleasing football returned in the 50th. Scally and Koné at least got a sustained advance through with a pair of solid horizontals. Hofmann then won an aerial challenge to lay off for Plea, who's effort off the turn went wide. There was then another break in the action as a limping Jonas Hector had to be subbed off for Kingsley Schindler. Baumgart kept it simple enough.

Schmitz switched over to Hector's position on the left while Schindler took over on the right. The two fullbacks were clearly free to rotate about as they pleased for the duration of the match. Scally kept another high Herrmann cross in the 52nd alive, but the play went nowhere. Duda tried to spark a counter, yet was too quickly swarmed. Kainz, Schindler, and Ljubicic combined to no avail in the 54th to no avail after Elvedi stepped up.

The Domstädter would nevertheless open the scoring on their very next charge. This time Schmitz, Kainz, and Özcan cycled out of the left, eventually reaching Duda central. Whilst the Slovak rushed after a ball he initially lost, the ball then squirted out for Schmitz to tap back for Ljubicic. A little luck involved to be sure. It still proved quite the deft finish from one of the summer transfer window's most curious signings.

A slight deflection sent it past Sommer. Köln had their deserved lead.

Match Flow: 55th to 74th minute

The much-needed opening goal would surely open things up. And how. What an enthralling phase this was! Everything got shaken into high gear. The foals immediately charged into the penalty area on the first attack after play resumed in the 57th. It came in the form of a nice collect from Plea at the back and a courageous blaze into the penalty area from Scally. The American did everything right save take one last unnecessary touch before dishing off to his captain.

Özcan picked the ball off Lars Stindl's foot. Stindl got another chance less than a minute later. This time Schwäbe was out adroitly to clear away from him. The former Brøndby net-minder got in front of a ball aimed at Plea on the very next play after Kainz left him exposed with a poor back pass. Köln were beginning to look all out of sorts and might have conceded immediately had a multi-player scuffle not broken the flow.

A Ljubcic foul on Bensebaini led to tempers boiling over. Schröder took his time sorting out a mini-melee afterwards. Duda and Sommer were booked for their involvement/dissent. Scally cut through again as soon as play resumed again in the 61st. The sequence ended with another strike of the post for Gladbach. Plea orchestrated a clever flick. This one didn't rattle the woodwork, but undeniably came off the inside. Schwäbe was without a prayer.

Scally did well to win the contested ball off the rebound and, arguably, should have been awarded a free kick for a foul draw in the 62nd. Instead, Bensebaini got easily dispossessed while still half-protesting. Özcan sent Modeste through on a quick counter. The ultimate 63rd minute effort from the Köln striker hit the right side-netting.

Özcan won another ball in the 64th and could only be stopped by a Zakaria tactical foul. Schröder opted to caution Gladbach's Swiss sweeper even though it might have been considered a clear goal-scoring chance. Excellent win and run from Özcan, who was frankly superb all the way down the stretch in this one.

Gladbach could be forgiven for thinking that that they had the equalizer on the next counter in the 65th. Hofmann initiated an incredible play off the free kick and was in exactly the right spot to receive the return ball from Herrmann. The finish proved perfectly clean, yet somehow just whizzed past the right post. A brief pause saw Hütter bring on Marcus Thuram and Florian Neuhaus for Stindl and Koné.

To reiterate, there were no tactical changes to report upon. Both subs assumed like-for-like positions. Again in the 67th, Gladbach came within centimeters of the equalizer. Scally punched though again after working a perfect overlap with Hofmann. Schwäbe came out in excellent anticipation of Scally's cutback for Plea and the BMG attacker found his angle too tight. Schwäbe ultimately cleared the blocked effort.

Scally tried again with a wonderful takedown of a switch in the 69th. Kilian fouled Plea after the American got his lead striker the ball. Hofmann took the awarded free kick in a very dangerous area, but Schwäbe's wall deflected the goal-bound effort out for a corner. Schwäbe again had his defense set up properly on the next set piece. Duda blocked and cleared this time.

Sebastian Andersson and Mark Uth checked in for Modeste and Kainz in the 70th. More like-for-likes. Özcan executed another marvelous turn and run in the 71st, forcing Zakaria into his second tactical foul of the day. The next Kölner design proved clever, but Schindler's final pass in the 72nd went too long. Schindler immediately redeemed himself with a win against Scally in the 73rd.

Köln couldn't make the most of a pair of failed clearances immediately thereafter. Hofmann and Herrmann finally managed to make a nice combo on the right count for the scoresheet in the 74th, with the former drilling home a return ball from the latter to give the visitors their equalize. Another totally deserved goal from two players great on the day.

Match Flow: 74th to 78th minute

Ljubicic and (to a greater extent) Skhiri looked shaky on the goal. Schwäbe, though he was completely screened on the goal, looked a bit rattled at having conceded in his first Bundesliga start. With the Köln cycle getting stuck on both the right and left in the 74th, 75th, and 76th, the upstart BMG looked to have the upper hand heading into the crucial final minutes.

Then suddenly it was over. Bang. Bang. You're dead. Adi Hütter did make time to have a discussion with Florian Neuhaus after the German national team midfielder recently aired some public criticisms. One doesn't suppose we'll be hearing much from Neuhaus in the coming days after he effectively gifted Köln the derby.

On the last failed Köln rightward triangulation, Neuhaus sent a horizontal directly into the path of an onrushing Mark Uth. The Köln native made no mistake on his 77th minute finish. Before Gladbach could even get settled, Schindler bombed up the right seconds later. Elvedi and Zakaria couldn't sort out their clearance of the fullback's cross.

Duda, who honestly deserved a tally for all his hard work on the afternoon, took a couple of deft touches on a loose ball and finished from seven meters out. Two goals in less than two minutes. Hosts ahead 3-1. For all intents and purposes, game over.

Match Flow: 78th minute to full-time

It was actually Yann Sommer who made the bigger save in the final minutes (83rd), although Schwäbe fairly got the chance for an appreciative crowd round with a decent one in the 88th. Truly not much to report on here. Andersson got the goal that Sommer robbed him of in the 83rd with a 90+3 finish after everyone had given up.

Insofar as Gladbach is concerned, the performance wasn't anywhere near as catastrophic as the scoreline might suggest. The xG stats remained even. Hofmann, Sommer, Plea, and Scally all turned in excellent games. A columnist also finds no real fault with either Hütter's tactics or his decision to keep the shape. Maybe one can accuse him of bowing too quickly to accommodate Neuhaus, but that's merely a hindsight observation.

It's even more difficult to single out a particular Köln player for delivering this big derby victory. Who's the "man-of-the-match"? Tough call. Özcan makes a good case. So do Schmitz, Schindler, Czichos, Duda, and even Schwäbe. We might as well note that Buamgart's Köln still have their weaknesses. The team currently tied with Gladbach in the aren't this year's cinderella. They've provided their fair share of disappointments this year when unable to score early.

Can we award this week to the crowd again? In principle, yes. Coach and players manufactured this momentous accomplishment themselves. Even though the Effzeh faithful weren't directly muzzled in their seats here, but they were noticeably more tepid with the chants and songs. As are we all. No one is fully prepared for a return the the empty derbies of days past. This counts as a collective nightmare for us all.

At the end of the day, why not? We can close with the attendance figures from the last four Rhineland derbies; the only real historic rivalry we have left in the top flight following Schalke's relegation. Let a stern reminder of how empty life can be in empty stadiums be our conclusion:

March 11th, 2020: Geisterpiel

October 10th, 2020: 300 spectators

February 6th, 2021: Geisterspiel

November 28th, 2021: 50,000 spectators

The BMG faithful get their turn in April on Matchday 30. Bis dann. Bis bald!

Thanks so much for reading! You can occasionally catch Peter goofing off while watching the lower German football divisions on twitter, @ViceytheSS.

Twitter DMs are open for football conversations, corrections, and (if you truly insist) general abuse. 

All columns debut on Bulinews before appearing on Peter's website later in the week.



Related stories