Bundesliga Tactics Talk: Round One
By Peter Weis @PeterVicey
The new season of "Tactics Talk" officially arrives!

Some weekend it was on the world's best footballing beat! We're pleased to once again furnish full coverage of the best talking points from all nine fixtures in our comprehensive weekly recap column.

The 2023/24 version of the column includes some formatting changes. A full "focus feature" is no longer included, although we will still reserve a segment for an in-depth look at the weekend's most important match. This week's deeper dive belongs to Leipzig-Leverkusen.

In what we hope will be a treat for our readers, we've brought back the German vocabulary feature from the 2019/20 column as a means of furnishing more German footballing commentary; a popular feature from the 2020/21 column.

The new format also enables us to include more draw-ups each week. Our first installment of the new season includes tactics boards for Darmstadt, Heidenheim, Stuttgart, and 1. FC Union Berlin.

Come along for a fun ride!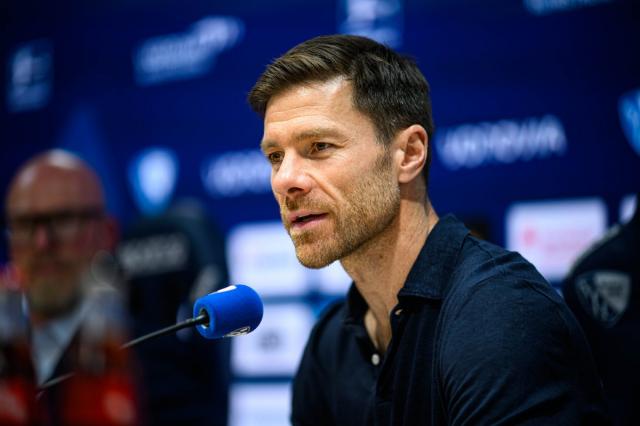 | | |
| --- | --- |
| Xabi Alonso | Bayer 04 Leverkusen |
Bundesliga Tactical Banter: Round One
Tuchel the German Shepherd

To the certain disappointment of those craving some sensational news concerning Harry Kane and Bayern, the columnist must report that the opening match proved something of a dud. Footballing diehards across the Bundesrepublik enthusiastically tuned in to the highly-anticipated "Bundesliga Auftakt" on Friday evening. We then immediately questioned whether we were still watching the early 2. Bundesliga kickoffs. Perhaps all the hype surrounding our new English superstar threw expectations off. Perhaps the 8-0 defeat of Schalke on the first day of the 2020/21 campaign or last year's 6-1 thrashing of Frankfurt on the opening match-day conditioned our minds.


Bayern-Bremen simply felt labored. Kane's assist came on Bayern's only truly compelling attack charge in the first half. After the 1-0 in the 4th, the record champs struggled to break through with slow, plodding, and unimaginative play. Kane didn't get a noteworthy touch on the ball again until shortly after the hour-mark. The 2-0 in the 74th came on Kane's second shot of the evening. Two more goals in second-half injury time produced a flattering final score. Thomas Tuchel's crew still appear every bit as shaky as they did late last year. One could sense the burden of last week's Supercup loss in the body language of the Bayern players.

One tactical point of note saw Tuchel re-unite the midfield six-axis of Joshua Kimmich and Leon Goretzka. That came as a surprise. The once inseparable pairing haven't worked together for a long time. Konrad Laimer served as Kimmich's regular partner during the pre-season. Amid all the awkward and uncoordinated play, Germans were at least happy to see that duo working together again. Why? Because we need club teammates familiar and in form with one another playing for the national team in next summer's Euros. Broadcast cameras caught Bundestrainer Hansi Flick in the stands watching four matches this weekend. Flick only cracked a smile on the rare occasions when these two clicked.

It remains uncertain as to whether Tuchel will finish out the season in charge of the German giants. The pressure placed on the FCB head-coach after the off-season administrative reshuffle left him in sole charge of building this team is enormous. Tuchel got everything he wanted. Meanwhile, his performance record is still suspect. He won only six of twelve games after being appointed last April and has gotten off to a bad start here. Only Giovanni Trapattoni fared worse at the FCB helm. We Germans aren't so sure about his prospects shepherding this team through the league, but do at least find ourselves pleased that he's apparently helping to shepherd our national team players into position.

That's helpful.

Baden's tale of two Hungarians

Freiburg-Hoffenheim attracted its fair share of eyeballs this weekend. The continued development of SCF-TSG into a Baden-Württemberg derby counts as a trend Bundesliga lovers actively wish to support. Curiosity over whether Freiburg trainer Christian Streich has his depleted squad ready for their second consecutive Europa League season and how Pellegrino Matarazzo's totally rebuilt Hoffenheim works drew us to the match as well. The columnist will also - in the second of thousands of references to next summer's Euros in this year's column - note Germany's "goalkeeping crisis". Yes, we're desperate. We no longer have a world-class German national team keeper starting between the sticks for Bayern. Gulp. Where do we turn?

Freiburg's home-town hero Noah Atubolu is obviously too young to serve as our savior. That won't stop us from analyzing just about every touch he makes over the coming campaign. We want him to evolve and prosper more than any other player in top-flight German football. While there certainly won't be any complaints if Finn Dahmen (Augsburg) or Alexander Nübel (VfB Stuttgart) make their own developmental strides this year, Atubolu remains the one we truly wish to see stake his claim for the future. How did the 21-year-old fare? Eh. He did miss up rather badly inside of five minutes. A spilled rebound off a shot from Angelo Stiller nearly resulted in a goal. Atubolu was lucky that Andrej Kramaric scored from an offside position.


After the early goof-up, Atubolu had a much more leisurely day at the office. Freiburg largely dominated proceedings en-route to a 2-1 victory. Streich's Breigauer could have won by a much larger margin. The southern Baden guests hit the goal-frame thrice. Humorously enough, the story of the match revolved around two Hungarians with differently spelled names that happen to be pronounced the same. New TSG acquisition Attila Szalai opened the scoring with an own-goal off a Christian Günter corner that also deflected off of John Anthony Brooks in the 39th. Freiburg's Hungarian Roland Sallai then scored the 2-0 at 45+3 after brushing countryman Szalai aside (with a possible foul) breaking into the box.

Szalai and Sallai on the scoresheet. Are these names pronounced the same in Uralic? The writer has no clue. In any event, the game flattened out considerably after the "Szalai-Sallai" double. No further notes on Atubolu. TSG keeper Oliver Baumann - a former German youth international - made his fair of strong saves during the affair. Freiburg's "Italian from Pfrozheim" Vincenzo Grifo was lively and looks set for another strong season. Hoffenheim committed a lot of defensive errors weren't especially great in attack. This had something to do with the fact that newly signed lead-striker Wout Weghorst had to be scratched at the last moment. Matarazzo's Kraichgauer - in all likelihood - won't factor into the relegation race this year.

The "Burning Questions": Round One
How serious are two title-contenders?

Although we won't be presenting the "tactical focus" section this season, there shall still be a Bundesliga match that receives an extra bit of attention each week. The match-day fixture deemed worthy of the famous "pre-weekend circle" now leads off the "Burning Questions" segment of the column. As the weekend draws nearer, the mind of the Bundesliga diehard gravitates towards the fixture that generates the most interesting questions. Yes - the writer assures you - we literally circle the match. Yes, we grown men also put together the pre-season "Steck-tabelle", paste stickers, and hang posters. It's all highly embarrassing, yet true.

Leverkusen-Leipzig received the circle this weekend as we all possessed the burning desire to assess the title-prospects of two teams re-tooled for a Mesisterschale push during the offseason. Leverkusen definitely delivered the most intriguing summer transfer window in all of German football, bringing in dynamic attacker Jonas Hofmann from rivals Gladbach, Swiss stalwart and former Gladbach star Granit Xhaka, and rising attacking talent Victor Boniface. Leipzig's transfer window was undoubtedly chaotic, but they too acquired their fair share of stars in the form of attackers Loïs Openda, Benjamin Sesko, Xavi Simons, and Fabio Carvalho.

We've many exciting talents to watch thanks to these two clubs. The consensus generally holds that Leipzig simply threw vast sums of money after highly-skilled players whilst Leverkusen methodically built a team with a specific design in mind. The B04 "footballing thesis" complies with the footballing ideas of the man Germans now refer to as the best head-coach in the top-flight. Indeed. "Xabi Alonso Fever" grips the nation. As noted in this year's "Top-Six" Preview Section, Germans are joking that the Spaniard will capture the title this year either as the trainer of Bayer or Bayern. This looks to be the best Leverkusen side since the late 1990s.

How does it all work? The columnist will happily draw it up. Ahead of Saturday's gripping 3-2 win over Leipzig, Xabi made just one change to the side that engineered the 8-0 rout in the Pokal last week. Defender Jonathan Tah replaced the suspended attacker Amine Adli. This naturally heralded a formation shift. The previous 4-2-3-1 shifted to a 3-4-1-2. Xabi compensated for Adli's absence with a nifty little tactical masterstroke that set-up the top offensive axes brilliantly. Silky smooth stuff. Read it and weep!

Lineup—Leverkusen—Match One (3-4-1-2)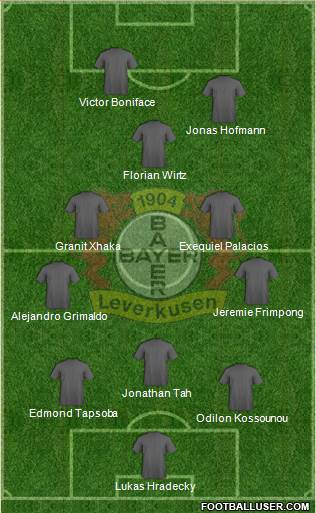 Highlights inside the opening ten minutes might have been few and far between, but there remained plenty of signs that die Werkself were establishing dominance over their rivals. Xhaka won virtually every duel against his tough positional counterpart Xaver Schlager. Jeremie Frimpong moved into promising positions behind the press early. Florian Wirtz and Hofmann also hit pockets of space in a manner that suggested an opening goal would not be long in forthcoming.

Everyone poured up the pitch with pace, flair, and determination. Wirtz might have secured the 1-0 earlier if not for a few iffy decisions on the ball in the final third. It finally all came together in the 24th with a strong win from Wirtz, a sumptuous little chip ball into the box from Xhaka, some tenacious work remaining on the ball from Boniface in the box, and some wonderful maneuvering into position from Frimpong. Germany's "Factory XI" manufactured easily the best "team goal" of the weekend to take the lead.

The significance of the Bayer goals

Xhaka proved himself every bit the monumental force we expected him to be on the B04 1-0. Boniface's unrelenting tenacity on the ball and Frimpong's sharp run into space further proved just how adroitly Bayer sporting director Simon Rolfes shaped this roster during the offseason. The 2-0 came off a Jonas Hofmann corner some ten minutes later. It was none other than German want-away defender Jonathan Tah who polished off the service with an emphatic headed finish.

Of enormous significance, Leverkusen achieved their second tally off a very well-designed set piece. Die Werkself managed only a paltry 11 goals off dead-balls last season. Xabi clearly addressed the issue in camp and worked out a few clever set plays on the training pitch. One witnessed plenty more throughout the course of the match. The third Bayer goal, in the 64th, began with a commanding ball-win from Odilon Kossounou. Frimpong supplied the assist again for Wirtz's cheeky finish on the third tally.

Blemishes from the result

One should note that Tah unnecessarily conceded a corner in the lead up to Leipzig's first pull-back goal shortly before the opening 45 was out. Boniface also blew the marking on Dani Olmo's 1-2 in the 40th. Kossounou, Tah, and Xhaka too were all slack on their marks as Leipzig pulled the 2-3 back off another dead ball in the 71st. Kossounou was the most culpable in a weak aerial battle against Mohamed Simakan following David Raum's free-kick service.

Two goals conceded off set pieces shows that for all that he has done right in camp, Xabi still has work to do with this team. Furthermore, Boniface produced a handful of comical moments on the ball. The Nigerian's touch sometimes appears too feral. Nothing inherently wrong with that as one can easily say the same about Eintracht Frankfurt über-striker Randal Kolo Muani. In any event, it seems premature to confirm Köln trainer Steffen Baumgart's proclamation that Boniface is worth €100 million.

Can they contend?

Xabi exhibits precisely the right tone at this point. We Germans of a certain age have - in all seriousness - watched this team finish as league runners-up five bloody times. So much went right in the opening match. So much more can go wrong over the course of the season. Another Wirtz injury could easily sink this side. The Xhaka-Exequiel Palacios midfield partnership works superbly in that the Swiss "Iron Man" is perfectly complemented by the more creative Argentine. If something goes wrong with that axis, much of the chemistry of the approach play fails.

The roster remains a tad too thin in midfield and overstocked on the flanks. Rolfes can't seem to stop stacking up on fullbacks and wingers. The central defensive ranks could use some reinforcements as well, particular if Tah gets his desired Premiership transfer. One naturally wishes to take nothing away from this most impressive debut. It nevertheless remains worth noting that the way the squad is built does remind one of some of the unbalanced BVB rosters that ultimately couldn't avoid pitfalls.

The status of Leipzig

Some Germans - most famously Bundesliga and Premiership legend  Dietmar Hamann - have tipped the German Red Bulls to win the title. Such an outcome remains within the realm of possibility. Marco Rose's Saxons certainly demonstrated plenty of potential in the weekend encounter. Rose lined his team up in the same 4-2-2-2 that took the Supercup. One slight tweak to the previous constellation saw Timo Werner move back up top ahead of hat-trick hero Dani Olmo.

Werner got a couple of looks in through open-play. In addition to collecting a pair of assists off dead-balls, left-back David Raum honestly looked to be in his best form since he made the move to RB last year. Raum's counterpart Benjamin Henrichs was even better, storming forward and nearly scoring off a pair of stinging efforts. New acquisitions Xavi Simons and Nicolas Seiwald proved a little disappointing. The former simply had an "off day" whilst the latter probably needs to remain out of the XI until he can find his feet.

Rose yanked Simons, Seiwald, and Werner on a triple substitution in the 62nd. Yussuf Poulsen, Kevin Kampl, and Castello Lukeba served as the replacements.  The 3-5-2 tactical reformat didn't shy away from sending Raum and Henrichs all the way forward. Olmo settled in at perhaps his best position; a centralized ten. Leverkusen were somewhat lucky that a late Leipzig push didn't yield a different result. One expects to see something like this from Rose again during the current campaign.

Lineup—RB Leipzig—63rd minute (3-5-2)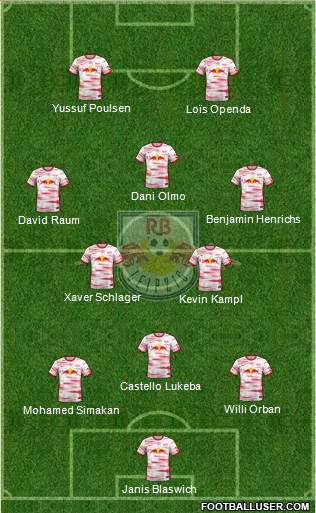 A very shrewd alternate set. Bundestrainer Flick appeared shrewd as well while scouting Raum and Henrichs from the Bay Arena stands. Insofar as RB are concerned, no one should doubt their status as contenders. This weekend's discussion doesn't even include the likes of Carvalho, Sesko, Emil Forsberg, and Christoph Baumgartner. More depth on the roster comes in the form of injured actors Amadou Haidara and El Chadaille Bitshiabu. Rose obviously possesses an embarrassment of riches. So it is.

Can Dortmund cope without Bellingham?

If there was a close second "burning question" of the weekend, the state of German football's perennial "also-rans" had to be it. The Saturday evening "Top-Spiel" ultimately didn't engender as much excitement in the Bundesrepublik's footballing circles for the very good reason that the answer to this question was inherently obvious. Of course, Edin Terzic's team won't function the same without their midfield phenom. The fact that Dortmund were facing the ultra-conservative tactics of Steffen Baumgart's 1. FC Köln also suggested that we might be in for a snooze fest.

A snooze-fest it was. The exact same 4-2-3-1 with the exact same personnel from last week's Pokal victory struggled against one of the weaker opponents on the Bundesliga level. The visiting Effzeh even produced the better scoring chances. Köln could have easily won the game if the team featured better finishers than Davie Selke, Sargis Adamyan, and (surprise 19-year-old debutant) Max Finkgräfe. Terzic's BVB came close on a pair of occasions via Julian Brandt and (off corners) Mats Hummels. Apart from that, the Westphalians produced nothing until Donyell Malen's late "lucky punch".

A slender 1-0 victory over die Geißböcke doesn't constitute a catastrophe for the Bellingham-less BVB. Though it remained fully clear to those of us watching that something hugely significant was missing, there also existed signs that (in time) Terzic's squad can locate a rhythm. Some Köln actors - notably Dejan Ljubicic and surprise starter on the wings Rasmus Carstensen - played exceptional matches well above their station. The out-of-nowhere Finkgräfe and newly-anointed skipper Florian Kainz left it all on the field.

Dortmund's own newly-appointed captain Emré Can happened to play an uncharacteristically bad match; to the point that Terzic even took him off the pitch before an hour had been played. Ever the class act, Can admitted that he played poorly and made too many mistakes in his post-match interview. One maintains the intuition that the 29-year-old will find a way to sort his form out and adjust eventually. Terzic can also try to build better tactics around him. Dortmund shall earn plenty praise this season, very likely after dismantling woeful Bochum next week.

In general, however, lift-off will take time.

What can we take from Augsburg-Gladbach?

First and foremost, those who tangentially tuned in should know that the Bundesliga delivers such surprising thrillers all the time. The eight-goal slugfest creeped straight out of the supposedly sleepy corner of Bavarian-Swabia. Augsburg erased a two goal deficit to take the lead. Gladbach then dramatically restored parity from the penalty spot at the last possible moment. What a match it was, though the columnist will concede that both the late penalty awarded to Gladbach and the one that enabled Augsburg to equalize at the end of the first half were pretty damn soft.

The most important takeaway probably concerns the fact that - as presaged in one of the recent preview sections - Gladbach possess a distinctly different flair this year. Long-suffering Fohlenelf enthusiasts have reason to be excited about this team. The German midfield tandem of Julian Weigl and Florian Neuhaus both instigated goals with impressively incisive through balls. The distinctively French attacking support axis of Franck Honorat, Alassane Plea, and Nathan Ngoumou exhibits enormous potential. It wasn't even at its best as Plea seemed well below his potential.

New Czech striker Tomas Cvancara, simply stated, exerts a beastly presence in the box. The columnist will go so far as to predict that the 23-year-old shall contend for the goal-scoring title. Something about him just pops. Give the writer some time to figure out precisely who he reminds him of. It's not quite Jan Koller. Neither is it quite Thomas Rosicky. Cvancara lies somewhere on the spectrum of these two former Dortmund Czech strikers. A suitable enough comparison will surely emerge before the season is out.

With respect to Augsburg, phrew. Germans know much better than to try and figure out this team so early in the season. Their trainer - having just employed five changes from the Pokal defeat - has barely delved into the "black box" that is his roster himself. They players have no clue who they are yet, or even if they wish to stay or go. Felix Uduokhai said the 4-4 left him feeling "disappointed in a good way". What? Oh man. This mess remains as murky as the whole Boldt Football Holdings investor onramp. We'll need time with this assessment as well.

"Weekly Wortschatz": Round One
"Verzwergung"

By far the most popular German word utilized in the lead-up to the current campaign. Attempt to look it up in an online dictionary and you won't find anything. This is because, as is common in the living German parlance, we opted to simply make it up recently. The German prefix "ver" can be attached to most any verb in order to an signal active transfer from one party to another. To take an example off the top of the columnist's head, a landlord "ver-mietet" ("rents out") a space to a tenant.

What active transfer presently takes place in German football? None other than the "dwarf-ification" of our sacred Bundesliga on what was supposed to be its glorious 60th anniversary. If one wishes to be extra German about it, one can even translate the trend as "gnome-ification" of German football. Practically every article related to football appearing in every major publication utilized this word. The word itself may be new, but the columnist assures you that the discussion is not. This has been going on for decades.

Most every year, the Bundesliga loses top players to the Premiership. This summer in particular, however, featured more than we anticipated. Jude Bellingham, Christopher Nkunku, and even Moussa Diaby counted as givens. Once the EPL began raiding the rest of Leipzig's roster (Dominik Szoboszlai and Josko Gvardiol), signs of further exacerbation emerged. More plucks followed. Wataru Endo to Liverpool sent the discourse into overdrive. Vastly experienced RB sporting exec Max Eberl (and others) aptly described matters in their German press interviews.

What is different this time? Eberl and colleagues point to the increased financial pull of Saudi football. As the long-time German footballing administrator correctly pointed out, larger European clubs (especially those on the Isle) now possess an additionally potent revenue stream. The footballing "nouveau riché" from the Arabian Peninsula have shifted the entire dynamic. The discussion always then invariably shifts to 50+1 and problems keeping our league competitive. Yada, yada, yada. Blah, blah, blah. Again, the columnist assures readers that this is absolutely nothing new.

There are some new things this year in that it's not merely a discussion about transfers. The way in which COVID negated the positive effects of the new TV deal former DFL chief Christian Seifert negotiated stings a bit. The collective despair Germans suffer from after watching their men's national team, U21 squad, and women's side all get eliminated from their respective tournaments in the group stage compounds the hurt. That's quite a lot to process! Those of us who love our league and our country are feeling pessimistic.

This also happens to be one of those Bundesliga seasons in which the two promoted sides are unquestionably "dwarf clubs". Such an occurrence, like the whole discussion itself, isn't new. In point of fact, it just happened two years ago with the promotion of SpVgg Greuther Fürth and VfL Bochum alongside the relegation of Bremen and Schalke. This year we'll still have to reckon with the reality that almost no one in the international audience we so desperately wish to attract will be tuning into watch the tiny town of Heidenheim or the Frankfurt suburb of Darmstadt.

Who cares about the "dwarf clubs"?

Well, we here at Bulinews do, dammit.

Hell with a dark mood. Let's draw it up!

The Lillies first.

Lineup—SV Darmstadt—Match One (3-4-3)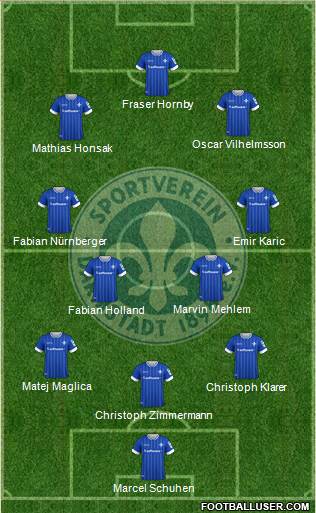 With two personnel changes from the Pokal defeat (Matej Maglica and Oscar Vilhelmsson on for Clemens Riedel) and an apparent flank flip for Emir Karic and Fabian Nürnberger, the 3-4-3 functioned much better this time. The 10th edition of the Hessen derby ended up being much closer than many of us had thought. Part of this had to do with SGE trainer Dino Toppmöller employing a rather weird looking 3-3-2-2 that couldn't function as intended following an early injury to captain Sebastian Rode.

Nürnbberger and Mathias Honsak manager to produce some danger on the left. Stuttgart loanee Maglica largely performed well. So too did the other VfB actor the Lillies took on loan late last week. Luca Pfeffier hit the post late. Honsak regrettably got in the way of Christoph Klarer's follow-up shot. The team tired out late and Frankfurt's Dina Ebimbe came close to lending his hosting Hessians a more convincing scoreline. One can nevertheless say that the "boys from the burbs" can take something away from this result.

How about the FCH?

Lineup—FC Heidenheim—Match One (4-1-3-2)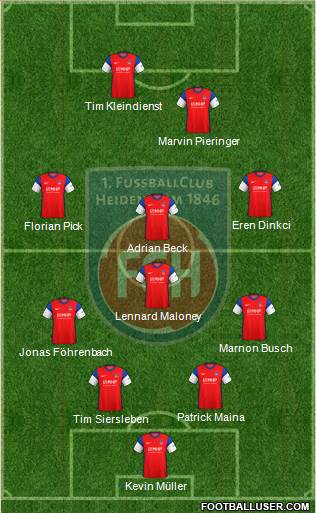 Frank Schmidt's BaWü borderers - slightly tweaked tactically from the Pokal round - showed some spirit in the second half of their 0-2 defeat away at Wolfsburg. One can't take too many positives away from the opening half-hour, during which Jonas Wind scored a brace and the VWers could have added at least two more goals. Keeper Kevin Müller overcame a shaky start to keep the scoreline where it was at the close of the opening 45. That was also how it would remain after the full 90.

The (admittedly biased) columnist maintains that USMNT-aspirant Lennard Maloney remains one worth watching. The fulcrum of this tactical constellation can prove a real force. He moved forward to get a sharp effort off in the second half. Former Lautern man Florian Pick - in for Jan-Niklas Beste on short notice - also impressed at times with his passing. Captain Patrick Maina did extremely well on ground duels. New acquisition Omar Haktab Traoré peeled off a couple of nice runs after he had to come on for Marnon Busch.

"Zwergin Survival Check"

Can either one of these sides hope to stay up? Stranger things have happened. FC Kaiserslautern fans (this one included) can rest assured that never, never, ever again will a promoted Bundesliga side come close to winning the title. Lautern's 1997/98 dream season actually wasn't even all that crazy considering it was a decent squad that had just been relegated two years prior. Progress in football has generally always come in baby steps. Some first year overachieving. Smart transfer decisions. Rinse and repeat. Up the table we go.

The first matchday certainly illustrated that both of these sides are capable of overachieving. This, in turn, means that they have every right to dream. After all, we'll be wrapping up this week's column with a look at 1. FC Union Berlin. Recall that the East German club from Köpenick with the 22,012 seat venue only achieved promotion to the top flight for the very first time in their history four years ago. Now die Eisernen are contesting the Champions' League, not to mention looking like on one of the Bundesliga's hottest commodities.

Welcome, dwarves!

We're pleased to have you.

Enough with the whining, Germans!

"Wundertüte"

This term means different things to different generations of Germans and might eventually be forgotten altogether. For those growing up in a pre-globalized world, the traditional German "Wundertüte" was a cone-shaped wrapper full of random candy and party presented upon graduation from primary school grades. Virtually all of us have photos of our parents/grandparents clutching their German version of a piñata tucked away in our family photo albums; something themselves that are a relic of the past.

As time passed, the "Wundertüte" became a plastic bag full of random kitsch that one picked up at the filling station after realizing that one forget to buy gifts for someone else's kids at the last moment. This too is likely on the way out as kids tend to look at you strangely when you don't show up with gaming vouchers for whatever they're into on their smartphones. So long as those who still recall the "Wundertüte" still write creatively, however, we'll be using it as a metaphor to discuss things.

In the footballing context, what VfB Stuttgart trainer Sebastian Hoeneß planned to do with his squad following the surprise departure of captain Wataru Endo this week earned the "Wundertüte" moniker. Total Wundertüte stuff. A random grab bag. We didn't know what we were going to get. Woeful Bochum had a right to cling onto some hope after it became clear that Hoeneß had to smash open the grab-bag and spill the surprises on the table. How much of a surprise did we get?

Just one change from the Pokal.

Woo-Yeong Jeong in for Endo.

Lineup—VfB Stuttgart—Match One (4-2-3-1)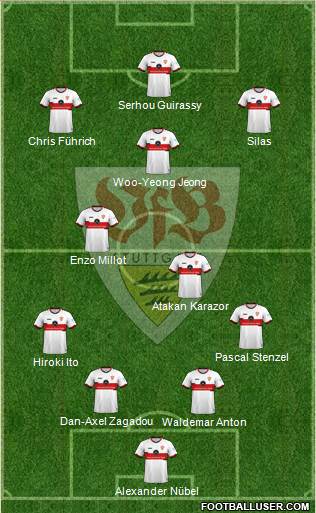 Enzo Millot moved back, as did Atakan Karazor. One probably should have foreseen this as Karazor often operated as an anchoring defensive midfielder or outright sweeper under Hoeneß' predecessor Pellegrino Matarazzo. Bochum took advantage of the re-alignment to generate a half-chance involving Philipp Hofmann. Dan-Axel Zagadou recovered in time to tackle away in the 3rd. After that, there really wasn't anything to see offensively from the Revierklub. The VfB offensive engine steadily tuned itself en-route to the 5-0 rout.

Hiroki Ito went ahead and supplied the Japanese magic himself with a gorgeous vertical for Serhou Guirassy on the 1-0 in the 18th. The fabulous French forward completed the play with two gorgeous touches and a magnificent finish. Jeong played very well and earned the corner that set up the second goal in the 38th. The Württembergers then proceeded to simply enjoy themselves with loose creative play in the second half. Two assists for both Chris Führich and Pascal Stenzel at full-time. Two goals for both Guirassy and Silas.

Might we still behold a Stuttgart "Wundertüte"? Considering that Guirassy and Ito remain the subjects of exit rumors, Hoeneß might still have to put together some random packages. Guirassy in particular seemed totally non-committal about remaining in the Bundesrepublik during his post-match interview. The striker seemed to sign permanently late last year with the specific hope that the VfB front-office would find a better taker for him come autumn. A great start, but matters aren't calming down in this town anytime soon.

Stay tuned.

"Altbekannter"

We'll wrap up with something a little simpler in order to take a look at the incredibly sensational start of the German footballing sensation that is 1. FC Union Berlin. During a week in which highly-regarded FCU managing director Oliver Ruhnert completed blockbuster deals to bring German talents Robin Gosens and Kevin Volland to Köpenick (ahead of the Euros the author must add), it was an "Altbekannter" ("old acquaintance") who carried the day. The 32-year-old lower league journeyman scored a hat-trick in Union's 4-1 victory over Mainz on Sunday.

Now there's a story for everyone. The columnist was even tempted to make up a new German word - "Kopfdreierpack" ("headed-hat-trick") to describe Behrens' performance. How appropriate that after a summer spent targeting upgrades, one of the rusty old buckets Ruhnert picked up on a free two years ago dominated the scoresheet. Behrens had never even played in the top flight when he signed for Union. After some early awakenings in the 2021/22 Conference League, he slowly worked his way up to being one of this club's greatest success stories.

Of course, before we get too carried away, it should be noted that Ruhnert's "Neulinge" (new additions) played a major role in ensuring that the "old acquaintance" earned his hat-trick. A look at Union's tactics remains very much worth everyone's time. Trainer Urs Fischer compensated for the loss of captain Rani Khedira by actually returning to his preferred 3-5-2 "double stack". It's still the same basic system; one that looks to bring us a great deal of joy over the course of the coming season.

Lineup—Union Berlin—Match One (3-5-2)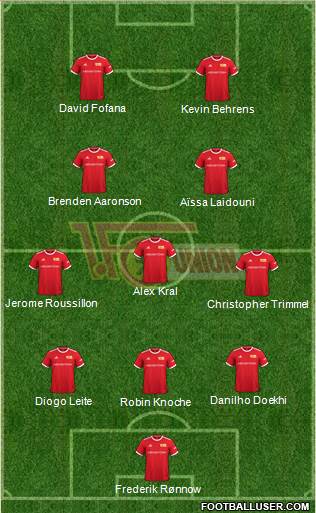 Khedira's absence necessitated some flatter lines on the back two axes. One honestly could barely tell. One genuinely cannot give Ruhnert enough credit for building this squad. Consider once more where we were a year ago. The new upgraded version doesn't just include upgrades from this summer, but also late deadline deals from last year and the perfect targets from Ruhnert's exceptional January 2023 transfer window. Jerome Roussillon, Aïssa Laidouni, Diogo Leite and Danilho Doekhi all came in last year.

Now we have Kral, Brenden Aaronson, and David Datro Fofana. How did that trio perform? Marvelously. Fofana moved about both flanks even better than Sheraldo Becker. The American Aaronson played a monumentally important role in setting up the first goal just after kickoff. We got Fofana and Laïdouni setting up Behrens from the right with some groundwork from Kral minutes later. Fofana somehow failed to score during the first-half, denied by both FSV keeper Robin Zentner and the crossbar.

Behrens finally completed his hat trick following a couple of near misses in the second half. Becker came off the bench to supply the assist. More good news? Gosens and Volland also came off the bench looking determined and strong. Volland set up Milos Pantovic's 4-1 at 90+6. How about some more insanely good news? Keeper Frederik Rønnow stopped two penalties from FSV striker Ludovic Ajorque!  With all due respect to Jonas Hofmann, this was the real statement of the weekend.

A wonderful choreo from the ultras at the Stadion An der Alten Försterei featured a giant key unfurled between two banners the author shall translate as "The key to success?" above and "never forgetting where one comes from" below. Well done, Eisernen. With all the talk of Saudi money further exacerbating club divides within the game, German football still sports proof that an "Altbekannter" club can still be built up the old-fashioned way. Anyone tempted to complain that European football shall never be the same as it was 30 years ago need look no further.

The heart still beats in the Bundesrepublik.

Thanks so much for reading! You can catch the release of all Peter's columns (and occasionally catch him goofing off) on whatever the hell they're calling twitter these days @PeterVicey.

Twitter DMs are open for football conversations, corrections, and (if you truly insist) general abuse. 

Full color re-posts of the columns are eventually archived on Peter's website.



Related stories