Bundesliga Tactics Talk: Round Two
By Peter Weis @PeterVicey
Five teams are off to undefeated starts following the conclusion of the 2023/24 German Bundesliga's second matchday. Bayern, Union Berlin, Leverkusen, Wolfsburg and Freiburg all continued their winning ways this weekend and occupy the top places. Leipzig and Hofenheim also captured their first victories of the season.

The newly re-formated version of our weekly comprehensive recap column spreads the coverage around more evenly across all nine fixtures. We take a close look at the lessons from the Bochum-Dortmund draw, but also include tactics boards for Köln, Union Berlin, Hoffenheim, Frankfurt, and Bayern.

There's quite a bit of intriguing developments to get to as we prepare for one final matchday ahead of the first international break of the season. Come along for all the major talking points, commentary, and even some fun with linguistics!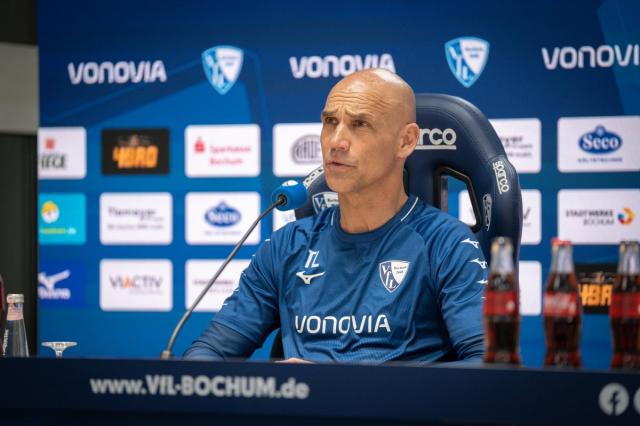 Bundesliga Tactical Banter: Round Two
"Werkself Wipeout"

Saturday evening's "Top-Spiel" saw Xabi Alonso's new-look Bayer 04 Leverkusen pay a visit to Borussia Mönchengladbach. Bayer summer signings Jonas Hofmann and Granit Xhaka - two critical components of a team that looks to be ready to challenge for the title - returned to their old stomping grounds. Leverkusen's scintillating form left many of us worried that the match would prove uncompetitive. Well over 50,000 Gladbach supporters did their best to obviate this. The BMG "fan game" easily topped 110 percent. Wonderful choreos before kickoff and an uncompromisingly boisterous atmosphere.


Unfortunately, the team couldn't bring it on the pitch. Hofmann and Xhaka, along with basically everyone else on the visiting team, sliced right through Gerardo Sean's foals. Operating in the same silky-smooth constellation as last week, Xabi's "Werkself" dominated throughout. Germany's red company team took a 1-0 lead in the 18th via a gorgeous team goal involving new summer acquisitions Xhaka, Alejandro Grimaldo, and Victor Bonifiace. Hofmann set-up Jonathan Tah on the 2-0 at 45+6. The second tally came off another clearly well designed set-piece. Xhaka initiated with the take.

Given how ruthlessly superior Leverkusen were in the first-half, it almost felt as if there was no need to play the second 45. Gladbach seemed to agree. While they didn't necessarily give up per se, Florian Wirtz was clearly permitted to stroll through the midfield unperturbed after the restart. Wirtz played Boniface through for the Nigerian striker's second goal and the 3-0 in the 53rd. That pretty much counted as "game over". One expects that the Bundesrepublik's "Xabi Mania" shall kick into a higher gear come Monday.

There exist plenty of reasons for Gladbach fans not to despair despite their team's anemic performance. An injury to Luca Netz forced Seoane to re-format his previously effective 4-2-3-1 into a 5-4-1. Alassane Plea and Nathan Ngoumou (switching to the right) moved far behind lead-striker Tomas Cvancara on a drifting axis. Franck Honorat actually operated as a right wingback whilst Joe Scally moved left. Scally certainly showed how much he's learned since early Bundesliga days two years ago by doing an excellent job neutralizing Jeremie Frimpong.

Honorat did well defensively. German midfielder Julian Weigl turned in some great moves on both sides of the ball, earning a few well-deserved standing ovations from the crowd. Cvancara regrettably slipped on one great chance from open play. Bayer keeper Lukas Hradecky's saves prevented the foals from getting on the scoreboard. Though it remains true that Gladbach's defeat felt fully justified (the xG mirrored the scoreline almost perfectly), the assessment that the foals have a good team this year also remains in place.

Leverkusen are still superior and look improve even more.

"Max is back!"

Do allow a German football lover with Freiburg sympathies to gush a little bit. Who doesn't love an uplifting comeback story? This Saturday afternoon's games literally offered up two of them in the form of Robin Gosens and Maximilian Philipp! For the longest time, it appeared as if a goalless affair between SC Freiburg and SV Werder Bremen wasn't going to furnish us with any talking points at all. A drab and choppy first-half from both teams produced little of note. Neither side could locate terribly good quality after the break either.


The hosting Breisgauer woke up with a big double-chance involving Lucas Höler and Roland Sallai after the hour-mark. Freiburg generated more chances down the stretch, yet still couldn't score. It was only at the death (90+6) that the subbed-on Philipp powered home a beautiful first-time tricycle finish off a cross from fellow sub Noah Weißhaupt to send the home-town crowd into convulsions. Wonderful storybook exclamation point for the SCF returnee! Philipp scored just one Bundesliga goal on loan at Bremen last season. Interestingly enough, it was against Freiburg on match-day 28.

As pertains to the Hanseaten, It isn't all gloom-and-doom for Bremen as they seek to draw lessons from their third straight defeat on-the-trot. The primary reason why Freiburg failed to get rolling related to better stability and marking in head-coach Ole Werner's constellation. Bremen are off to a poor start largely because injuries and suspensions have forced Werner into zany tactical placements. We've witnessed Oliver Burke serving as a wingback, Jens Stage operating as a defensive midfielder, and Milos Veljkovic anchoring the back-three.

Things settle back into order now.

It will get better.

The "Burning Questions": Round Two
Why did Dortmund drop points?

Ahem. A proud "Early Season Tradition" for German football fans. Can anyone recall a year when Dortmund didn't drop points early and lead us to this question? Take some time to trek back all the way back to the 2018/19 campaign. They lost to promoted Union Berlin on match-day three the next year, fell to Augsburg on match-day two the year after that, and got upset by Freiburg in the second round the year after that. Then there was that historic late implosion against Bremen last season.

A columnist now entering his fifth year of writing weekly Bundesliga pieces obviously finds himself somewhat remiss. What more can one say at this point? It's Dortmund. It's autumn. Reporting on early BVB stumbles feels as hackneyed as reporting that leaves change color and began to fall from trees at this time-of-year. Breaking news! The earth's axis tilts! Temperatures begin to cool in the Northern Hemisphere! People are returning from vacation in Europe! Exclusive, exclusive, exclusive!

Sarcasm aside, there are interesting takeaways from Dortmund's 1-1 draw with VfL Bochum in the top flight's current "Revierderby". In general, the fixture delivered some top-notch entertainment from both sides. BVB-VfL proved every bit the highly physical and immensely intriguing affair we hoped for. Gripping action. Crunching tackles. Edge-of-one's seat stuff. Plain, good-old fashioned "German Ruhrpott Football" on a Saturday afternoon. Props to the two sides for going full-throttle throughout.

Lineup—Borussia Dortmund—Match Two (4-1-4-1)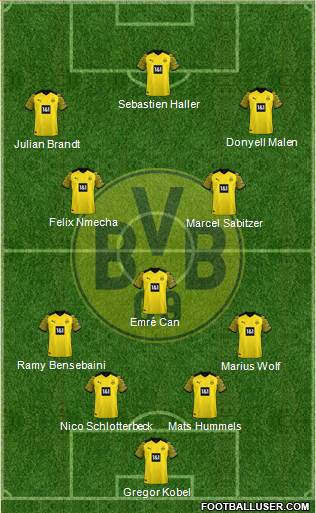 BVB trainer Edin Terzic attempted to line his XI up back in the 4-1-4-1 that tore through the league during the second half of last season. We already have and shall continue to discuss how this can be expected to work in the absence of Jude Bellingham. Dortmund rely heavily on attacking flank rotations to compensate for Bellingham's loss. Julian Brandt - moved up to the wing from a more centralized role next to Bellingham - clearly shoulders much of the creative burden. Terzic wants him selecting a different lane with each charge to free up everyone else.

Is this Terzic's desired constellation?

The writer strongly assumes so. Newly anointed skipper Emré Can should be running his own solo axis, dropping back to assist the defensive corps whenever possible. Felix Nmecha obviously cannot be expected to replace Bellingham on a like-for-like basis, but Brandt or potentially Marcel Sabitzer can add enough spark to lend the attack some threatening impulses. Note that that previous fitness issues for Nmecha and current ones involving Karim Adeyemi, Jamie Bynoe-Gittens, and Giovanni Reyna leave Terzic behind schedule in getting this shape to gel better.

There is most certainly a strong case to be made for a midfield axial pairing of Can and Sabitzer. Such a partnership contains plenty of potential, particularly when one considers how dangerous Sabitzer can be from range. A tight midfield triangle that pits Nmecha directly ahead of Can and Sabitzer sounds like a bad idea. If we begin to see something like that, the BVB trainer is practically begging this team to fall into their old bad habits of overplaying and overthinking every last sortie. We did witness some of that at times here.

How Bochum stood tall

The non-tactical answer to this query simply relates to how amazingly brave Thomas Letsch's side were in the direct duels. Hats off to the smaller Revierklub lads for fearlessly pouncing on every lose ball and according the BVB back-line zero respect on their attempted bow-arcs. The VfL press executed matters in textbook style. Bochum ensured that the duel rates both on the ground and in the air stood about even. The hosts also beat their guests convincingly in distance covered and pounded Dortmund on counters by a 2:1 ratio.

Tactically speaking, Letsch made just one personnel change to the XI that got routed by Stuttgart last week. The newly-acquired Matus Bero relieved Christopher Antwi-Ajdei. Japanese attacker Takuma Asano moved up from the ten-slot that he had been occupying to pair alongside Philipp Hofmann. Kevin Stöger too moved up to the second buttressing support axis. Wingbacks Felix Passlack and Maximilian Wittek hung a little closer to captain Anthony Losilla, himself working on a clever inverted pivot, in midfield. An ineffective 3-4-1-2 turned into a 3-5-2 slightly reminiscent of Urs Fischer's FCU.

Lineup—VfL Bochum—Match Two (3-5-2)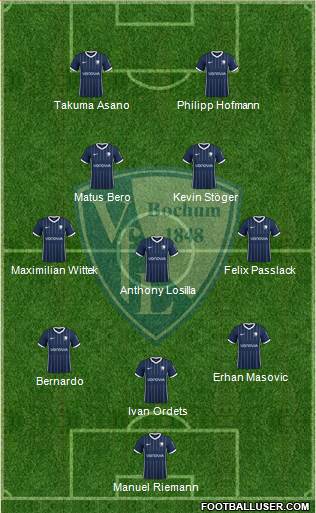 One can easily see how the press on the top two axes succeeded so well in disrupting Dortmund's build-up play out of the back. It came as little surprise to see the hosts force a fine save out of BVB keeper Gregor Kobel as soon as the 8th minute. It should be noted that the 1-0 in the 13th came off a dead-ball. VfL Manuel Riemann punted an advanced free-kick out to Wittek on the left. The newly acquired wingback - another one of Letsch's former Vitesse players -  immediately hit Stöger in the box. Some finish it was from the veteran who has repeatedly shined since rejoining his old club.

The goal may have come off a set-piece, but Bochum remained absolutely brilliant from open play. Wittek, Stöger, Asano, and the recently signed from Dortmund Passlack continuously won great balls as the VfL pummeled Dortmund on the counter for much of the opening 45. Can and Nmecha rattled and wilted with bad ball losses. The same two BVB midfielders couldn't seem to find any ideas on the ball when moving forward. Hofmann nearly scored the 2-0  the 35th. Wittek and Asano were only cleared out of the penalty area via massive recovery tackles from Hummels and Schlotterbeck just prior.

There would be further chances for Bochum in the second 45. Stöger forced a brilliant save out of Kobel in the 68th. Patrick Osterhage - another former Dortmund academy man - saw an effort kiss the post in the 86th. For the most part, however, Dortmund adjusted well to the VfL game after the change-of-ends. Donyell Malen scored the equalizer with a cheeky unexpected finish just outside the box central in the 56th. Sebastian Haller, who also had some good chances in the first half, came close again twice.

The ongoing "Brandt Brilliance"

The man either taking or supplying all of the Dortmund chances was none other than the resurgent German national team attacker, who continues to dazzle and daze. The 27-year-old fired his first warning shot in the 3rd, set up Haller's first effort in the 6th, assisted Malen's equalizer in the 56th, and just missed himself in the 38th and 90+5. BVB fans can rest assured that Brandt remains capable of carrying the rest of this team until they find their feet. That statement holds true wherever Terzic happens to place him.

Other signs of a BVB uptick

Nmecha and Can improved considerably in the second half. Adeyemi and Bynoe-Gittens got some minutes in off the bench and looked fit. While it undoubtedly counted as a bad game from fullbacks Marius Wolf and Ramy Bensebaini, the latter should get up to speed eventually. Wolf had to deputize for Julian Ryerson on short notice and didn't appear ready. In the event that anyone still remembers who he is, right-back Mateu Morey was also back on Terzic's bench for the first time since the May 2021 DFB Pokal semi-final. There are plenty of options.

Dortmund's adjusted expectations 

A draw or loss against Heidenheim next week constitutes reason enough to press the panic button. Die Schwarzgelben do have to face Freiburg, Wolfsburg, and Hoffenheim before the month of September is out. It nevertheless seems reasonable enough to expect a win next week. Terzic's attack will start clicking soon. One development that genuinely works to the benefit of this side concerns the fact that fewer German football watchers actually expect Dortmund to contend for the title this year. Less attention and less pressure. Patience. Hang around the top four and that will be good enough.

The BVB front-office has already seen their patience with Terzic pay off twice. He turned a slumping squad into Pokal Champions that recovered late to claim a place in the top-four near the end of the 2020/21 season. He took a team in sixth-place in the standings during last year's World Cup break to the brink of the title. There was definitely less of an outcry over this weekend's result in the German footballing press. No acerbic editorials. A few jabs at the squad not using their aerial advantage on set-pieces. Nothing majorly vile.

Dortmund fade into a cozier background.

Expectations for Bochum

Here's something potentially more interesting. Before the opening round Pokal loss plunged the 1848ers into disarray, the German press spent most of the summer fawning over this historic NRW club; even dusting off the old "unabsteigbaren" ("un-relegatable") mantle from the glory days. Bochum were generally regarded to have done an admirable job maintaining the class over the past two years. Decent summer upgrades seemed to suggest that they could escape the so-called German "Graue Maus" ("grey mouse") trap.

Perhaps the most important thing to keep in mind concerning Bochum relates to how late Letsch received some of his new players. New defensive starter Bernardo arrived at the beginning of the month. Wittek only came in a couple of weeks ago. Kevin Schlotterbeck just rolled back into town. The VfL trainer had to take a few wrong paths tactically - Lukas Daschner as the ten being the most prominent example - before figuring out something more workable. The new 3-5-2 makes excellent use of virtually every pocket of space available on the press.

Much of what happened last week against Stuttgart came courtesy of basic positional errors. Passlack and Ivan Ordets in particular surely earned a stern talking-to. Ordets roamed all the way out to the halfway line at times. Passlack barely kept an eye on his two marks. As VfL administrator Marc Lettau remarked in his post-match interview on Saturday, getting everyone together and re-hashing the basics did a world of good. The "un-relegatables" shall always stand a chance within this relatively weak field. They can easily win at Augsburg next week.

What's going on with Köln?

Apropos the "weak field", we might as well check in with Steffen Baumgart's Effzeh. The cathedral city club haven't yet garnered a point from their exceptionally difficult opening schedule, but did manage to hang tough against Dortmund in the opening round and keep things tight against Wolfsburg this weekend. Some readers might find Wolfsburg the more appropriate focus as they are off to a flying start. That discussion will nevertheless be deferred; at least until the columnist witnesses someone other than Jonas Wind score for the norther "Autostädter".

On this team lacking a truly proven striker, it's not surprising at all to observe Baumgart deploying an exceedingly compact formation with everyone clustered closely together. A huge gap behind the top axis for anyone with eyes on the overhead, similarly, goes with the territory. Baumgart's Geißböcke aren't constructed to excite. They're bulked up to bore. Try to play through the thorny thicket isn't easy. The graphic below seeks to illustrate how tight the spatial arrangements are. Note that the fact that so many players possess long names remains a coincidence.

Lineup—FC Köln—Match Two (4-2-3-1)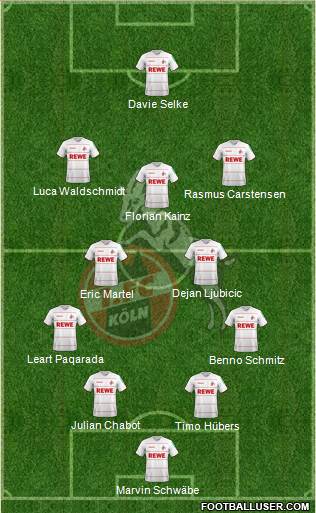 The supposed right buttressing attacker - Dane Rasmus Carstensen - is actually a fullback. German Luca Waldschmidt plays, as far as the writer can recall, at the deepest position of his entire career. Florian Kainz, having just debuted as a ten late last season, now works as an eight. A goal somehow came out of this. It was actually a slightly accidental one. Sargis Adamyan - on for the injured Davie Selke - didn't exert quite the touch that he wanted to when receiving a pass from Leart Paqarada. The ball inadvertently fell to Waldschmidt, who did finish strongly.

Wolfsburg's superior quality ultimately allowed Germany's green company team to overcome Waldschmidt's tally and complete a 2-1 victory. Carstensen's Danish compatriot Joakim Maehle, playing at right-back this week after debuting on the left in the opening round, went a bit stir crazy and decided to take a blow torch to the Kölner thicket. Without taking anything away from the stunning Maehle, Köln's underbrush loses it thorns once these actors begin to tire out. One can, with a little creativity, brush away this shrubbery.

No, it's not a good team and it doesn't appear as if Mark Uth can hope to ride into to rescue it. Neither new acquisition Faride Alidou nor the currently injured Steffen Tigges can hope for much either atop the huge gap in this tactical constellation. One scarcely has much cause to hope for much of anything from Florian Dietz and Sargis Adamyan. No more purchases from this parsimonious club before the transfer window closes. Maybe once Jan Thielmann gets fit? We're reaching. One might as well get used to calling this team the "Meh-Zeh".

How did Stuttgart fall apart?

Pretty hefty humbling for the Swabians in Saxony on Friday evening. Stuttgart gave us German football watchers studying the Round Two curtain-raiser some initial hope that a sensation could be secured. After a very strong first-half, however, all went to pot. Marco Rose's German Red Bulls ran roughshod over their guests. The Württembergers still haven't beaten Leipzig at home. To the collective chagrin of footballing purists across the Bundesrepublik, Leipzig now truly look to be unstoppable.

There were certainly some  questions to ponder after the Friday night affair. The big topic making the rounds in German footballing circles obviously revolves around the performance of VfB's on-loan Bayern keeper Alexander Nübel. As we were discussing last week, Germans nervously wondering where our next national team's net-minder shall come from are scrutinizing just about every move one of our native back-stops makes this year. Nübel himself remains a highly controversial figure stuck in a harsh limelight he'd rather avoid.

"Über-Nübel Focus", summarized

Nübel began to draw ire with his decision to attempt and follow in the direct footsteps of Manuel Neuer by breaking with FC Schalke 04 during the 2019/20 season - the same season he was named squad captain - and signing with Bayern. Schalke fans gave him such hell that he was reduced to tears on one famous occasion when facing the FanKurve after a match. Then came the complaints from his agent that Nübel was too talented to serve under Neuer in the subsequent season. An extended loan-out to Monaco had to be arranged.

Nübel had the opportunity to cut the loan-stint short early and return to Bayern as the #1 when Neuer injured himself last winter. Again, reports that he and his agent found replacing Neuer on a "temporary basis" to be an insufficient solution rendered the player and his management less popular figures. By the time the now 26-year-old returned to Bavaria, the German giants weren't interested in dealing with all the drama. Nübel currently garners not only a bad reputation on that front, but is now generally regarded to have always been overrated.

Schalke supporters, and now Bayern ones too, crave some "Schadenfreude" in his case. The long-time Germany U21 starter still awaits his first senior team cap. A call-up to Bundestrainer Hansi Flick's side doesn't appear to be in the cards anytime soon. His estimated market worth is currently half that of what it was at its peak. Was the promising career of a genuine talent mismanaged or was Nübel always just a slightly taller version of Alexander Schwolow? The columnist confesses that close scrutiny of Friday night's performance actually yields arguments for both sides.

Über-Nübel Focus", delivered 

One should note that Nübel turned in some exceptionally strong spells over the course of the match. He looked confident handling RB crosses during the first half, confidently strode out of his net to cut out RB charges in Neuer's "sweeper keeper" style often, and made some world-class saves just after the restart and deep into second-half injury time. He and defender Dan-Axel Zagadou probably deserve to share the blame for Benjamin Henrichs' equalizer. Nübel was then only directly at fault for two more Leipzig goals, one of which was disallowed.

Naturally, a keeper must always take responsibility for allowing in a soft-goal that deflates the team's confidence. As unfair as that may be, it remains part of the job description. One unfocused play can change everything on the pitch. The overall performance - a tick above average in the columnist's opinion - matters not when one play knocks the squad off their game. The columnist should also note that he never, ever, ever wished to work as a keeper when playing. Whew. Rough job. Way too much scrutiny. Far too much responsibility.

Further lessons for Stuttgart

Form dips from fullbacks Hiroki Ito and Pascal Stenzel generate a bit of concern. The fact that Woo-Yeong Jeong failed to replicate his creative flair from last week in midfield also counts as discouraging news. Waldemar Anton's blown marking assignments on two RB goals may be treated as an aberration. The veteran shall have better days. VfB enthusiasts deserve to remain enthusiastic about some promising plays involving attackers Serhou Guirassy, Silas, and Chris Führich. That trio maintains a lot of potential.

With Freiburg, Mainz, Darmstadt, and Köln coming up next month, one can expect a mixed bag of results in this early phase of the season. The Swabians might well find themselves attached to the "Wundertüte" expression for a while yet. Random results. Peaks and valleys in the form certain actors. Generally inconclusive stuff from a team still poised to settle in around mid-table. Sebastian Hoeneß' side definitely took a hit this week. It hardly counts as a serious one. They'll be fine.

Further lessons for Leipzig

Sigh. It's off to the races for the German Red Bulls. After edging out his fellow title-aspirants last week, Leverkusen trainer Xabi remarked that having that better players made his job easy. In truth, this quip applies more directly to Marco Rose. Solutions remain simple with such a deeply stacked roster. All the RB trainer had to do was plug in Yussuf Poulsen over the slumping Timo Werner and take the obvious lessons from young Nicolas Seiwald's poor start in midfield. Kevin Kampl into the double-six slot over Seiwald. It clicked eventually. Smooth sailing ahead.

"Weekly Wortschatz": Round Two
"Voll Krass"

The adjective "krass" began popping up in the German footballing discourse on Friday night with the lopsided Stuttgart result. Derived from the Latin "crassus" (meaning large, thick, or mighty), English speakers will correctly assume that it is related to the English word "crass"; its most common translation. Of course, the English word "crass" ordinarily connotes something vulgar or profane. Germans don't usually use the word in this sense. It has a broad range of meanings in German that range from the far positive to the far negative ends of the spectrum.

Interesting how language evolved as speech proliferated around the ancient European continent and eventually onto the Isle. The Romans adopted the surname "Crassus" to attach a grandiose sense of dignity to their familial clans. For subjugated Germanic tribes, it came to signify something "brutal, strong, forceful, and oppressive". By the time it headed over to France and England, we arrived at "wicked, rude, gross, and disgusting". Historic animosity often remains inherent in words.

Stuttgart actors commenting on their loss to Leipzig called it "krass" in the sense that it was "brutal and wicked". And yet, is it not also sometimes the case that something proves "brutal and wicked" in a good sense? Of course. Thanks to the modern marvel of slang, languages that were once far apart now drift back together again. Some of the more modern versions of English slang routinely take words with bad connotations "sick, rank, phat (as opposed to 'fat'), and nuts" to covey the highest level of respect.

Germans do it too. When it comes time to talk about how well 1. FC Union Berlin managing director Oliver Ruhnert upgraded his roster this summer, "voll krass" has been used plenty of times. How good are Union? They are "wicked good", "sick good", "absurdly good", and "brutally good". Let there be no doubt after this weekend. After their second consecutive 4-1 victory in as many matches, the Köpenick city side shot up to the top of the Bundesliga table. Union earn their second consecutive draw-up in as many weeks thanks to the fact that they did it shorthanded.

Lineup—Union Berlin—25th minute (5-3-1)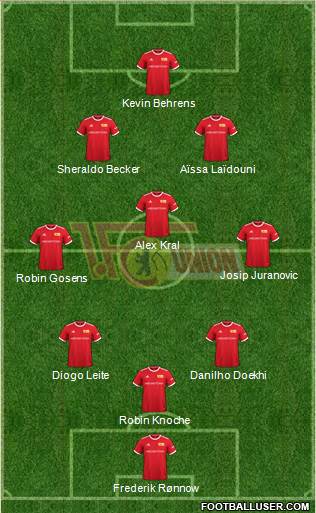 Fischer lined his team up in the same system as last week, merely rotating out the wingbacks as he usually does. American support attacker Paxten Aaronson found himself sent off on double yellows in the 21st minute. Union were up 1-0 thanks to a Robin Gosens goal at the time. As is common when a team loses a player so early, the coach generally orders a 5-3-1 re-format. Fischer didn't get his tactical sub on until after Darmstadt scored the equalizer in the 24th. When we realized that Sheraldo Becker would be relieving David Datro Fofana...hey....wait a second....what?

Many assumed that Fofana was hurt. The Chelsea loanee had required a treatment break earlier. Fischer later confirmed at his post-match presser that Becker came on for purely tactical reasons. The columnist honestly wishes someone had asked the FCU trainer how he walks with such a heavy pair of swinging pair "cajones". Seriously. Apologies for being "crass" in the English sense, but this is how he plays shorthanded? Wow. Fearless and fearsome. Nothing slowed this totally unconventional setup down. It remained "wicked good".

Though the next three Union goals came from set-pieces, die Eisernen continued to look the more dangerous side in open play. Gosens, Alex Kral, and Josip Juranovic sparked deadly counter charges. It should be noted that keeper Frederick Rønnow did his bit to influence the final scoreline with some excellent saves. Newly re-acquired Darmstadt striker Luca Pfeiffer also hit unluckily hit the post for the second time in two weeks. Darmstadt slightly edged Union out in the xG battle for whatever that's worth.

We're still dealing with a team here that happens to be "brutally good". Bear in mind that they are even missing important actors such as captain and midfield linchpin Rani Khedira as well as quality attack supporters Andras Schäfer and Janik Haberer. One genuinely cannot say enough positive things about managing director Oliver Ruhnert's job upgrading this roster. Perhaps that's why were reaching for slang-reversing negative ones. Well done, Herr Ruhnert. Union dream the impossible dream thanks to him.

Some footballers see their dream come true.

"Im falschen Film sein"

Speaking of dreams, the author went with the "bad dream" metaphor when translating 1. FC Heidenheim trainer Frank Schmidt's declaration that he found himself feeling as if he was "im falschen Film" watching Hoffenheim rob his side of their first Bundesliga win with a late comeback. Those opting for the more literal "bad movie" metaphor are also technically correct. This commonly used German expression can actually be translated in all manner of ways. So long as one conveys the sense that the subject experienced a surreal and scarcely believable occurrence, plenty remains acceptable.

A German explaining that they were literally "in the wrong movie" could be described as "feeling as if they were on another planet", " going completely crazy", "seeing things that aren't there", "totally hallucinating", or simply "lost and confused". This happens to be one of those lovely phrases that allows one to take almost full creative liberty with one's translation. As a translator sometimes accused of straddling the line, the author appreciates something like this deeply. It makes for great fun.

When it comes to the tactics offered up by both Schmidt and Hoffenheim trainer Pellegrino Matarazzo, however, we might be dealing with a pair that take far too many liberties. The author isn't sure he appreciates them at all. Schmidt's 4-1-3-2 (that actually features four center forwards in the top five slots) does show some courage from a first-time Bundesliga coach, but doesn't make a great deal of sense. Matarazzo meanwhile - as readers of the "Americans in the Bundesliga" column know - sometimes goes too far.

TSG executive Alexander Rosen draws more ire here.

Lineup—TSG Hoffenheim—Match Two (5-2-3)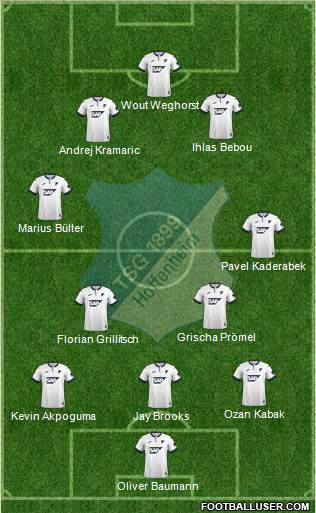 Yikes. Speaking of a "bad movie". One doesn't have to be a tactics-head to figure out what's wrong with this picture. Why is Marius Bülter working on a wingback split-stagger with Pavel Kaderabek? Is it not something of a waste to have Grischa Prömel buried deep in midfield? A strong back-three featuring John Anthony Brooks and Ozan Kabak shouldn't be operating on a flat axis should it? Who's bright idea was it to crunch three talented attackers so tightly together? Just what is the story here?

All of the answers lie in the fact that Rosen has balanced this roster very poorly. Die Kraichgauer possess seven (!) quality central defenders, yet have no experienced natural left-back. That's why Bülter operates where he does. One feels bad for the former Schalke breakthrough star from last year as he's off to a terrible start this season after committing numerous defensive errors. Bülter conceded both a penalty (unconverted) and a free-kick (slammed home by Jan-Niklas Beste for the 1-0) in this one.

The Sinsheimers created no chances from open play in the opening 45. They fell behind 0-2 in the 58th and could have easily gone down by another goal shortly after that. Matarazzo first employed only like-for-like changes (Kevin Vogt and Robert Skov for Bülter and Brooks) before finally doing what he should have done in the first place with a double change in the 64th. Maximilian Beier and Finn Ole Becker relieved Kabak and Prömel. The team re-organized into a loose mirror of Schmidt's 4-1-3-2.

Lineup—TSG Hoffenheim—64th minute (4-1-3-2)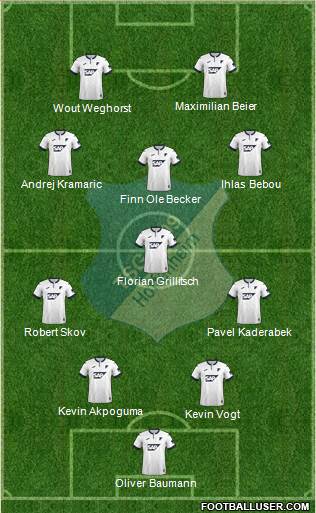 Now at least we're getting somewhere. Beier made an immediate impact, setting up Skov and Weghorst on close calls. Finally, Beier got the first pull-back goal off a cross from Skov. Kaderabek turned in a thunderous Becker effort that caromed off the crossbar and the back of FCH keeper Kevin Müller for the equalizer. Kramaric got two chances to snatch the winner from the spot after a false start at the end of normal time. The Croat converted both one that counted and one that didn't. The "wrong movie" indeed.

Interesting that Schmidt went for a viewing-based metaphor as this might have been one of the more exciting fixtures of the young season that no one saw. When the rating figures are published on Monday, Germans completely expected FCH-TSG to be among one of the lowest rated top-tier matches in years. One must be candid about how this particular tie quickly became something of a running joke in German footballing circles. What will you be watching when Heidenheim-Hoffenheim comes on? The wash-cycle perhaps.

Sometimes this tactics writer pined for the laundry here.

"Verschnörkelt"

Alright. Here we have a wonderfully tongue-twisting German word with totally unknown etymology. The columnist truly tried. He really did. Three of the big "Duden Etymologie" books were dusted off the library shelf. After inhaling a surfeit of surely hazardous dust-mites, nothing about this word's origins are clear. The verb "verschnörkeln" just sort of evolved from a group of similar sounding words in medieval German dialects around the 17th century. While the roots of it remain a mystery, the writer will conjecture that the era wasn't a coincidence.

The verb "verschnörkeln" literally means "to squiggle". The adjective "verschnörkelt" is used by Germans to describe something overly ornate and frilly. Maybe a decorative piece that has too many fractal patterns. Perhaps a Borussia Dortmund match during which the team tries to get up the field through too many short passes and too many way stations. What's another word for something that is deliberately made to be excessively complicated? Baroque. Germans living in the 17th century pulled back one of their old words to describe the times.

Somewhat weird that we're choosing this word in a non-Dortmund-related German footballing context. Instead, we're having a look at the tactics of new Eintracht Frankfurt trainer Dino Toppmöller. The former Julian Nagelsmann assistant has thus far confirmed some of the worries we held about him at the beginning of the season. Let it be known that we were saying the exact same thing about Oliver Glasner during the early days of his regime two years ago. Glasner tinkered excessively before finding his set 3-6-1/3-4-3 system.

Toppmöller seems to be doing the same thing........before settling on Glasner's system. The narrow 1-0 win over Darmstadt last week, the 1-1 draw in Bulgaria on Thursday, and today's 1-1 against against their Rheinhessen rivals actually remind one of both the initial "feeling-out" periods of previous trainers Glasner and Adi Hütter. At least Toppmöller didn't get Eintracht thrown out of the Pokal like those two. Before we say that the rookie German trainer has beat the learning curve, however, let's catch up.

Lineup—Eintracht Frankfurt—Match One (3-3-2-2)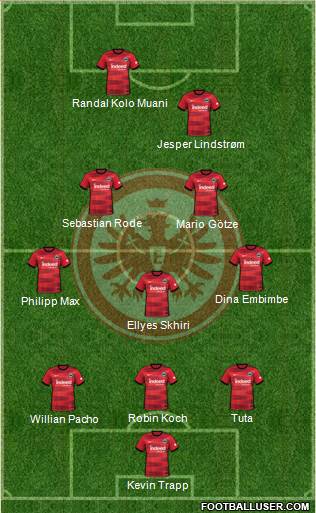 *clears throat*

"No."

Lineup—Eintracht Frankfurt—UECL Playoff (4-4-2)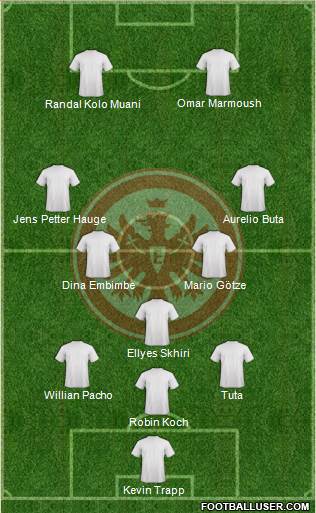 *clears throat again*

"HELL NO!"

Lineup—Eintracht Frankfurt—Match Two (3-4-3)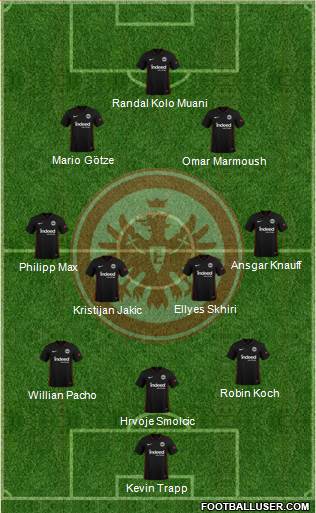 *clears throat a third time*

"Oliver Glasner Bingo!"

Following that exclamation, one still has to add a third "no". This didn't function well at all. Mario Götze, Randal Kolo Muani, and Omar Marmoush couldn't sort their rotations out at all. Ellyes Skhiri and Kristijian Jakic could get nothing started on the builds. The back-three was similarly sloppy. Ansgar Knauff - sent off on admittedly harsh yellow - struggled mightily all night and should have been taken off well before his dismissal. Absolutely nothing about this - save a decent performance from Robin Koch swung out right - worked.

The RheinMain Adler needed to do a much better job against a Mainz side with plenty of problems of their own. FSV trainer Bo Svensson didn't even have two of his top attackers after Karim Onisiwo and Ludovic Ajorque had to be scratched late. Mainz barely looked as if they had to put in an effort against the soft Eintracht charge. Ropey Mainzer defending should have accorded Frankfurt more chances of their own. Instead it was Mainz who generated more chances down the stretch until Danny da Costa and Sepp van den Berg both blew marks on the late equalizer.

Tsk, tsk, tsk. Now what? If complicated doesn't work and then simple fares even worse, it's back to the drawing board to figure out something completely new. Chances are we're going to get plenty of more "verschnörkelt" looking constellations before this squad figures out its identity. Toppmöller has to try and keep his head above water in the meantime. The rookie head-coach better make sure he packs his snorkel whilst trying to swim. Incidentally, the German word for snorkel is "Schnorchel". That's unrelated to what we're talking about here.

"Anker-Sechs"

No discussion of current German footballing trends would be complete without this entry. Now that Bayern München trainer Thomas Tuchel - widely regarded as the most powerful head-coach the German giants have had in over ten years - has Harry Kane, the discussion shifts to what he wants next. As soon as Tuchel assumed control of the German giants last spring, he immediately began peppering English phrases into his pressers. The most famous example came on matchday 30 when Tuchel went for "sense-of-urgency" over "Dringlichkeit".

At first this was dismissed largely as Tuchel shaking off the rust from his years abroad. Now, with Bayern seeing their grip on the title slipping, it almost seems to be the case that Tuchel feels obligated to use English more often. It's part of his job description to bring back "FC Hollywood". What phrase is the most utilized when discussing Tuchel and his team now? The gaffer's so-called search for a British "holding-six". Americans refer to it as an "anchoring defensive midfielder". Germans, in the event that anyone cares, call it an "Anker ("anchor") six".

Literally everyone in the Bundesrepublik can't stop taking about this. Once it became apparent that Augsburg weren't going to trouble Bayern too much in this round's Sunday night capper, the German commentary team covering the broadcast proceeded to talk broach the topic again. Will Tuchel get his "holding six"? Does the FCB trainer need one? Will it be Wilfred Ndidi? Perhaps we'll just take a quick look at the present state of Tuchel's tactics to answer this question.

Lineup—Bayern München—Match Two (4-2-3-1)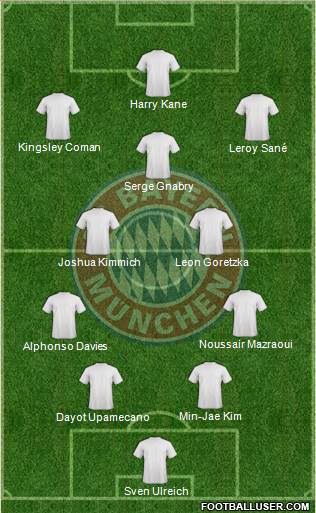 Just like last week, the current double-six set-up of Joshua Kimmich and Leon Goretzka remain together. One did expect a bit more from them in all honesty. At times the body language of the two seems to suggest that they truly don't wish to play together anymore. This remained apparent for long unglamorous stretches during which the defending champs lacked ideas and vision. No box-to-box breaks from Goretzka. Not too many risks taken from Kimmich.

Serge Gnabry showed some spirit filling in for the injured Jamal Musiala at the ten slot. A decent pass from Gnabry helped initiate the sequence leading to Felix Uduokhai's own-goal. Kimmich finally attempted a long-range-effort and earned the handball penalty on the 2-0. Kingsley Coman - by far the strongest debutant for Bayern this season unlocked Kane a couple times. Alphonso Davies supplied some moments of magic and recorded the assist on the third goal.

Tiny touches of magic, yet still labored.

Tuchel may yet get his wish before the end of the week.

Thanks so much for reading! You can catch the release of all Peter's columns (and occasionally catch him goofing off) on whatever the hell they're calling twitter these days @PeterVicey.

Twitter DMs are open for football conversations, corrections, and (if you truly insist) general abuse. 

Full color re-posts of the columns are eventually archived on Peter's website.



Related stories