Bundesliga Tactics Talk: Round 31
By Peter Weis @PeterVicey
It's Sunday night in central Europe!

Another exciting weekend in German football draws to a close. With just three matchdays in the 2022/23 campaign remaining, the title, European, relegation races remain as tight as ever.

Our Sunday evening comprehensive weekend recap feature is here to break in all down with coverage of all nine fixtures from the Friday surprises to the Sunday romp.

Leverkusen, Mainz, and Bayern receive draw ups this time. The "deep-dive" focus section belongs to Hertha's big win over Stuttgart; a result that sets us up perfectly for the next round of action.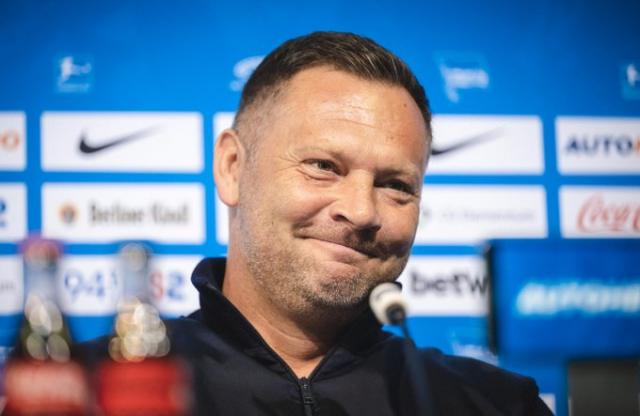 Bundesliga Tactical Banter: Round 31
Freiburg run out of steam

Sorrowful scenes over at the Europa Park Stadion in Breisgau this weekend as Christian Streich's SCF followed up their home cup elimination against RB Leipzig with another home league defeat at the hands of the Red Bull GmbH club. A fairly hard double-whammy for the southern Badeners. As hard as they ran and fought against their Saxon guests, it remained clear throughout that the mental strain of the long season wouldn't permit the right ideas to gesticulate. Freiburg succumbed to both the talent deficit and the collective effect of a wear hive minds. A total xG of 0.36. Yeouch.


Young Noah Weißhaupt - in for an injured Ritsu Doan on the right flank - was the only SCF actor possessing some fresh ideas in attack. Practically everything else moving forward consisted of nothing other than unimaginative long verticals for lead-striker Michael Greogritsch. This team was too tired to run anything more than basic patterns. A loss that allowed Leipzig to move up to third and Freiburg down to fifth seemed fitting. The gaffer himself was too tired to even attempt much personnel-wise. Merlin Röhl and Kimberly Ezekwem were his relief efforts. Sigh. Just get it over with.

Even when "Super Sub" Nils Petersen entered alongside a few others in the 83rd, one held onto zero hope that the Breisgauer could snatch a late equalizer. A one-goal-deficit felt like a three-goal-shortfall. A point never seemed so much as remotely within reach. Speaking afterwards, Streich conceded that his club just didn't possess the deep pockets to stack a squad with talent in the same manner his rivals did. Sad, but true. Nothing more to see here, people. Nice touch from Streich to point out that the Freiburg crowd refrain from throwing things like savage animals when losing.

Okay.

At least German football lovers have that going for us.

Bochum running out of time

The Ruhr crowd at the "Tief im Westen" Revierklub aren't shy about throwing things on the pitch. In point of fact, it was in the very fixture taking place this weekend that a match at the Vonovia Ruhrstadion had to be abandoned after Bochum fans whacked linesman Christian Gittenmann in the back of the head with a beer cup. That 2021/22 "Rück-Runde" feature ended with a 2-0 win awarded to Gladbach. We got the exact same scoreline this time at Borussia Park. Thomas Letsch's VfL have the distinction of being the only relegation-threatened club, apart from Stuttgart, not to win this weekend.

No shortage of problems for Letsch heading into the season's final three rounds. The major area of concern for this squad - horrible miscues at both fullback positions - is unquestionably getting worse. The VfL trainer had to yank both Danilo Soares and Cristian Gamboa at the half after the mistakes kept piling up. Matters improved a tad with Konstantinos Stafylidis and Saidy Janko working the flanks out of the back-four, but not by much. Gladbach's attack battered the VfL back-line mercilessly in the final 20 minutes before the 2-0 finally came. The VfL midfield also couldn't compete.


What had been a manageable remaining schedule (Augsburg, Hertha, and Leverkusen) looks devastatingly daunting right about now. Four fullbacks are tanking. Takuma Asano, Erhan Masovic, and captain Anthony Losilla just got murdered by their BMG counterparts on practically every midfield 50-50. Psychologically speaking, the team as whole appear to have twisted their own minds into a pretzel. Uh-oh. Crucial points against a stranded mid-table side with next-to-nothing to play for didn't come this round. Letsch must seek out figurative smack of a mug to the back of the cranium for them.

Time to wake up, lads!

Augsburg pull it off again

In 13th place on 34 points, one doesn't necessarily wish to proclaim the Bavarian Swabians safe from the drop just yet. It nevertheless does appear that - once all of us repeatedly spammed the "red alert button" until every last league follower completely understood the reality of their potential relegation plight - quietly conjured up three points out of thin air and discreetly ensured themselves a 12th consecutive season of top flight football. This is just what Augsburg does. They stay tangentially relevant whenever threatened with a soft stow into the night. Always barely enough with them.

The 1-0 win over Union Berlin this weekend couldn't have possibly been more "Augsburger-esque". Enrico Maaßen's newly constructed 3-6-1, deliberately built to neutralize Urs Fischer's 3-5-2, completely neutralized the Köpenickers during an uneventful first half. A second straight 0-0 draw involving the FCU appeared inevitable. It would have absolutely finished that way too had Dion Drena Beljo not converted the 1-0 off a Ruben Vargas cross in the 53rd. The play came out of nowhere. The match then went straight back to "nowhere" until the full 90 minutes had elapsed.

Typical Augsburg. They pop on and off the radar with all the extraneous presence of the elusive Higgs-Boson particle. Now you see them. Now you don't. The point is that they're still there somehow doing their thing. About all one can say in defense of the Fuggerstädter when it comes to the nature of this rather ugly win is that Union are mired in such a mental block that anyone playing against them doesn't have too high a hurdle to clear at this point. Three goals in six fixtures since "die Eisernen" beat Stuttgart on matchday 26. Not Champions' League level. Nowhere close.

The "Spiegel Specials": Round 31
Leverkusen-Köln (2:1, 1:2)

A perfect mirror! Few saw this one coming. We ended up getting a pair of surprises in out simultaneous set of Friday curtain-raisers. The two away sides certainly spoiled what, for Bundesliga hometown fans, is generally considered a pretty special event. Though the match up between these two teams doesn't really count as the fierce "rivalry" the English-language media tends to make it out to be, Köln supporters will certainly appreciate turning the tables on the club that both plucked their homegrown star talent Florian Wirtz and forced them into a hasty rescheduling.

The new Kölner 4-2-3-1 performed serviceably enough. Steffen Baumgart's newly installed ten, Florian Kainz, set up Davie Selke's opening goal very smoothly. Four minutes later, the Austrian veteran barely missed the 2-0. A stellar game from Kainz. Dejan Ljubicic put in some good work filling in for the suspended Eric Martel alongside Ellyes Skhiri in the double-six set-up. Ljubicic's replacement on the right wing, Jan Thielmann, did even better in his first start since matchday seven. Thielmann supplied the assist on Selke's second goal.

For the most part, however, this one constituted more of a case of Germany's red company team defeating itself. Bayer trainer Xabi Alonso - not unlike in the reverse fixture - made some questionable tactical calls. Pulling the plug on the successful Edmond Tapsoba midfield experiment seemed unnecessary. A top-two axis "double stack" isn't really how this team is built to run. Wingbacks Jeremie Frimpong and Mitchel Bakker played stunted matches in this:

Lineup—Leverkusen—Match 31 (3-3-2-2)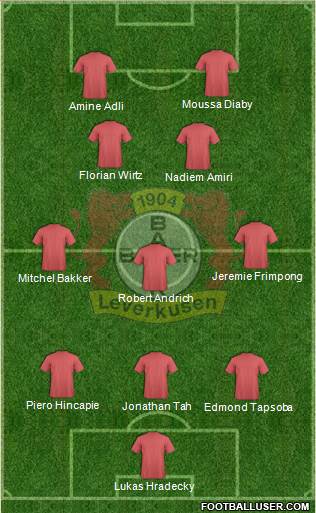 The functionality of the B04 counter wasn't adversely affected. In point of fact, Amine Adli's 28th minute equalizer came at the tail end of one of the most beautifully executed counters of the season. Build-up play always carried with it the potential for quick-strike movement up the pitch. General flow nevertheless found itself noticeably impeded. Frimpong and Bakker had trouble syncing up with the flat back-three. Wirtz, despite some dazzling runs, appeared crowded out by colleagues.

Xabi introduced Exequiel Palacios and Adam Hlozek for Bakker and Nadiem Amiri near the hour-mark. Possession became more manageable in the new 4-2-3-1 re-format. Wirtz benefitted from the extra space. Adli and Moussa Diaby cut through to the baseline and earned several corners. Frimpong improved somewhat working a clearer axial chain with Piero Hincapie. One certainly can't accuse the Werkself trainer of not trying to win the match. We behold something smart:

Lineup—Leverkusen—58th minute (4-2-3-1)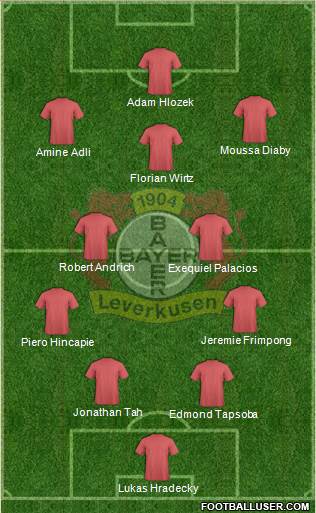 A late equalizer nearly came. Hlozek, unsurprisingly, couldn't find the finish in the 89th. Overall, Leverkusen still outpaced their guests in the xG battle. Optically speaking, Xabi's lads retained superiority. A 14-match unbeaten-run came to an end in a rather unceremonious fashion. Too little drilling in a couple of inventive, yet still too novel, tactical constellations. It remained a tightly-contested match. Köln weren't exactly dominant in any sense.

Prognosis: "Heute is egal"

Nothing more to play for in the league for either of these teams in the final three rounds. Köln effectively clinched safety with their win over Hoffenheim two rounds back. Even if 2023/24 Bundesliga football wasn't arithmetically secured, we all knew that the Effzeh had it sewn up on 35 points. German footballing legend Jonas Hector felt comfortable with it; confident enough to announce his retirement. Nice to see him head out on a high.

Leverkusen must remain vigilant about not conceding their Europa League qualification spot. The Champions' League now surely stands out of reach in the table. Werkself enthusiasts will take it. Just as the Eintracht Frankfurt fans did last season, expect some "Heute ist egal, hol doch den EuropaPokal" banners to hang at the BayArena. Hell with the league table. This club craves cup glory.

Mainz-Schalke (0:1, 2:3)

The double? Really? Schalke actually managed to follow up their shock win over Bo Svensson's Mainz in the reverse fixture with yet another stunner? Some days after the thrilling Friday night affair (quite possibly the most intensely spectacular fixture of the season) many of us are still coming to grips with what just happened. It remains difficult to believe that this result just transpired. Schalke's "Cinderella Story" rolls on, and Thomas Reis didn't even need to "spam the pitch" late-on this time. The intuitive prognosticative power of Felix Magath be praised!

This is really happening. Marius Bülter completed a scorer's brace and pushed his incredible season total of tallies to 11 with - what we're told - is the latest ever Bundesliga goal in history. It doesn't get much later than 90+12, though there were surely times before detailed records were kept that it did occur. Bülter did his best Pelé impersonation with a lovely scissor step-over on his first goal. Tom Krauß scored a dream goal for the club he adored in his youth. Marcin Kaminski and Sepp van den Berg performed even better than the missing CB duo of Maya Yoshida and Moritz Jenz.

Where did all of this come from?

A fully deserved win

Yes, we have some relevance here:

xG Schalke 04--3.03, xG Mainz 05--1.94

Although it certainly wasn't all that pretty, the Gelsenkirchen guests did an excellent job wrenching the offensive engine of their Pfälzer hosts throughout much of the opening half. FSV striker Ludovic Ajorque had to drop incredibly deep in order to affect play. The S04 4-2-3-1 allowed Ajorque through on 20 minutes, in this case getting the crucial save out of under-fire back-up keeper Alexander Schwolow they absolutely needed. Bülter's sublime footwork in the lead-up to the opener came six minutes later. Kenan Karaman hit the post and Simon Terodde just missed before the break.

Svensson had to do something in order to compensate for the fact that his side were losing control of the match. The decision to take off Danny Costa in favor of the young surging attacking phenom Nelson Weiper counted as an inspired choice. A head-coach who rarely employs tactical changes pulled a suspiciously "RB" looking 4-2-2-2 out of the hat. Perhaps the Danish gaffer thought back to his days at FC Liefering. In any event, it proved an effective constellation that could have (on a different day) carried the squad to victory.

Lineup—Mainz 05—46th minute (4-2-2-2)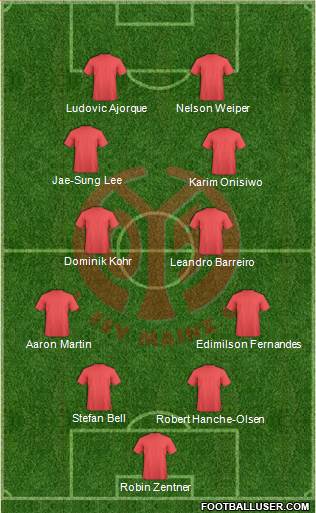 Jae-Sung Lee and Karim Onisiwo - both of whom had hitherto had subdued matches - suddenly came alive. Both Mainzer goals in the second half came off set-pieces, but this shape had some flow to it. Schalke appeared completely overwhelmed for a time after Leandro Barreiro pushed the equalizer over the line off a corner in the 53rd. Dominik Kohr somehow failed directly in front of Schwolow moments later. Both teams were a little lucky not to concede in the crazy, end-to-end free-for-all that ensued after that.

Krauß and the absolutely on-fire soon-to-be hot summer transfer commodity Aaron Martin traded goals and the match featured still more scoring opportunities at both ends as everyone remained on they edge of their seats right up until the finish. Mainz have keeper Robin Zentner to thank for the fact that Schalke didn't re-take the lead in normal time. A command performance from the FSV net-minder. The xG stats certainly bear that out. It's worth noting that Weiper made an incredible Musiala-like run that left us all scraping our jaws off the floor before failing to find the finish at one point.

And?

Was it a penalty? 

The columnist will opine "yes", noting that it's also perfectly acceptable that some will have seen it another way. Anthony Caci's jersey-tug on Bülter could be construed as irrelevant to the play. Bülter himself admitted later on that he had no chance of contesting the ball. Zentner was too far away and already too high up. Zentner groused that there was "tugging on both sides" during his post-match interview. If one reviews the scene, it doesn't really appear that Zentner was right.

Caci had no business making such a move at that stage in the match. In a long-term sense, it's even a useful development that players become aware that eagle-eye cameras catch those little cheats. That simply isn't how football is played. Does anyone even recall the last time someone tried to pull that nonsense on the friendly seven-aside-kickabouts we football lovers engage in on a Sunday afternoon? Of course not. What doesn't belong in Sunday league doesn't belong in the pros.

That, at least, is the writer's opinion.

Prognosis: Strong finishes for 05 and 04

One could scarcely wished for a better Friday night. Two major surprises flipped the preconceived script before we even officially got to the weekend. Rheinhessen enthusiasts can take some solace in the fact that their team largely played well. Even if the remaining schedule (Frankfurt, Stuttgart, Dortmund) renders the quest for European qualification quite difficult, the deeply stacked squad we referenced in greater detail last week always stands a chance of running the table on the remaining field.

It shall prove most interesting to see how Svensson staffs his midfield next week with both Barreiro and Kohr suspended on yellow accumulators. Attack-minded actors like Anton Stach, Aymen Barkok, or possibly even the out-of-favor Delano Burgzorg in the six slots might even constitute an unintentional upgrade. The newly devised back-four demonstrated a lot of potential and the Mainzer gaffer may have stumbled upon something marvelously potent with his new 4-2-2-2.

As for Schalke, it's gotten to the point at which predictions are pointless. The relegation-threatened squad well known to have the most difficult remaining schedule of all the drop candidates keeps pulling out surprises. The Königsblauen have won three of their last four and are on a two-match winning streak. Those of us who had a hunch that the dramatic pattern-busting Dortmund draw would keep momentum up through the end of the season have been vindicated.

Bayern, Frankfurt, and Leipzig are left.

Tough, but just one win or two draws should do it.

Bremen-Bayern (1:6, 1:2)

Well. It could have been worse. It was indeed significantly worse for Bremen in the reverse-fixture drubbing. Werder trainer Ole Werner learned his lesson from that debacle. Namely, that there's no sense in tinkering with this team's system even when circumstances call for it. The regular 3-5-2 keeps the squad stable. In Niclas Füllkrug's absence, Maximilian Philipp had been steadily declining in effectiveness alongside Marvin Ducksch. The latest response to this was to keep the system in place while giving Romano Schmid a go in the second striker slot.

The Hanseatic hosts held their own against the still buckling German giants. Bayern remained mostly harmless throughout the opening 45; this despite the fact that Thomas Tuchel lined the record champs up in an ambitious 4-1-2-3. Sadio Mané, Serge Gnabry, and Kingsley Coman were meant to function as a full-force level attacking trident. Unsurprisingly, there wasn't much muscle-memory inherent in the FCB constellation. Ideas and confidence were lacking. Joshua Kimmich played an especially poor first half, struggling both in open play and on dead-balls.

Werner's charges even discovered the confidence to wander forward themselves a few times. The best chance of the first half belonged to SVW sweeper Christian Groß, who shot wide after slicing through the Bayern ranks on a nice dribble. Tuchel had seen about enough not long after the restart and clearly ordered a return to last week's opening-match tactics. A simple 4-4-2 with an emphasis on crossing into the box. It may not have worked terribly well against Hertha, but at least the team had some of the drilling imprinted on them.

Lineup—Bayern München—65th minute (4-4-2)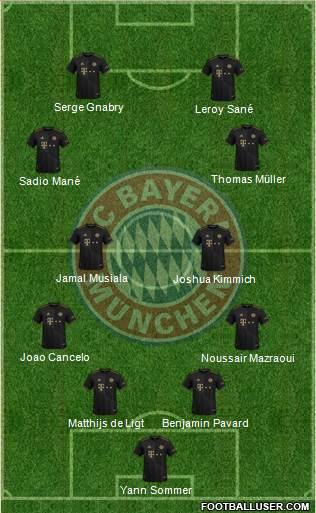 As luck would have it, Bayern scored the opening goal just as Tuchel was getting the squad re-shaped into this. The original XI produced a goal before substitutes Thomas Müller and Leroy Sané could get on. Jamal Musiala picked up the remnants of a Mané cross in the 62nd and played Gnabry in simply. The re-format produced its own tally ten minutes later, with Noussair Mazraoui setting up Sané's 2-0 in the 72nd. Job done....just about. There was some late hope for Bremen after Niklas Schmidt pulled a goal back.

Mazraou's artistry and a one of Gnabry's better "Turnvater Jahn" performances atop the Bayern attack notwithstanding, this counted as a rather weak performance from the mighty German giants. Perhaps the most salient takeaway from the "Top-Spiel" concerns Tuchel's reversion to the simplest formation that exists in football. Nothing screams pure "damage control" like a late-match 4-4-2. If it wasn't crystal clear already, that's about that Tuchel's task consists of at this point. He's here to help this team pick up the pieces.

Prognosis: Still fragile

The task ahead seems simple enough. Bayern control their own destiny. One workmanlike win completed. Three more to go. Just keep grinding it out. The run to the 11th consecutive Bundesliga title remains a particularly precarious one. Watching this thinly spread and balanced this team in action gives one a slight headache. They have so many areas in which they must improve. Even simple crosses into the box feel choppy and sloppy.

The Bavarians undoubtedly have more stumbles in them. Not a great deal of confidence can be gleaned from this game. Mazraoui and Joao Cancelo had problematic games in defense. Mitchell Weiser kept punching through the space that their runs left open. Benjamin Pavard and Matthijs de Ligt had their own problems containing Weiser and the SV counter in general. These strings can unravel at any moment.

Anyone fearing that the title race may be headed toward an inexorable and familiar conclusion should bear in mind how different this year's Bayern side are. It also looks probable that their only real natural center-forward won't be coming back this year. We're not finished here. Additionally, no matter what happens, we're also in line for a long and turbulent summer. In one way or another, a short-lived era draws to a close.

The "Burning Questions": Round 31
When did Wolfsburg-Dortmund fall apart?

A difficult one to answer. Enormous gaps in Niko Kovac's 3-5-2 were immediately apparent shortly after kickoff in the Sunday fixture. Absent the injured Maxence Lacroix, Kovac's back-three began to wilt fairly rapidly. Donyell Malen and Karim Adeyemi fearlessly took on Micky van de Ven and Sebastian Bornauw from the onset. Showing absolutely no respect for what the German Wolves were able to accomplish last week, the BVB wingers get went straight for the jugular and never looked back. It came as no real surprise to see Adeyemi open up the scoring in the 14th.

Of course, Adeyemi's goal did come off a deflected Julian Ryerson cross. Moreover, Patrick Wimmer directly challenged Gregor Kobel in pursuit of an equalizer some six minutes later. Jakub Kaminski only failed on the follow up thanks to some more brilliant work from peak performing veteran Mats Hummels. Kaminski forced another big save out of Kobel as the Lower Saxons continued to try even after falling behind 0-2 in the 29th. That third Dortmund goal in the 37th, coming off some of the absolute worst marking the writer has ever seen on this level, pretty much sealed it.

Odd how, for all the defensive miscues, the VfL attack still managed to seem dangerous from time to time. That naturally doesn't mean that the Westphalians should have been allowed to square balls into the center without anyone attempting to contest them all night long. Good lord. All the BVB goals - save that crazy loop in back over the line on Jude Bellingham's fourth - came from the most straightforward of xG plot points. A 5.0 xG figure for Dortmund on a six-goal-day. Such space isn't supposed to be so regularly accessible to top level players.

Yeah. Not much of a football match to discuss here.

At least the title-race remains as intriguing as ever.

How did Frankfurt implode?

An easy enough answer here. Frankfurt merely follow their long-established league trend. Spiraling upwards out of all the summer transfer personnel issues remains essentially impossible in the league context. All of the set-to-depart talent on the SGE roster can still manage to rise to the occasion in a one-off affair like this week's DFB-Pokal semi-final. Facing a steep arithmetic uphill climb in the league, it's all about preventing injuries for the Cadillac Players in the squad when it comes to rote league encounters. Sigh. One grows tired of explaining this phenomenon.

Bundesliga writers and journalist are tired of documenting it. Oliver Glasner - as evidenced by his latest outburst - is tired of answering questions about it. Shifting back over to the perspective of the chroniclers, we're also tired of Glasner's needless theatrics. It would be one thing if they made sense. The columnist will go out on a limb here and say that it happens to be very unlikely that, as Glasner claims, Makoto Hasebe is actually "pissing blood". Moreover, it's rather odd to hear a coach who not long ago complained that his players didn't have quality suddenly rally to their defense.

There isn't anything wrong with passion-driven press-room diatribes. When they happen to be wildly inconsistent and ultra-defensive, however, one does begin to wonder. Glasner fire appears to be one burning in his head rather than in his belly. It's not the club he's burning for. It's a new assignment that doesn't bore him so much. Cool. With a parting of company after the season now looking extremely likely, we wish him all the best.  A good coach who has done his bit for German football. He may now proceed to feel under attack elsewhere.

Anything we can pull from the match itself?

Disasters for Touré and Lindstrøm

A sad sight to see Almamy Touré struggle with match readiness in his first start of the campaign. The 27-year-old French center-halve (circa the Autumn of 2020) once engendered a similar amount of enthusiasm to that of his higher-profile compatriot Evan N'dicka. Both players are headed for the exit door now, with the former's departure on a free set to take place quietly. Touré got beat badly on the opening goal and incurred the first booking that eventually sent the match on an irreversible course down "chaos lane".

In his highly anticipated return to the starting XI Jesper Lindstrøm lasted all of 45 totally incoherent minutes. The Dane often whirled around in his own world on the SGE right during the opening half. Lack of match practice certainly played a role, but it also seems as if Lindstrøm has become a victim of his own success in the latter stages of this campaign. If one were to liken the Eintracht attack to a jazz combo, the 23-year-old tends towards the inherently annoying bass soloist who goes off on far too many "groove solos". A shame.

First, do no "Harm"

After last weekend, Germans have just about had their fill of refereeing discussions. The whole Sascha Stegemann fiasco actually left most of us feeling nothing but wholehearted empathy for those tasked with officiating our top footballing flight. Who, on earth, can stand to take such a job? You're merely a human being with a primordial brain attempting to make a split-second decision. Meanwhile, a dozen high-definition cameras positioned at different angles compete with the out-evolved instrument you have between the ears.

Phrew. Tough stuff. That being said, referee Harm Osmers let matters get out of hand near the end of the first half. His decision to card Mario Götze and Kevin Trapp only led to a cascading riot of discontent in the Frankfurt ranks. With emotions running high, Djibril Sow began begging for an ejection. Glasner then went with his "silent taunt". Instead of talks, breathers, and pauses, Osmers committed the classic error of feeding the ravenous adrenaline rush. Osmers couldn't regain control after restart either. More bookings and another ejection after both sides gave up on order.

No one likes to see that.

Weekly Tactical Focus: A Great Escape?

The famous "fixture circle" heading into this weekend remained firmly fixated on a match at Berlin's Olympiastadion with massive relegation implications. Even before the two Friday night surprises arrived, the team with the most important match this weekend was none other than Charlottenburg's "alte Dame". The eternally underachieving capital city side were literally playing for their lives. Hertha BSC, had they lost to Stuttgart, would effectively been cut adrift of safety. An absolute Endgame. The backs of Pal Dardai's charges couldn't have stood closer to the wall.

The columnist admits he was quite surprised by the result. An Hertha obituary rattled around in his skull for most of the week. Prior to Wednesday's Pokal semi-final, Stuttgart were undefeated under their new trainer Sebastian Hoeneß. Dardai - a.k.a "Soup ranter" - appeared totally out of his depth yet again. On paper, the match maintained the feel of a mere formality. Fortunately in sports, the thrill of the unexpected often arrives when it comes time to play the matches. A fun little twist we have to cover this week. Naturally, before drawing any huge conclusions, there's this:

Full-time xG:

xG Stuttgart--1.63, xG Hertha--1.06

Very, very close.

Lineup—Hertha BSC—Match 31 (4-2-3-1)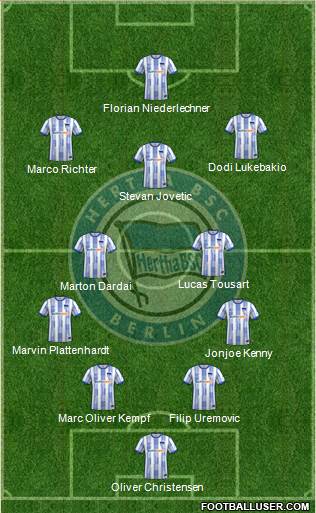 Both coaches kept their basic shape with some interesting later match alterations. Dardai, after deploying a strictly man-on-man, oriented 4-4-2 last week against Bayern, went for a more zonal compact shape when lining his team up against the Swabians. Having not really made much of a secret of the fact that he preferred a 4-2-3-1 and very much wanted a healthy Stevan Jovetic to pull the strings as the ten, the Hertha trainer finally arrived at his preferred constellation some three matches into his latest appointment.

The evolution of Hoeneß' 3-4-3

On the topic of a newly-appointed coach with candid offerings on the state of his team, Hoeneß hasn't been coy about the fact that he's basically winging it here. The fourth trainer tasked with running the VfB this season cobbles together what he can. Simplistic, "no-brainer" alterations sufficed at the beginning courtesy of the fact that Hoeneß inherited some obvious tactical errors from Bruno Labbadia. Things now get a bit more complicated.

Missing midfield linchpin Atakan Karazor to accumulated yellow-card suspension, Honeneß revived the Wataru Endo-Genki Haraguchi axis that his predecessor had some difficulty finding success with. In this case, the two Japanese internationals worked a deep-six axis. Fellow compatriot Hiroki Ito possessed an interesting role on the back left.

Lineup—VfB Stuttgart—Match 31 (3-4-3)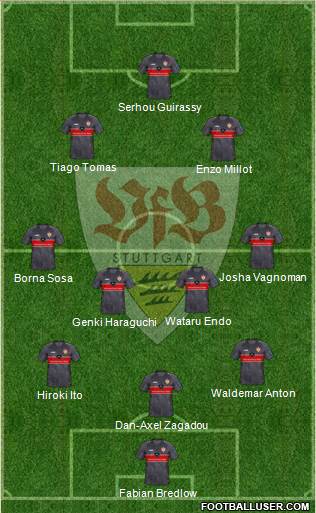 Pretty much everything was designed to flow through the left-hand side. Logically enough, Hoeneß assumed that Dodi Lukebakio would be spending most of his time forward and that Jonjoe Kenny might potentially find himself overmatched. Tactics from both trainers proved sound. This one could have easily ended in a stalemate. One sensed that even before the xG stats were flashed up at the conclusion of both halves.

Of Interest: Hertha 

Jovetic largely performed well, surprisingly going the full 90 minutes despite the fact that the grizzled veteran may be the most injury-prone player in all of German football. One could also label Dardai's decision to deploy son Marton in the midfield a successful experiment, though Suat Serdar could work just as well in that slot. We've some interesting developments brewing here ahead of the final weeks.

Of Interest: Stuttgart

Enzo Millot - perhaps for sentimental reasons - proves Hoeneß' main "flex" piece. The 20-year-old former French youth international changed positions three times in this one, delivering some compelling football from each of his positional assignments. Millot definitely counts as one to keep an eye on whenever observing Stuttgart as he seems to form the crux of whatever tactical plans Hoeneß has. Some interesting stuff here too.

Match Flow: 1st to 12th minute

The guests, while cautious and less than clicking themselves, retained a slight upper hand during the opening stages. Hertha showed few signs of being coordinated themselves in the first two minutes. A Kenny switch in the 1st was easily repelled. Lukebakio worked a deep drop in the 2nd before sending a ball well past Lucas Tousart. Both sides at least demonstrated some tenacity in the midfield duels during the first exchanges. Stuttgart finally calmed things down with a series of recycle builds and bow-arcs in the 3rd.

Borna Sosa was the first to attempt to send a teammate forward. Filip Uremovic handled a Sosa vertical intended for Tomas. The Berliners crawled up the pitch via fouls and throw-ins in the 4th. A long-throw from Marvin Plattenhardt eventually led to a sharp cross into the box from the Hertha skipper. Neither Lukebakio nor Florian Niederlechner could locate the right touches before Ito and Haraguchi cleared the ball out together. A quick counter through Millot failed. Endo, Zagadou, Vagnoman, and Ito cycled slowly in the 5th. Marco Oliver Kempf took care of Endo's final vertical.

Stuttgart bow-arced and rebuilt again in the 6th. Endo couldn't quite reach Serhou Guirassy with a long-hit. Zagadou snatched the ball back away from Jovetic and Guirassy came back to work another cycle with Sosa. Hertha keeper Oliver Christiansen beat out Tomas to a long ball at the beginning of the 7th. The Württemberg guests had no trouble dancing around the weak Hertha press through the rest of the 7th. Vagnoman eventually charged forward with pace and hit hit Guirassy inside the penalty area.

Christensen parried the first shot on target of the match. Millot's effort off the rebound was from an offside position anyways. Hertha achieved some penetration at the other end to begin the 8th. Vagnoman was back to clear a cutting Jovetic cross with Marco Richter lurking. After initially failing on the right in the 9th, Ito and Endo were able to play Millot through. Kempf stood tall. Vagnoman, Sosa, and Haraguchi all found themselves stymied in the 10th. Kenny did a particularly good job of cancelling out a Sosa throw and blocking a cross from the Croatian wingback.

Richter and Jovetic themselves could find no way through in the 11th. Dardai stepped forward awkwardly on a sequence during which no one could figure out how the triangles were supposed to work. Plattenhardt and Joevetic finally punched through on the Hertha left in the 12th. Sosa couldn't quite clear a curling cross from Plattenhardt out of the box. Tousart narrowly missed on the left as he crashed in to handle the ricochet. The hosts produced their first signal of intent.

Match Flow: 12th to 29th minute

Hertha kept at it on the left with Plattenhardt through the 13th and 14th. After a couple of throw-ins from the captain yielded nothing, Vagnoman encountered difficulty clearing a long-throw at the end of the first minute. Dardai tried to get the ball back in for Niederlechner. The former Augsburg striker mistimed his header and Vagnoman recovered in time to clear. Tousart still did well to keep the play alive and Zagadou was only able to just separate the ball from Niederlechner in the 14th. Lukebakio and Jovetic then worked a one-two, yet were unable to capitalize.

Lukebakio sent a snapshot wide to begin the 15th. The rest of the minute was eaten up by a treatment break following a clash of heads on an aerial duel between Kempf and Vagnoman. Both players turned out fine. We resumed with a Vagnoman throw in the 16th. Zagadou ended up turning the ball over to the Hertha press. Dardai rushed his decision and sent a vertical past everyone. The press from the hosts continued to roar. Anton and Zagadou were forced to play back to keeper Fabian Bredlow in the 17th.

Seven of the VfB outfielders put together some creative connect play in the 18th, drawing a handball off of Uremovic just outside the area when Millot tried to reach Guirassy. Match official Deniz Aytekin opted to issue the first booking of the match to Uremovic for the infraction. Discussions and the dead-ball set-up took us through to the 19th. Niederlechner broke from the wall far too early on Guirassy's initial take. Aytekin reached into the book for the second time in as many minutes to distribute a caution to Niederlechner.

Guirassy's effort on the second take in the 20th proved quite the stunner. Luckily for the hosts, Uremovic proved equal to it. The Hertha defender headed a bending ball destined for the top corner of the net out for a corner. Guirassy headed Sosa's late 20th-minute service from the flag harmless low. Zagadou, Ito, and Anton had a hard time eluding presses from Niederlechner and Plattenhardt in the 21st, but still managed to escape. Lukebakio went for a direct carry in the 22nd. Ito took the ball off him, but Sosa and Endo couldn't catch up to the counter quickly enough.

The delayed 22nd-minute charge ended with an offensive foul from Tomas. Dardai put in some solid possession work together with Tousart in the 23rd. The Hertha trainer's son and makeshift midfielder still couldn't quite telegraph a vertical intended for Jovetic properly. Sosa, Tomas, and Anton all failed to hold onto the ball on the subsequent VfB sortie. Anton fouled Kempf after a dispossession. Kempf went for the quick free-kick take at the beginning of the 24th. The former Stuttgart defender sent the ball straight out into touch via the baseline.

Ito then completed a very strong carry, squaring inside for Guirassy. Stuttgart's lead-striker missed Tomas with his cutback. Kempf cleared. Lukebakio and Niederlechner endeavored to combine on a counter in the 25th. Dardai joined. Sosa collided with Lukebakio on a hard tackle and the two players required treatment in the 26th. Sosa kicked the ball back off in the 27th. Aytekin blew the whistle again immediately as Tomas was offside. Dardai ran a decent charge in the 28th. Lukebakio collected Dardai's chip over and shook off Ito.

Lukebakio's cutback for Tousart possessed plenty of promise. Unfortunately, the Hertha Frenchman miffed up what could have been a clean finish from 14 meters out. The ball trundled harmlessly out into touch. Niederlechner required a bit of treatment after hitting the deck away from the play. Sosa found himself unsorted once play resumed and conceded a corner unnecessarily with a failed touch in the 29th. Unbeknownst to the VfB wingback, he had also conceded the opening goal.

Sosa's headed clearance of Richter's corner service went only as far as Tousart. This time the Frenchman played straight back out wide to Richter. Ex-Stuttgarter Kempf came crashing into the center to meet Richter's cross. Kempf rose higher than both Anton and Zagadou and powered home an emphatic finish past the helpless Bredlow. The amount of momentum generated by the hosts since they first woke-up left one feeling that it was definitely a deserved lead.

Match Flow: 29th to 38th minute

Celebrations remained muted at the Olympiastadion. We were back underway before the 30th was out. Sosa endeavored to atone for his double error immediately, yet was forced back twice. VfB bow-arcs to the right in the 31st produced nothing. Tousart and Lukebakio broke up the Stuttgart cycle play well. Endo, Ito, and Haraguchi gave Sosa another chance at the beginning of the 32nd. Sosa took down a long Haraguchi switch and tried to cross in. Kenny headed out for a corner.

Eager to keep things moving, Sosa hit the service quickly before the 32nd was out. Endo met the delivery with his head, awkwardly trying to supply Millot with a layoff. The VfB youngster did what he could with it, finishing well wide in the end. Christensen took his time setting up the goal-kick, going with the long-launch in the 33rd. Endo had to scamper in order to head out for a throw. Hertha skipper Plattenhardt employed the long-throw on the second go in the 34th.

Sosa cleared out of the box better this time, but Uremovic drew a foul from Guirassy on a high boot just outside the area. Richter did a splendid job with the 34th-minute free-kick service. Kempf squandered the opportunity for a quick brace. The former Stuttgart center back couldn't quite get his boot on the ball on the half left. The result was an easy save for Bredlow. Slow-roll VfB builds back the other way didn't work in the 35th. Zagadou went for a long carry at one point. Niederlechner toed the ball away.

Dardai v'entured forward and sent in a diagonal for Richter. Vagnoman maintained a strong mark to beat the Hertha attacker. The Swabians tried down the right in the 36th, losing a long string of ground duels before swinging out wide for Sosa again. The Croatian wingback found the space simply too tight. Endo, Haraguchi, and Ito at least kept the possession spell going with recycles at the back. Their persistence would soon be rewarded. Sosa finally located his needed gap towards the end of the 37th.

Sosa didn't hesitate when he caught Lukebakio on a slack mark. The Croatian spotted Vagnoman, who had invested a lot of hard work together with Anton in drawing coverage just prior, making an incisive run over at the far right post. Vagnoman immediately headed Sosa's cross over to the free-standing Guirassy. Stuttgart's lead-striker had a simple tap-in from close range. We were all level at the beginning of the 38th. Game on at the Olympiastadion.

Match Flow: 38th minute to half-time

A 1-1 scoreline at the break seemed fair enough and possibly inevitable. This evenly matched affair nevertheless wouldn't break off with an even scoreline. Hertha snatched the lead back at the tail end of Aytekin's allotted injury time. That too, seemed fair as both sides kept up their pursuit. Zagadou had to be on guard to stop an advancing Jovetic in the area in the 39th. Guirassy halted Kempf on the follow-up with a hard challenge. Vagnoman pumped the brakes on Richter in the 40th with another fearless challenge.

Some more possession changes and head tennis through the 41st until the Swabians got Sosa clear on the left again. Christensen read Sosa's cross all the way and was able to collect. Hertha's counter fell apart and Sosa worked another cross in at the beginning of the 42nd. Tomas hit a low snapshot that Christensen was able to deal with. Jovetic and Richter worked the ball back up the pitch quickly. Niederlechner went down in a direct duel with Zagadou in the box trying to meet the 43rd-minute chip.

Aytekin immediately waved off all calls for a penalty, correctly so as Niederlechner had initiated the contact. To his credit, Niederlechner didn't allow his denied appeals to take him out of the match. The Hertha striker was back breaking up Zagadou's play with an aggressive press in the 44th. Anton eventually got Sosa going again on the left before the minute was out. Sosa took advantage of Ito's join. Ito attempted to square for Tomas. Uremovic disrupted the pass at the expense of a corner.

Sosa rushed to the flag again to get the corner off prior to the end of normal time. Kempf got the first touch on the 44th-minute service. The ball fell to Millot, but the youngster couldn't do much amid a swarm of bodies. No-intention VfB builds killed of the 45th and 45+1. It was flagrant time-wasting from the guests. Endo did try to move forward near the end of the second minute, only to find himself dispossessed by Plattenhardt. Jovetic, on a deep drop, held the ball up well before sending Lukebakio through.

Lukebakio ended up drawing the free-kick from whence the 2-1 was scored. The Belgian international took the service himself at 45+2, curling it in beautifully right inside the box central from about 20 meters out on the right. Niederlechner, carefully onside, was there to stretch out a boot and give the ball the slightest of deflections. Niederlechner's redirection went straight through Bredlow's legs. Millot cleared a ball that - everyone could tell without goal-line-technology - was well over.

2-1 Hertha.

Half-time xG:

xG Stuttgart--1.40, xG Hertha--1.03

Could have broken either way, honestly.

Match Flow: 46th to 56th minute

From this point forward, one entirely expected Hertha to close up shop. During his various midweek press commitments, Dardai probably used the word "compact" 5,4357 times. The Hungarian club man knows all about how to protect a lead. It would nevertheless be some time before the BSC gaffer ordered his entire outfield into full retreat. Hoeneß, likely knowing that the "stand down" order would be soon in forthcoming, pulled the tigger on a half-time change. Silas replaced Tiago Tomas. Millot moved over to Tomas' spot on the left while Silas took over the right.

Hertha demonstrated no rush on right-ward cycles in the 46th. Stuttgart attempted to counter central a couple of times, but couldn't find their way past Dardai. The coach's son really did well defensively, yet showed that he was deployed at an unnatural position several times with unfocused verticals past everyone. We got another one of those in the 47th. Silas hacked down Niederlechner in midfield in the 48th and we needed another treatment break. Nothing much beyond VfB back bow-arcs in the 49th. Zagadou eventually sent Guirassy through, but Uremovic was there.

Vagnoman saw a run stalled in the 50th. Anton, Haraguchi, and Ito kept the play alive and Sosa was eventually able to reach Silas with a cross. Uremovic was on point yet again. After Sosa sent a cross in way too high for Millot in the 51st, Tousart got Lukebakio rolling on a quick counter. Lukeabakio executed some nice touches and used the loose marking Zagadou as a screen exceptionally well. A quality drive from the half-right went just wide of the far left post.

Haraguchi and Sosa got Guirassy involved central in the 52nd. Stuttgart's lead striker cushioned a nice tap back for Silas. Dardai shanked a desperate challenge out for a throw. After several failed clearances of Sosa, Ito, and Endo stabs into the box, Hertha finally got Sosa to retreat in the 53rd. Vagnoman and Ito then tried something novel up the left. There simply wasn't enough room. Sosa - beginning to look understandably exhausted by this point - couldn't get any elevation on a cross in the 54th.

Kempf cleared away. Anton attempted to slip a ball back in. Plattenhardt defended well. Kenny also did well to block a cross from the advanced Ito before the minute was out. Ito charged forward again in the 55th. This time neither Kenny nor Uremovic could block his cross. The enterprising Japanese defender's very nice curling effort from the left just missed Vagnoman. Plattenhardt stayed with Vagnoman all the way to box him out and Anton and Millot worked the ball back to the German national team defender.

Match Flow: 56th to 71st minute

Chris Führich entered for Haraguchi in the 56th on what one could immediately tell would be a two-part re-format. Führich initially slotted straight into Haraguchi's six position, but Millot was clearly on the move again. The young VfB Frenchman was very likely preparing to drop back alongside Endo after a later sub. Not exactly the most complex trick from Hoeneß. Such slower redirections take place all the time. Hertha, meanwhile, were shifting further back to close more channels as time continued to tick off.

Silas failed to find a way past Uremovic again in the 57th. The Berliners weren't quite in administrative mode yet and did force a press error out of Zagadou in the 58th. Bredlow initially played his side out of danger with Jovetic and Niederlechner lurking. Zagadou promptly turned the ball over to Richter. Bredlow easily snatched up Richter's soft diagonal to no one in particular. The next sparks actually still came from the hosts. A nice switch from Jovetic out to Lukebakio in the 59th was returned to Dardai's preferred ten.

Niederlechner was unfortunately a step offside when Jovetic played him through. Ito, Führich, Endo, and Sosa cycled back up the VfB left quickly. There was some danger as the hosts had difficulty getting a teasing cross from Sosa. Richter finally managed to get it away after Kempf and Plattenhardt could not do so. A more methodical VfB build in the 60th produced nothing. Ito began to show some signs of fatigue with a pair of poor touches. The roving Japanese defender then sent the ball out into touch for a goal-kick.

Christensen and the Hertha back line killed a good bit of the 61st off with a delayed take and some tepid bow-arcs. Kenny and Dardai milked off a large portion of the 62nd with a pair of delayed throw-ins. Ito broke the tedium with a nice unlock switch of Vagnoman to start the 63rd. Silas received the ball after a nice touch-over from Anton, only to turn it over. Endo had to employ a tactical foul to stop Dardai on the counter. The hosts went directly back on the ensuing free kick, after Jessic Ngankam and Maximilian Mittelstädt entered for Niederlechner and Lukebakio in the 64th.

Nothing much happened amid a tangle of midfield bodies in the 65th. There was eventually a multi-player pileup on the Hertha left just past the halfway line. Richter emerged from this crowded collision with a yellow card, ostensibly for carrying Anton down with him on a fall and showing a high boot even though it was Millot who initially knocked him off. A strange scene. More fouls and stoppages in the 66th. Millot drew a free-kick off a Kempf foul in the 67th. Millot sent Sosa's 68th-minute service well over the bar.

Ito remained committed and, via another one-two with Sosa, pushed high up on the left again in the 68th. The Japanese defender still picked out the wrong sort of pass for Führich at the end of the sequence. Uremovic intercepted. Sosa and Ito (with Millot in tow this time) again took it up the left in the 69th. Vagnoman turned Sosa's cross out for a goal-kick. Kenny took the ball off Sosa in the 70th, as if it was hard for him to figure out the VfB's plans at this point. Führich missed both Silas and Guirassy with a poor low cross from the left in the 71st.

Hoeneß finally got his third sub on.

Match Flow: 71st to 77th minute

Juan Jose Perea for Anton. The more lively as of late Tanguy Coulibaly might have been the better choice. In the final analysis, it made sense that Hoeneß' long range plans after the Führich substitution involved a more natural center-forward functioning as a false-nine. Führich can sometimes function well on the top attacking axis. Guirassy needed a little relief after he's been carrying a heavy workload this week and indeed in all the weeks since he returned from injury.

Lineup—VfB Stuttgart—71st minute (3-4-3)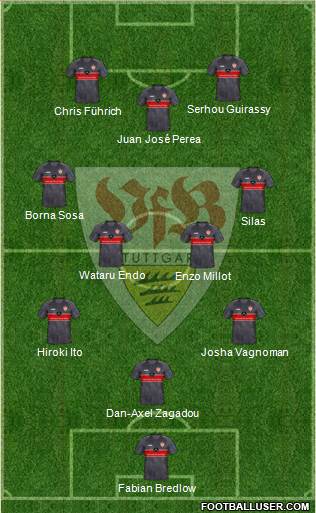 Before any of this got sorted, Ito made another brilliant run up the left in the 71st. Tousart got underneath him and touched the ball away with an even more brilliant recovery tackle from behind. Seeing as how Ito went tumbling down to the turf in a tangled mess after having the ball taken off his feet, there were appeals for a penalty. Aytekin said no. Replays confirmed the veteran ref saw the fair challenge absolutely correctly on the first go. Ito still required treatment. That took us through the 72nd and into the 73rd.

Führich and Guirassy couldn't pull the ball out, not even after deep drops in the 73rd. Tousart saw Ito coming all the way in the 74th. The Hertha midfielder quickly unleashed Mittelstädt, who sent a tame cross not unlike Richter's earlier one directly into Bredlow's arms. The VfB keeper initiated a quick counterattack. Silas sent a promising diagonal into the box after Millot played him forward. Kenny calmly chested the ball back to his own keeper.Mittelstädt and Ito traded counters in the 75th. Perea ended up committing an offensive foul against Dardai on the VfB rush.

A triple substitution from Dardai took care of the rest of the 75th and most of the 76th. Suat Serdar, Agustín Rogel, and Chidera Ejuke relieved Dardai, Richter and Kempf. Serdar's first involvement in open play was to take a ball off Silas following some much better hold-up work from Perea. Ngankam and Mittelstädt slowed up their own counter, ultimately failing to reach Serdar on a return ball. It didn't really matter as it was now clear that Dardai had ordered a full lockdown. This one was impossible to miss:

Lineup—Hertha BSC—77th minute (4-2-3-1)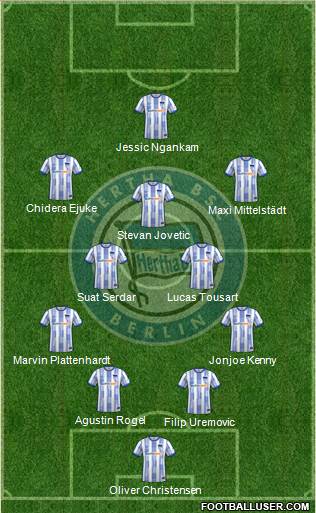 How in the hell does one play around this?

Match Flow: 77th minute to full-time

For much of the duration of proceedings, the Swabian guests couldn't cope with the congestion once they reached 20 meters out. Endo, Ito, Sosa, Perea, Führich, and Silas touched around with no way in through the 78th. The Hertheraner eventually forced another offensive foul out of Perea. The Berliners then earned a corner on their next charge in the 79th. Ngankam pumped up the FanKurve while Plattenhardt took his time setting up the 80th minute service.

Ejuke nearly got through after Endo cleared the initial ball away from Rogel into the Hertha second ranks. Vagnoman dug out a corner off Serdar at the other end in the 81st. Christensen had to make a fine one-handed-save on Vagnoman after Rogel failed to clear Sosa's 82nd-minute service. Plattenhardt cleared the subsequent corner away. It took two minutes for the guests to find their way through again. Christensen punched a Vagnoman cross away from Perea in the 84th. Endo shot the rebound wide.

A Sosa free-kick in the 85th on the left after a Mittelstädt foul yielded nothing. Sosa, who drew the foul, didn't have enough power left to lift the ball into the box. Sosa's subsequent cross after another failed Rogel clearance came nowhere near intended targets Silas and Guirassy. Aytekin had whistled for a Guirassy high boot anyway. tousart took care of Ito on the VfB left in the 87th. Ito, Sosa, and Führich couldn't cycle properly in the 88th. Sosa gave the ball away in the 89th and was lucky that Mittelstädt wasn't strong on the counter.

Aytekiun accorded five minutes of added time. Plattenhardt took some of this off with a feigned injury. Christensen went into the book with some more flagrant time wasting at 90+1. A treatment break for Millot and Serdar ate up some more clock at 90+2. Hertha aimed for their corner flags and got some more time off via Ngankam, Ejuke, and Mittelstädt shepherds. There was one last VfB push at 90+6. Everyone was back helping to block Führich twice in the one supplementary minute Aytekin tacked on.

To bookend:

Full-time xG:

xG Stuttgart--1.63, xG Hertha--1.06

Can Dardai really manage to worm his way out of this one? The columnist - being something of a sadist - drove himself slightly mad trying to to think of a historical parallel. The 1998/99 Eintracht Frankfurt side sprung to mind. Jörg Berger's Adler won their last four fixtures very improbably, beating the writer's hometown club 1. FC Kaiserslautern 5-1 on the final matchday to complete one of the greatest relegation escapes in Bundesliga history. Twelve points from the final four matchdays lifted them (barely) above Nürnberg.

That's reaching quite a way back into the distant past. Go back much further and we weren't even awarding points for wins. Everything used to hinge on goal differential. Those tending towards the near impossible outcome here should bear in mind two things. First, the spacing of Dardai's players was near perfect in this one. They were well drilled in the system the coach wanted. Secondly, two goals came off set-pieces. That's another argument for good coaching, and what ended up saving Hertha last year.

Oh man. It all gets rolling once again in next Friday's round 32 curtain raiser. Dardai's Hertha against a team that has essentially secured safety and has little to play for, apart from the fact that Davie Selke might wish to prove a thing or two against his former club. High drama. Popping pressure. A head-coach who - for all his unpolished goofballness - may have this team buying into his old-school talk of "team spirit". We'll find out some answers soon enough. No real sense in pretending to know what's really going on in that locker room.

We'll find out soon enough.

Thanks so much for reading! You can catch the release of all Peter's columns on twitter, @ViceytheSS.

Twitter DMs are open for football conversations, corrections, and (if you truly insist) general abuse. 

All columns debut on Bulinews before appearing on Peter's website as the season progresses.



Related stories